Click here to get a PDF of this post
While looking at the interesting data points using ads.twitter.com, I found it interesting to see the nine other Twitter accounts most followed by my own Twitter followers. No real surprises here, but very interesting that CNBC is not on the top nine. Are they having popularity issues?
I follow most of  the traders on this list, and I will be adding the rest. These accounts are a great place to start for new traders looking to get started; they exemplify what Twitter is all about from a trader's perspective.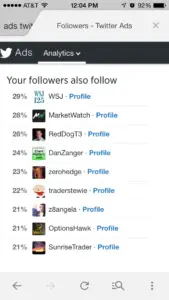 "When your bills are paid, life can be spent on more important things." @WSJ readers on money and happiness: http://t.co/cL18axfkfK

— Wall Street Journal (@WSJ) November 13, 2014
Duracell deal is a typical Warren Buffett play — at a discount http://t.co/47yP3RafR6

— MarketWatch (@MarketWatch) November 13, 2014
So far just a tactical short in $spy & $iwm. Have half left. If sellers have control $spy don't go back above $204.40 & $iwm $117.80ish

— Scott Redler (@RedDogT3) November 13, 2014
Today we have finally hit some resistance after flying up from those pullback lows. Overdue for the market to take some pause. $$

— Dan Zanger (@DanZanger) November 13, 2014
YELLEN SAYS FED IS FOCUSED ON REACHING DUAL GOALS: S&P 5,000 and Russell 200,000

— zerohedge (@zerohedge) November 13, 2014
"@tradingplays: "A bull market tends to bail you out of all your mistakes. Conversely, bear markets make you pay." – Jesse Livermore

— traderstewie (@traderstewie) November 12, 2014
Bearish reversal is seen on $SPX. Closing below 204 may lead more downside move. $TWTR had one day wonder yesterday, a sign of toppy market.

— Angela Zhou (@z8angela) November 13, 2014
Tons of rolls in large bullish positions today, out and up, prudent profit taking but still wanting upside exposure

— Joe Kunkle (@OptionsHawk) November 13, 2014
When in doubt stay out. Let price come to your buy point. There is always another trade. Write plans, set alerts, see it, trade it.

— Sunrise Trader (@SunriseTrader) November 13, 2014