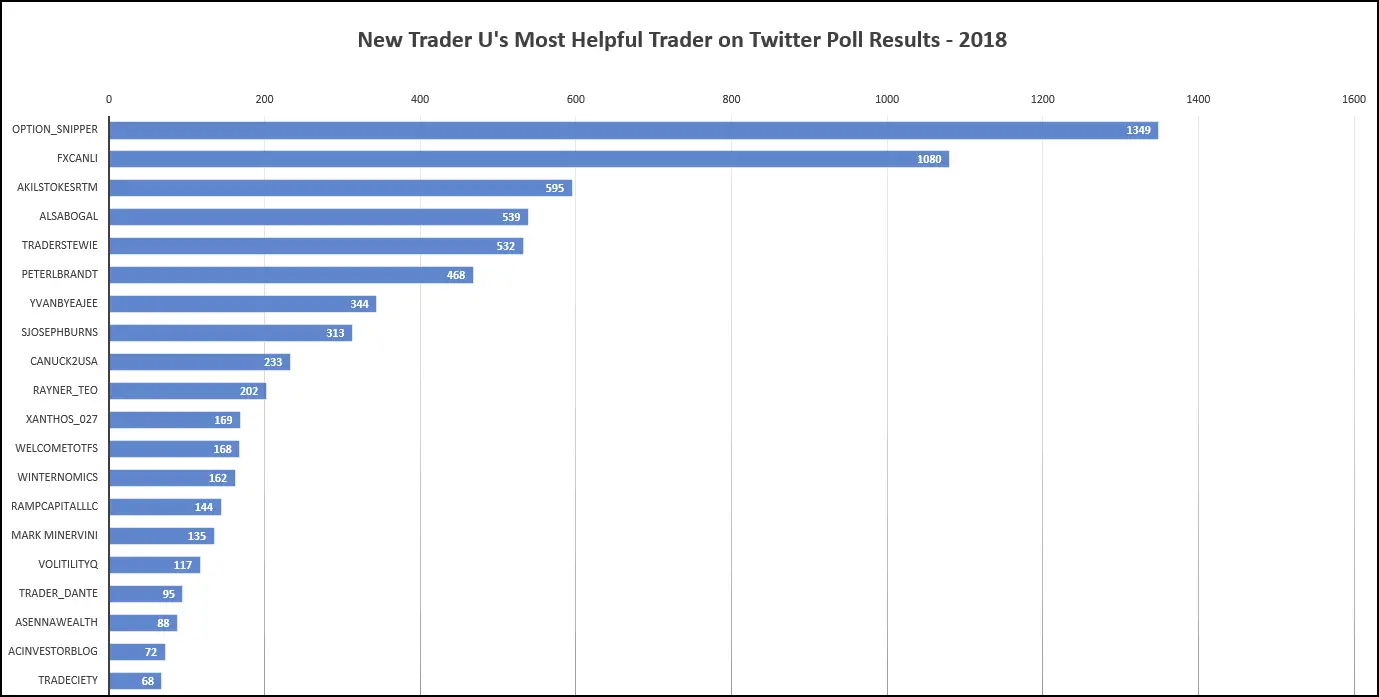 Thanks to everyone that took the time to vote in this year's poll!
There was a total of 8,174 total votes on our 7th annual Most Helpful Trader Poll.
Here are the Top 20 ranked by vote and their quantity of votes. This total includes the main voting ballot and the write ins for each person. A lot of familiar names here and many new faces as well. I look forward to following the traders discovered on this list that I did not know about and find out why they have so many fans. Another fun year on financial Twitter in 2018, best wishes on a great 2019.
@Option_Snipper-1349

@Fxcanli-1080

@AkilstokesRTM-595

@AlSabogal-539

@TraderStewie-532

@PeterLBrandt-468

@Yvanbyeajee-344

@SJosephBurns-313

@Canuck2usa-233

@Rayner_Teo-202

@Xanthos_027-169

@Welcometotfs-168

@RampCapital-144

@Winternomics-162

@Mark Minervini-135

@VolatilityQ-117

@Trader_Dante-95

@AsennaWealth-88

@ACInvestorBlog-72

@Tradeciety-68
***All content, opinions, and commentary on NewTraderU.com is intended for general information and educational purposes only, NOT INVESTMENT ADVICE. NewTraderU.com does not endorse any of the traders on this list, this is the results of our online poll not an endorsement for any of the trader's products or services. Do your own due diligence before putting your own money at risk.