Dr. Michael J. Burry is a well known investor and hedge fund manager of Scion Asset Management, LLC Holdings. He became famous when he was played by Christian Bale in the blockbuster movie 'The Big Short' based on the best selling book by author Michael Lewis. Dr. Burry's trade that made him a legend was when he used derivatives to bet on a real estate market crash in 2008 which made him and his investors a fortune. 
Michael Burry possibly made a 1,500% gain on GameStop on any remaining shares he was holding during its Reddit driven rally Tuesday January 26, 2020. Burry's Scion Asset Management owned 1.7 million shares in GameStop according to his last filing. His position was worth $17 million at the end of September. His fund's stake surged in value to $271 million at the price peak Tuesday, nearly a 1,500% gain for Burry. GameStop shares closed at $148 on Tuesday, valuing his position at approximately $252 million. This is a 1,380% gain in less than four months according to Business Insider. 
Burry's firm Scion reported owning a 2.4% stake in GameStop as of Sept. 30, 2020. Bloomberg reported Burry said in an email interview on Tuesday January 26, 2021 that he's now "neither long nor short." He declined to comment on when he sold the stock and at what price. 
On November 2nd, 2020 Dr. Michael Burry tweeted out he was short Tesla and explained why based on fundamentals, he has since deleted the tweet for some reason. This may be his new big short. This position should be in the Q4 2020 filing and is not included in the below current portfolio from Q3.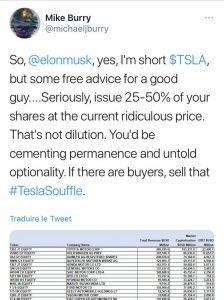 In January of 2021 Michal Burry tweeted out this new comment on holding his new big short position as the portfolio heat increases. As usually he has since deleted this tweet.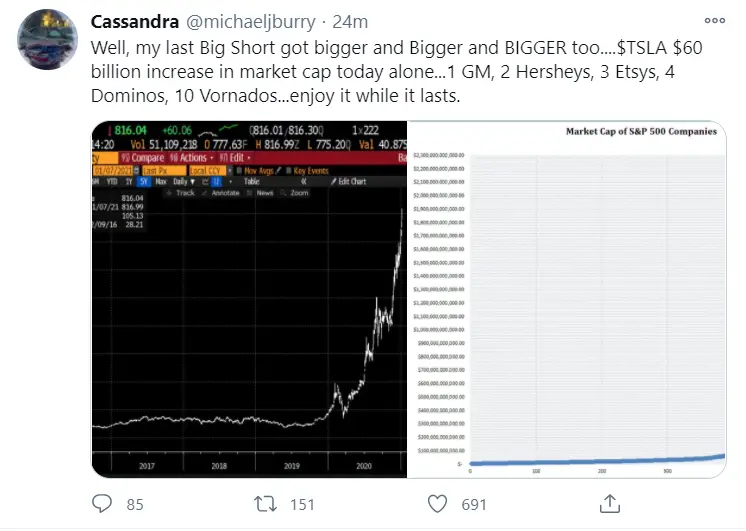 Below is the current Michael Burry portfolio in 2020 after his Q3 update. This is a breakdown of his trading and investing portfolio long stock positions from his fund's 13F filings as of the 3nd quarter of 2020.
Dr. Burry stock holding and portfolio%:
Total portfolio value $440 million. 
Alphabet Inc. Class C 16.2%
Precision Drilling Corporation 15.3%
CVS Health Corporation 9.9%
Facebook, Inc. Class A 6%
Western Digital Corporation 4.9%
GameStop Corp. Class A 4.3%
Pfizer Inc. 3.7%
Goldman Sachs Group, Inc. 3.7%
Discovery, Inc. Class A 2.6%
Qurate Retail, Inc. Class A 2.3%
JPMorgan Chase & Co. 2.2%
Uniti Group Inc. 2.2%
Bank of America Corp 2.1%
Las Vegas Sands Corp. 2.0%
MSG Networks Inc. Class A 2.0%
Qorvo, Inc. 2.0%
CenturyLink, Inc. 2.0%
RPT Realty 2.0%
Allstate Corporation 2.0%
Trip.com Group Ltd. Sponsored ADR 2.0%
Altria Group Inc 1.8%
Designer Brands Inc. Class A 1.7%
Foot Locker, Inc. 1.5%
Retail Opportunity Investments Corp. 1.5%
Wynn Resorts, Limited 1.5%
Kimball International, Inc. Class B 1.4%
ViacomCBS Inc. Class B 0.6%
National Oilwell Varco, Inc. 0.4%
Liberty Latin America Ltd. Class A 0.1%
Urstadt Biddle Properties Inc. Class A 0.1%
It can be educational to see how some of the world's best traders are positioned in current market environments and how their portfolios change in time with both positions and holdings.