This is a guest post by @TradesViz of tradesviz.com
How do you effectively use an online trading journal?
Here's a very simple flow that we recommend to our users at tradesviz.com. All it takes is 10 minutes every day and it's worth every minute.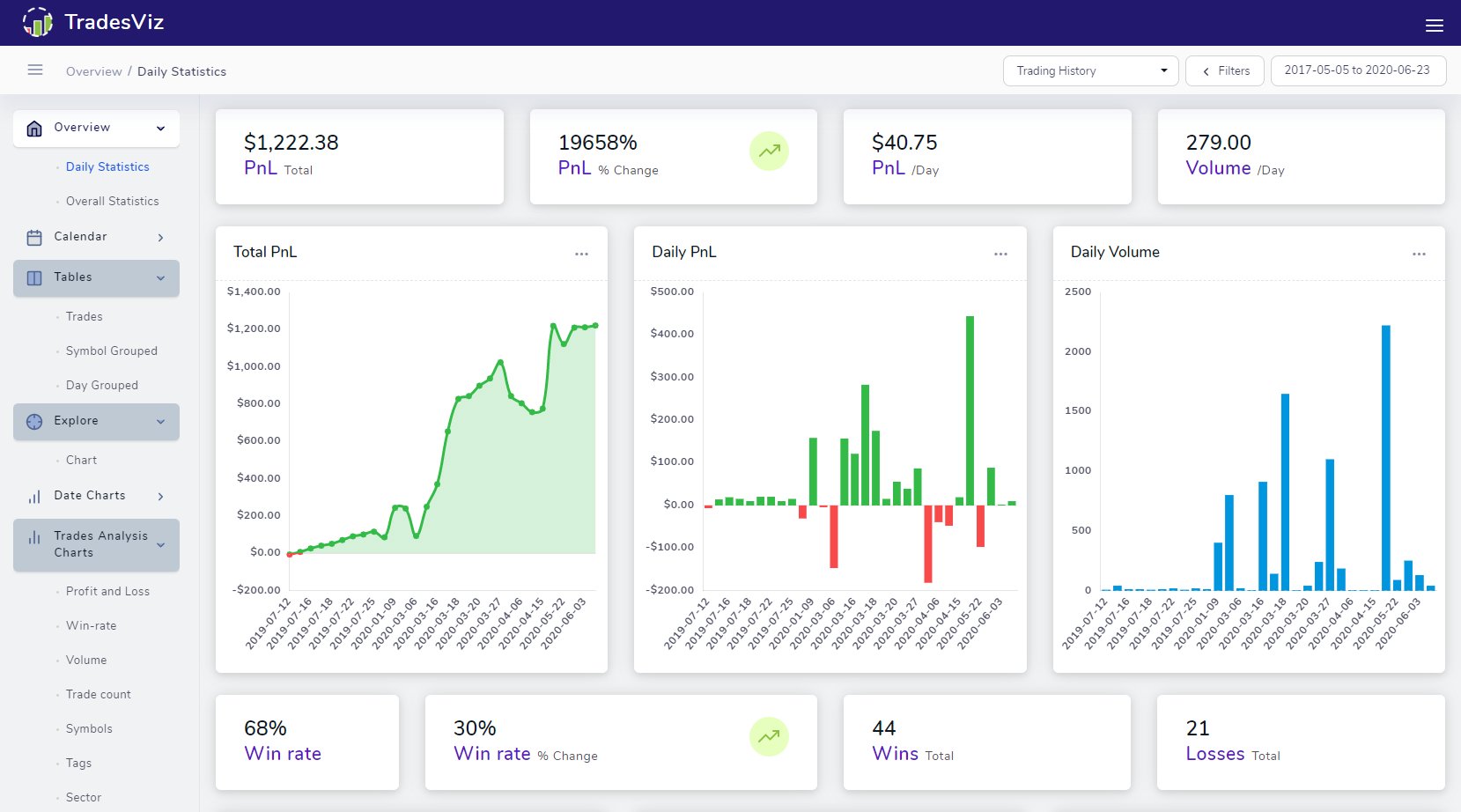 First, you need to get your data into your journal. 
We support 60+ banks, brokers, and platforms. Chances are, we probably already support the platform you are using.
If you are using TD Ameritrade, Interactive Brokers or Tradier or some of the popular cryptocurrency exchanges, then you can auto-sync your trades!
Next, check the daily statistics tab in your dashboard.
Use the trading history dropdown to see how much you have gained (PnL) in different timeframes (last week, last month, last year, full history, etc.,)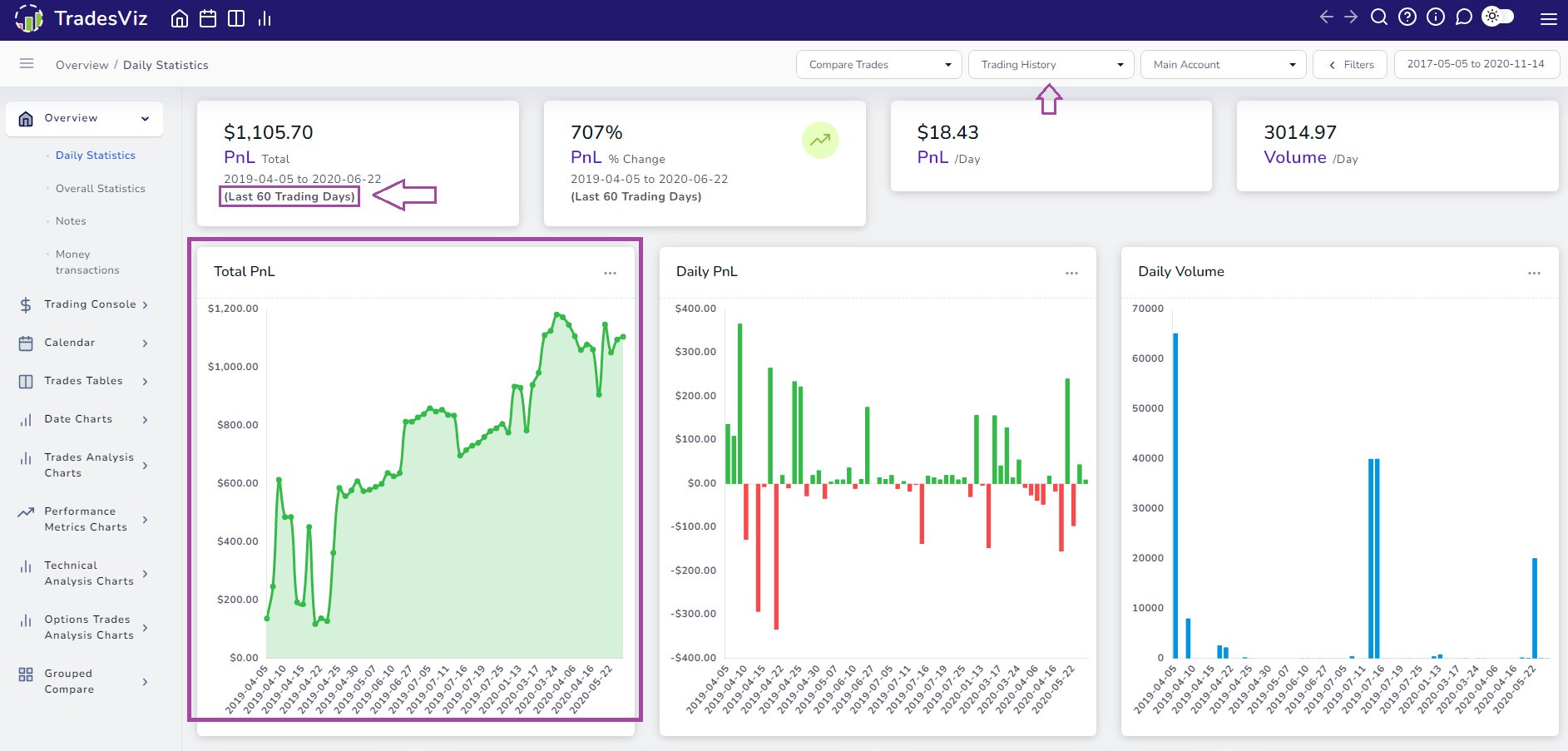 Now check your totals in the overall statistics tab.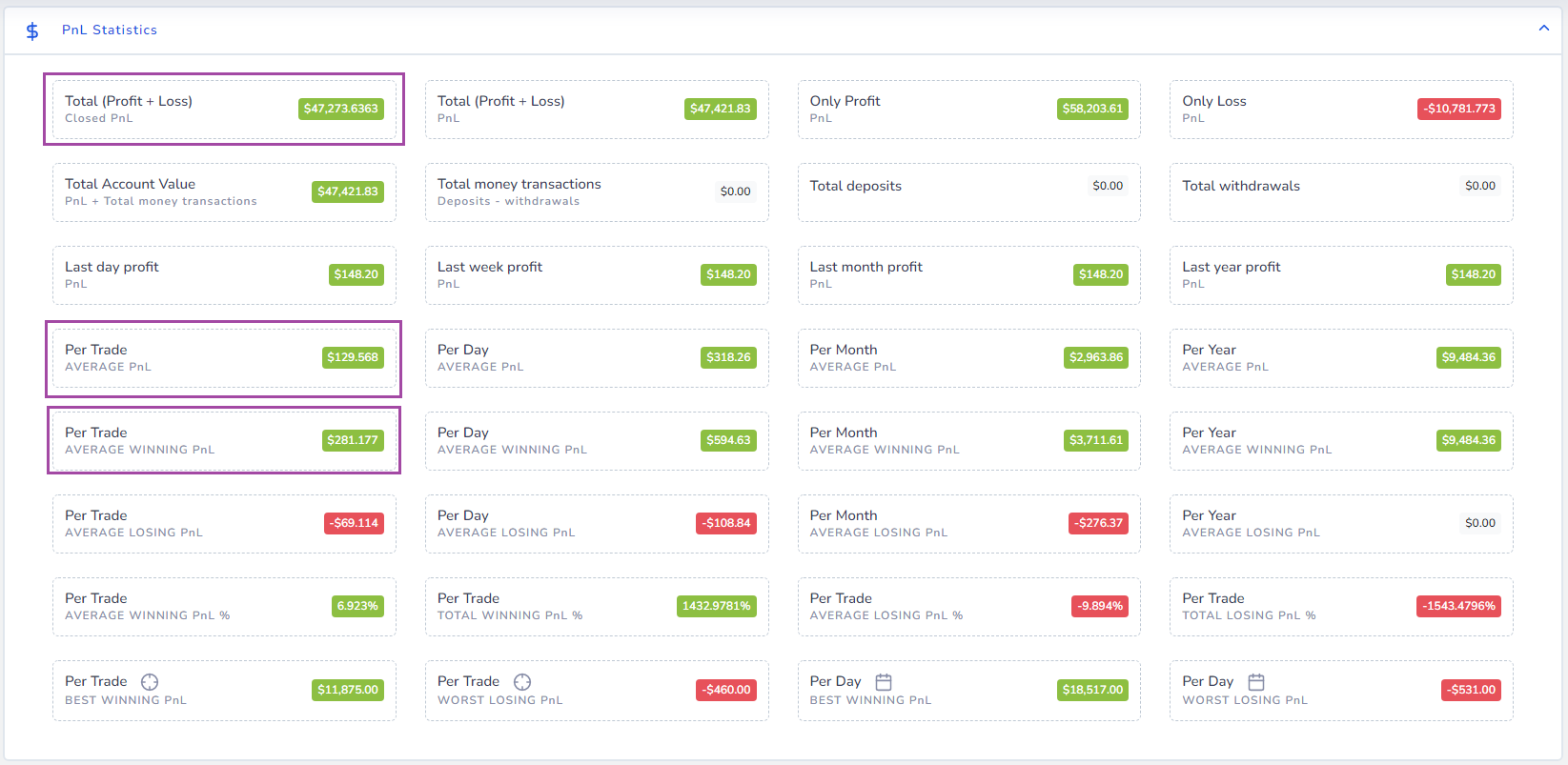 So far, we have completed the steps of knowing the overall performance of your trading account.
Now, let's get into specifics. 
The first tab we would recommend exploring is trades performance analysis > PnL analysis.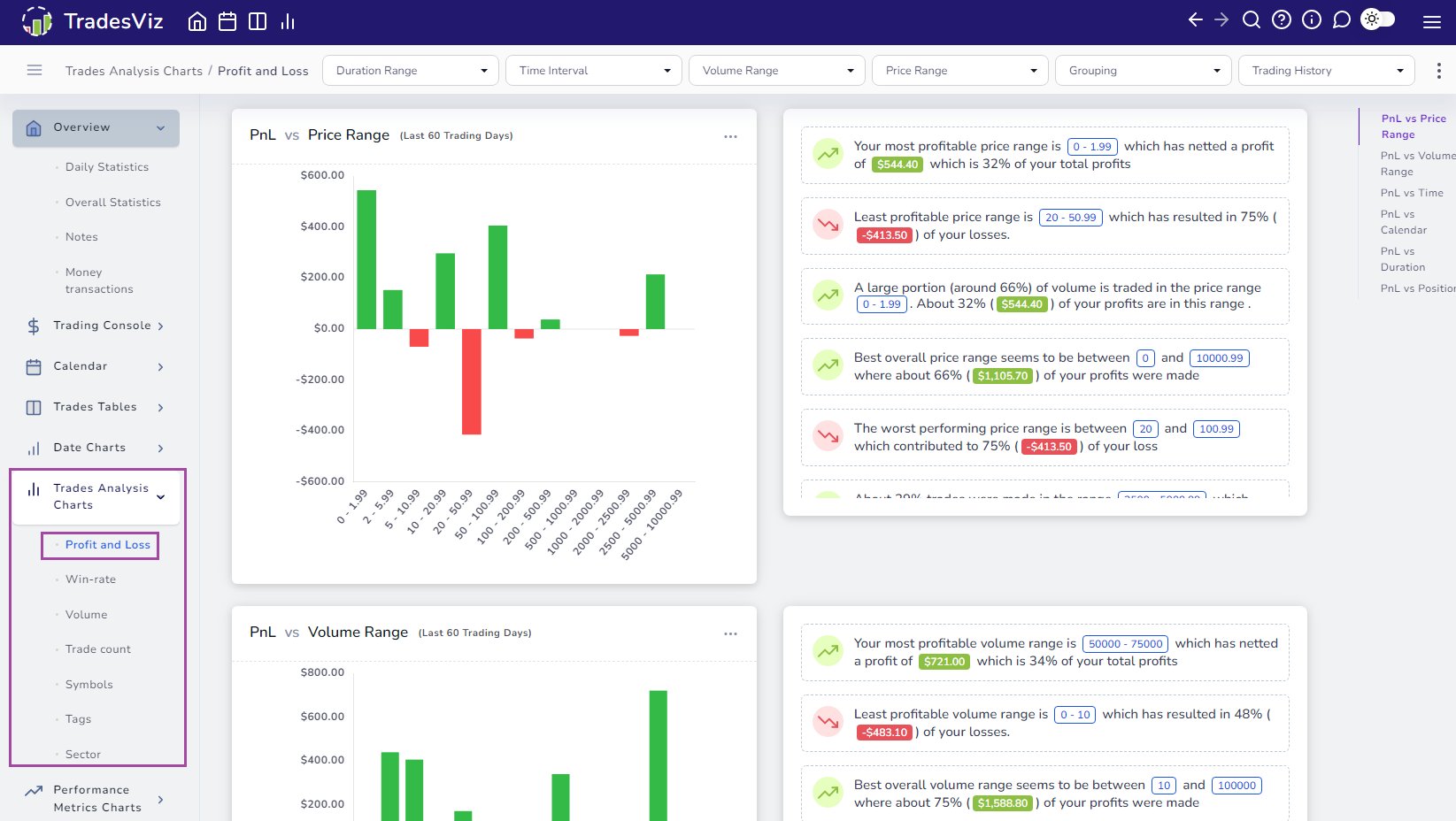 Why? because you get PnL + overlays versus almost all trade-related attributes.
This helps answer questions like:
What price ranges are you best at trading?

How does your performance vary during trading hours?

Are you a better swing, intraday, long, or short trader?

How does your volume correlate with PnL?
and more…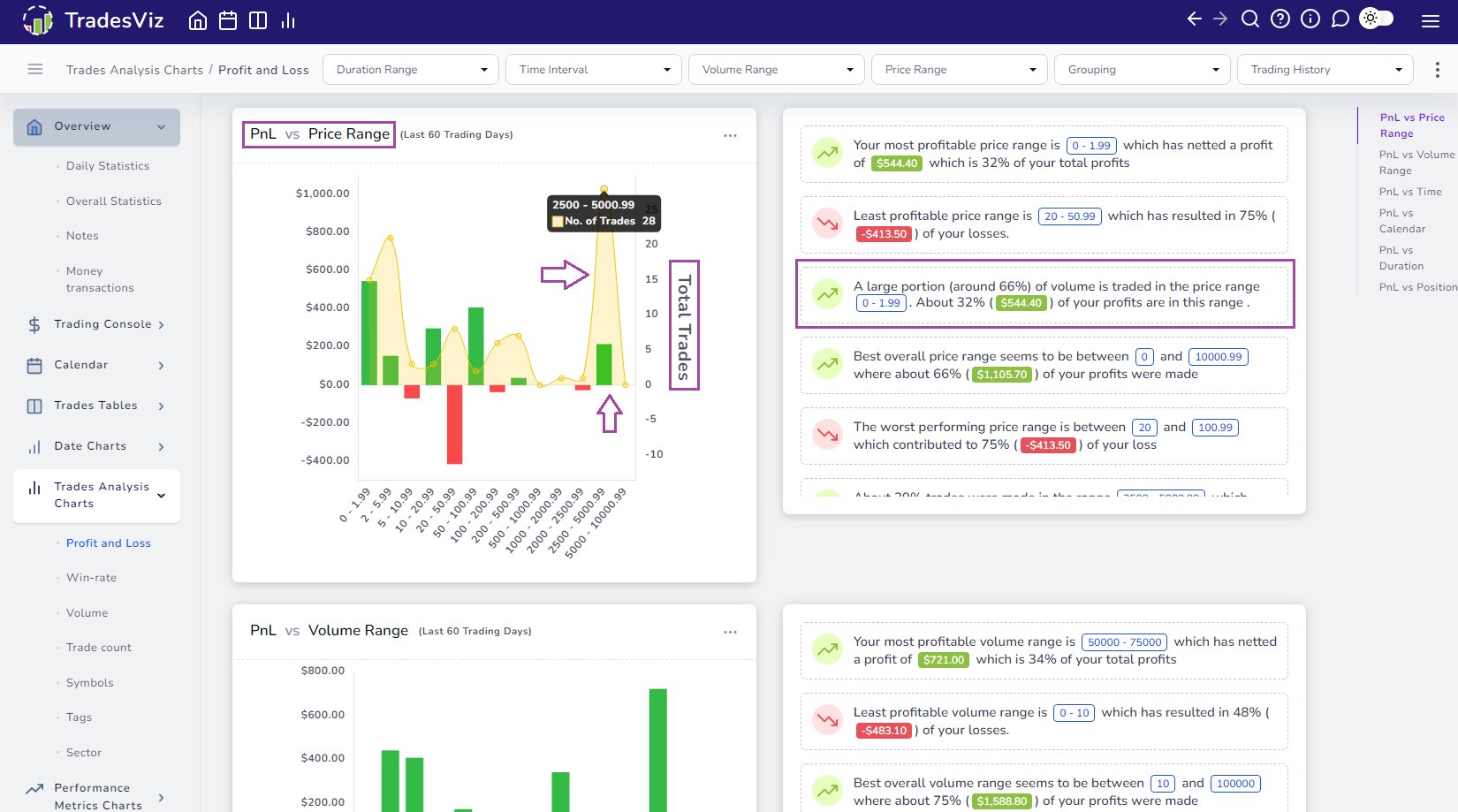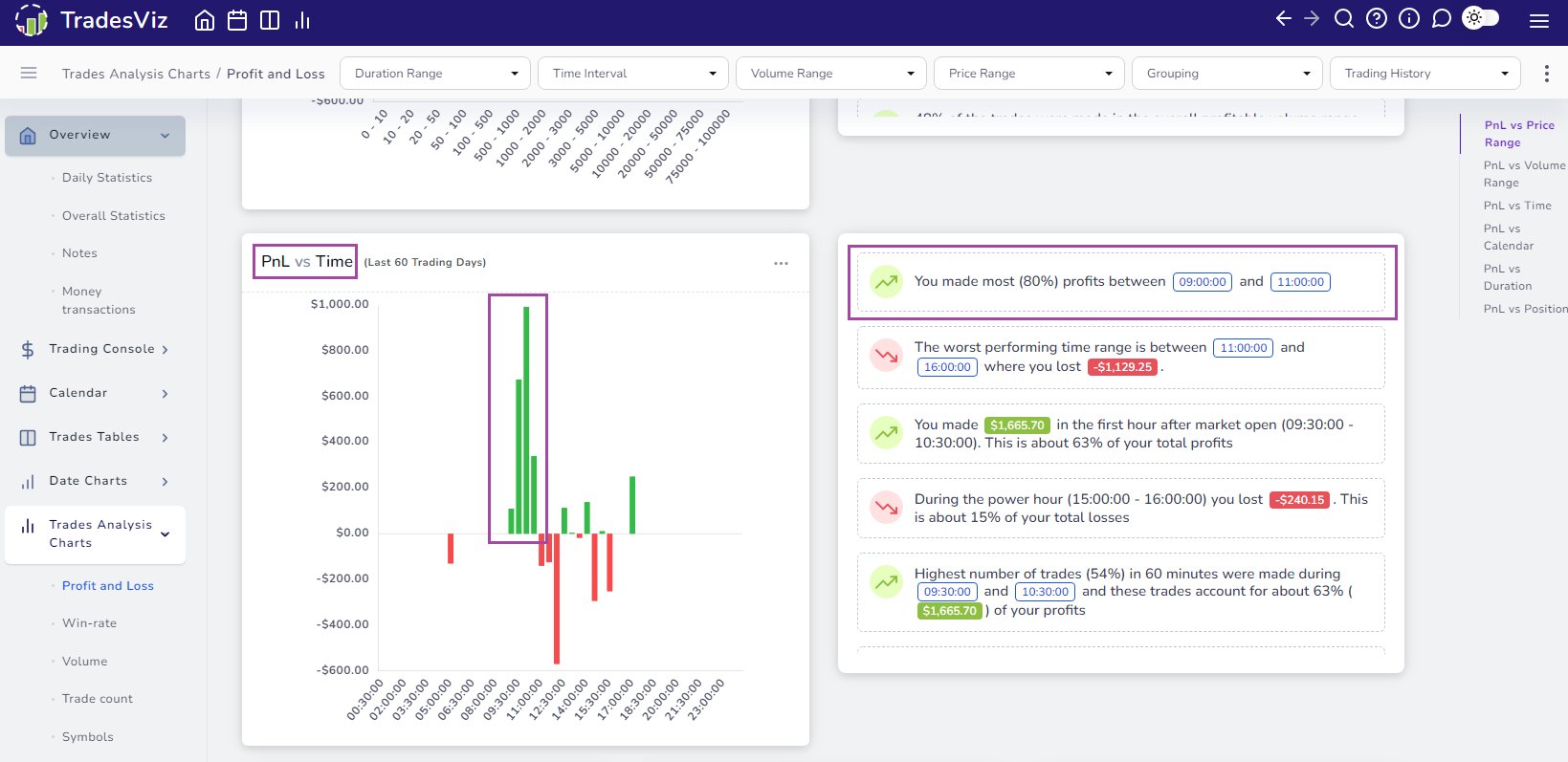 Take a few minutes to see how these trends have changed by choosing different timeframes (click on the last 60 days text next to each chart title)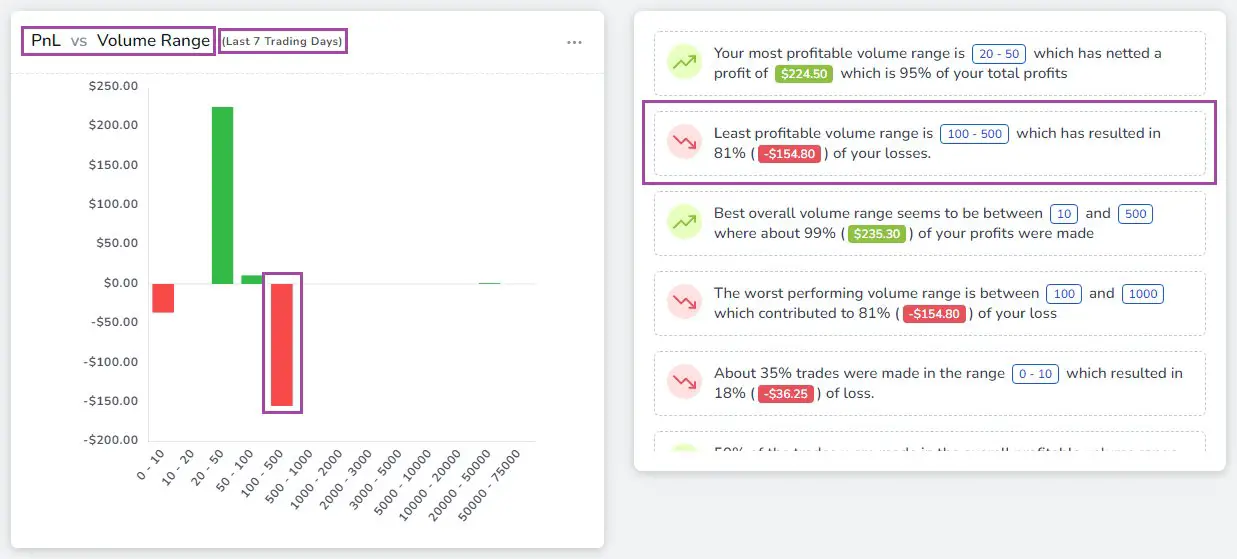 This gives you an understanding of how your individual metrics have changed.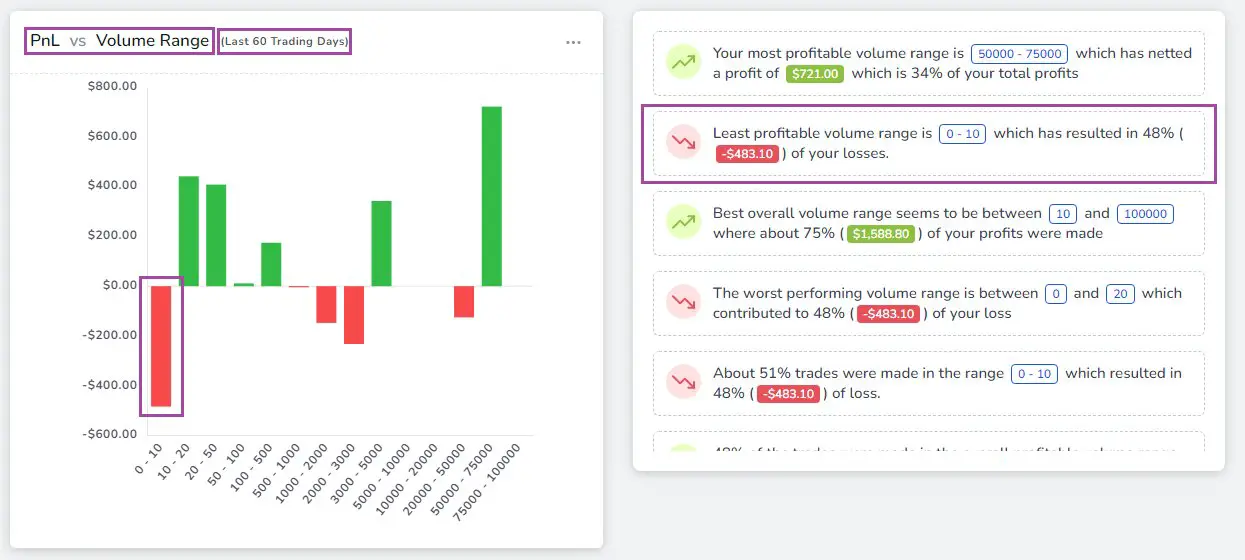 Next, start exploring outliers. Those tall bars are ones you need to concentrate on first.
Just knowing about having a $400 loss in the price range of 5-10 isn't helpful nor does it mean you should completely avoid it. 
Click on the bar and explore it. Study each trade.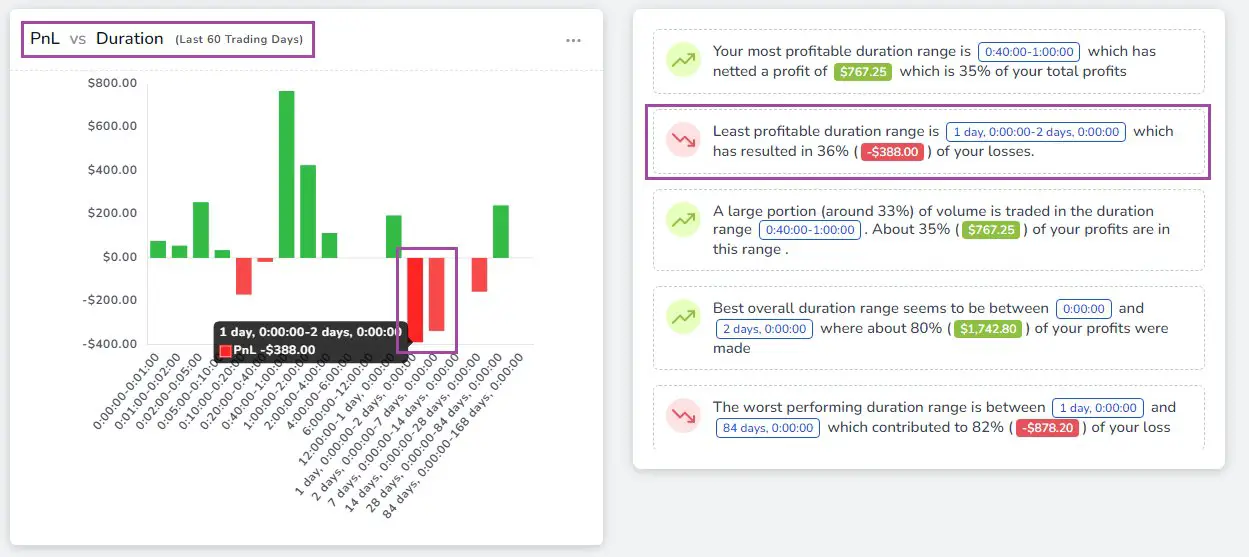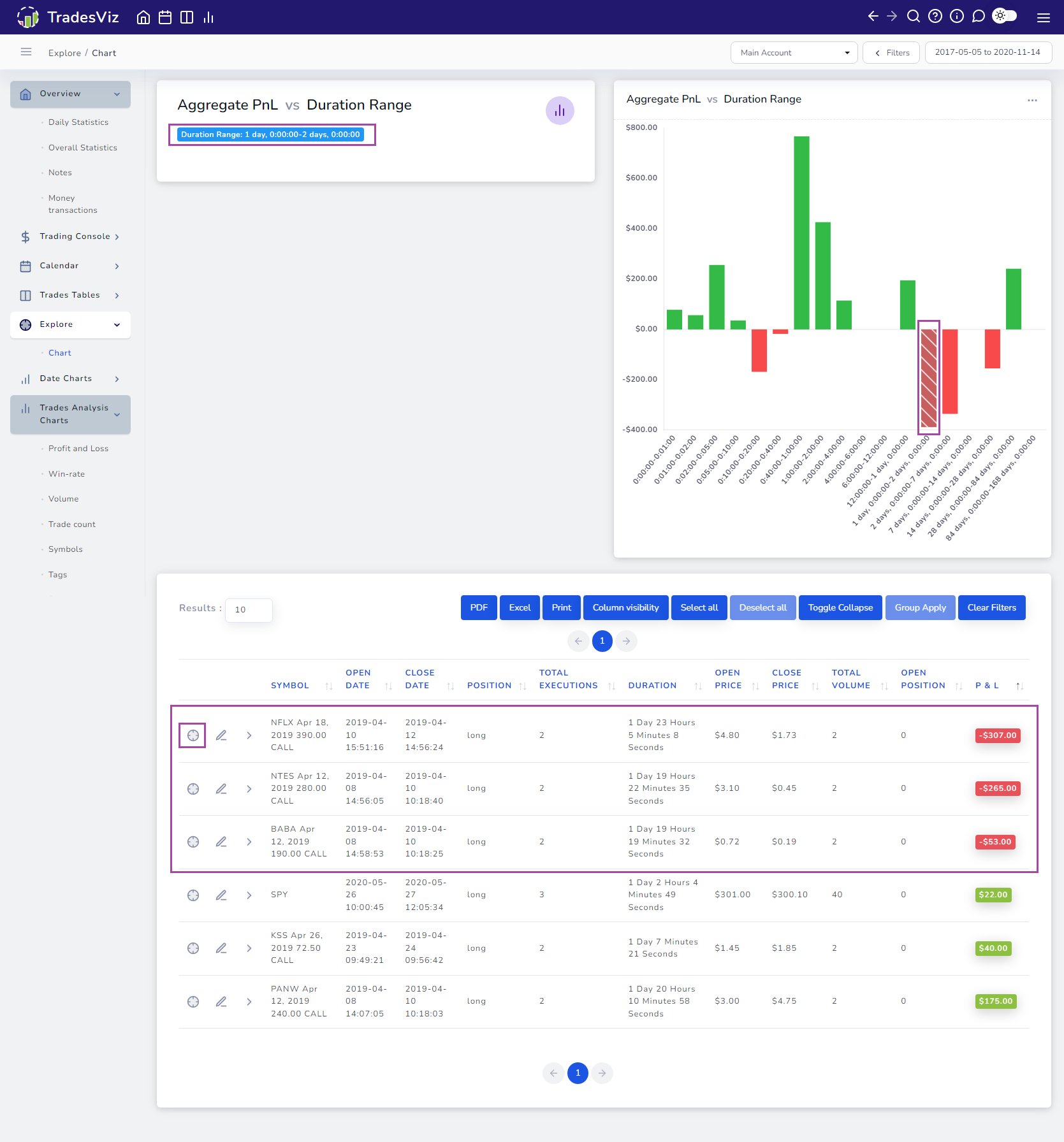 When you are studying trades, don't forget to start tagging and commenting on them. This is crucial!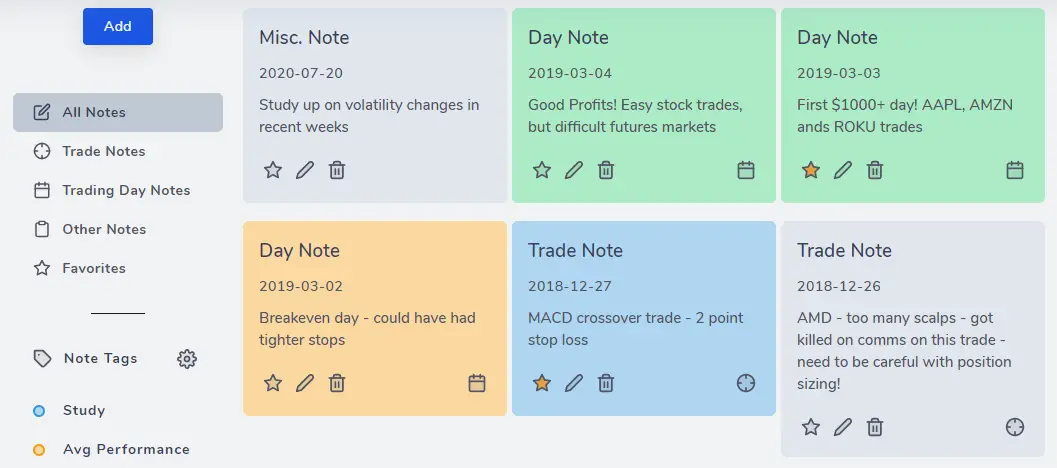 Without your inputs of tags/notes, you are not getting a complete picture of your trades and chances are when you look back at your trades, you are missing important pieces of your experience that you (probably) learnt the hard way.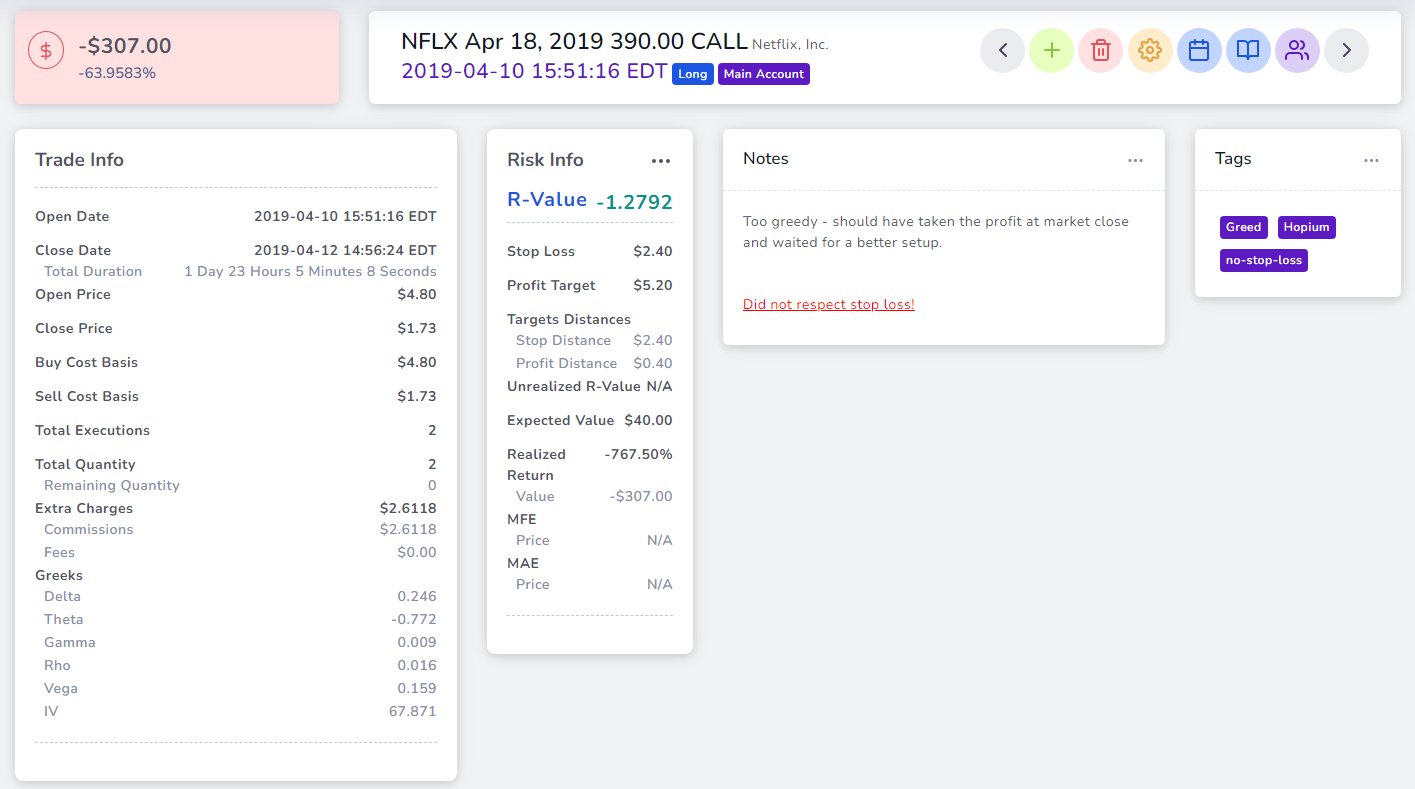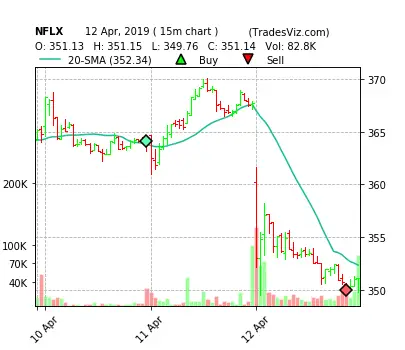 (Yes, you can draw on charts…)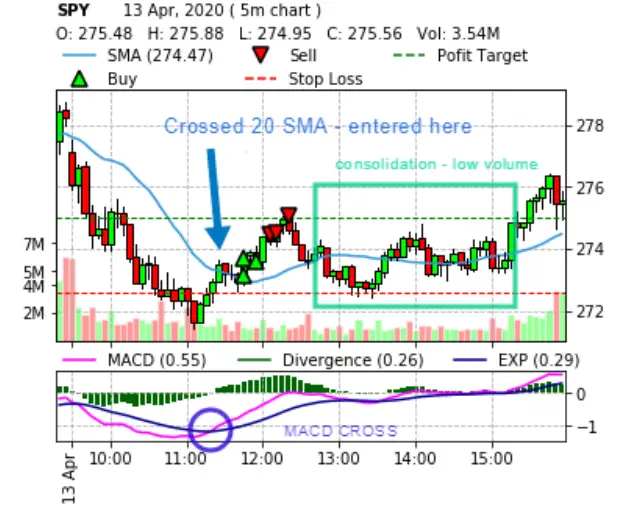 When you are exploring each trade – take a moment to look at each metric – MFE, MAE, duration of the trade, and also the auto-generated charts. 
This will help you recall WHY you executed it and make you think about HOW you could have made it better.
Another very important tab is the Trades chart tab under the trades table section. Say, you are focusing on a specific symbol. How are you going to look at all your trades in one single chart? Or rather, why would that even help? 
Whether you are a swing trader or intra-day trader, looking at your positions from a bird's eye view on a higher timeframe chart is going to help you with generating new ideas on how to find better exits and entries.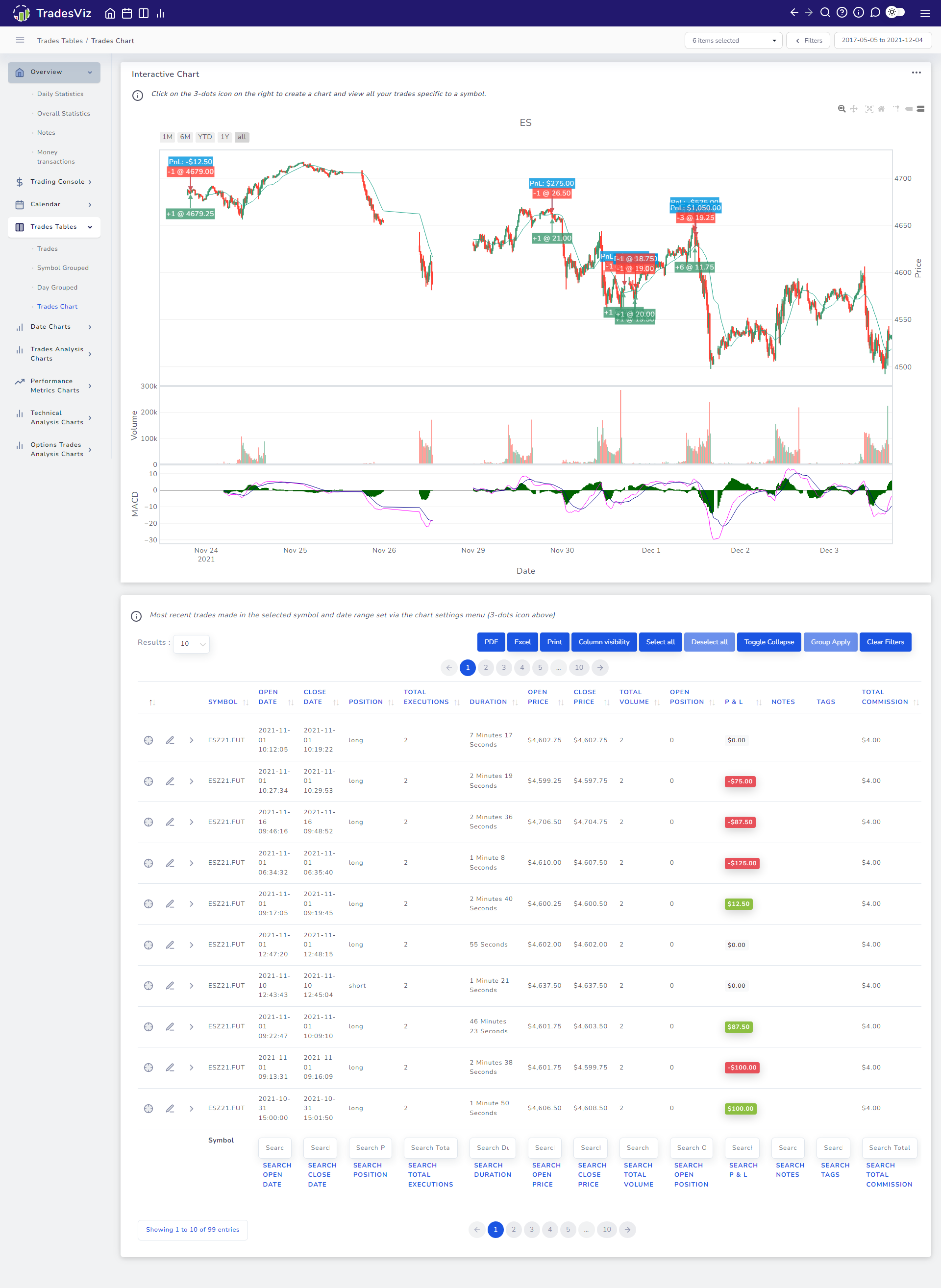 As you start switching between the trades table, trade explore – you will also explore the calendar and the day view.
These views will help you get a bird's eye view of what you did in an entire month/day.
Drill down on each day and add comments/tags to it.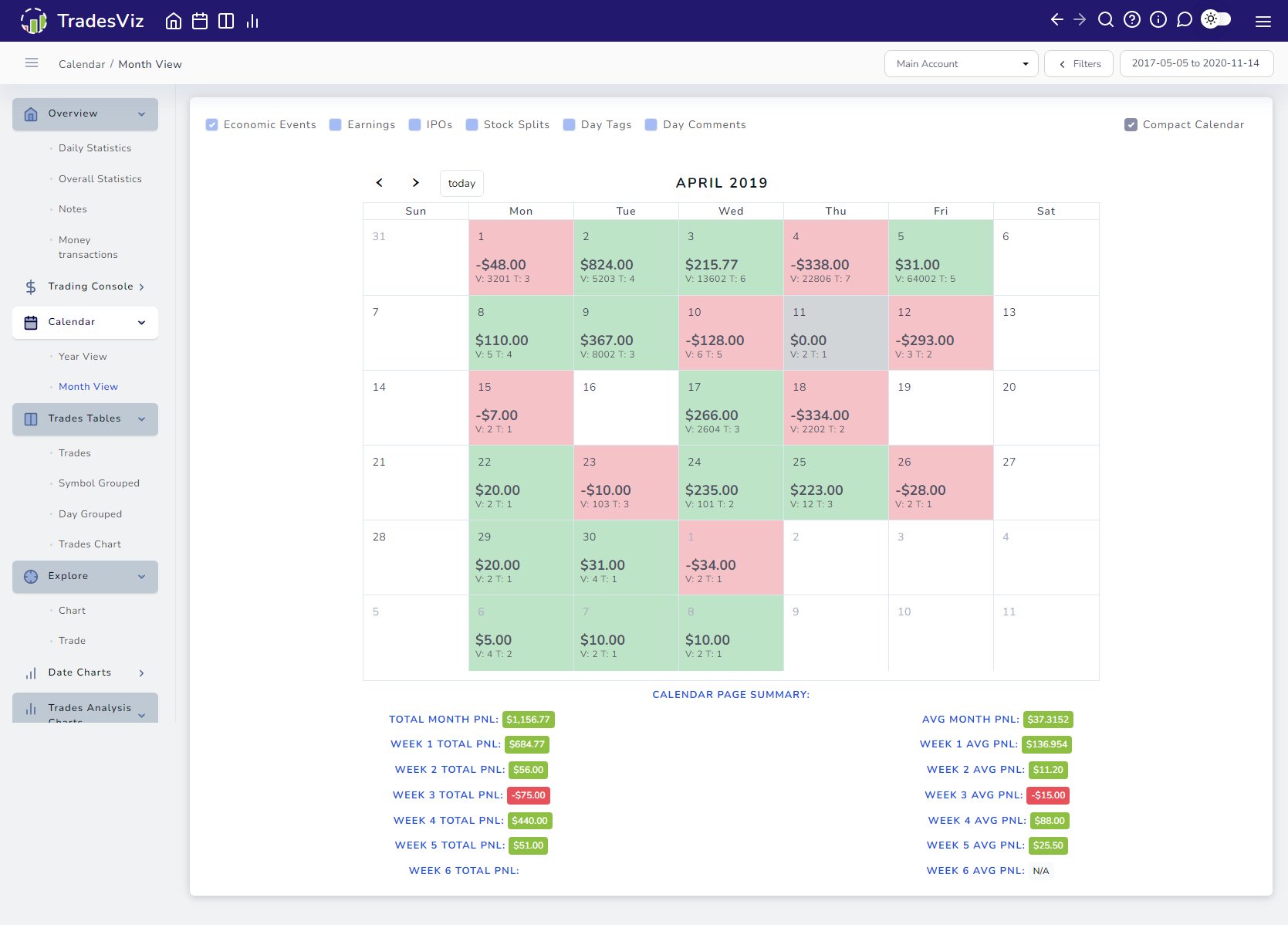 All of this probably takes ~10-20 mins even if done every day. 
Doing this repeatedly – you will find easier ways to get around the UI and learn just how connected each tab/data-view is in TradesViz. 
Our goal is very simple:
Make journaling as simple as possible and as easy as possible.
Why? 
The reason 95% of traders don't use one is because it's hard to maintain one. It's troublesome to keep importing files and keep track of trades etc., We are solving all of that (auto-sync trades), easy to view and explore charts, simple UX – no useless statistics or noise. 
Try it for a week. 
Log all of your trades, comment on them, look at the charts that are already generated for you. 
You will learn a lot more. Most of your learning in trading comes from seeing patterns and knowing what mistakes you made in your bad trades. All a trading journal does is reinforce that learning process by making resources readily available for you to consume. 
Are you interested in learning more about your trading and how to find your own edge? 
Sign up for free at tradesviz.com