Inflation is high, interest rates are rising, the consumer is going deeper into debt to keep up with the cost of living. Corporate profits continue to decline with drops in consumer discretionary spending and increasing labor, energy, and borrowing costs for business. Michael Burry predicted all of these things in the past 3 years.
In 2020, he started warning about the high inflation coming due to the lockdowns, government spending, and central bank policy. In 2021 he saw the everything bubble and warning about the coming stock market crash and financial crises in the markets. He was warning about inflation when the majority of politicians and central bankers said it was transitory. He warned of the coming stock market crash near the peak run up and maximum bullishness.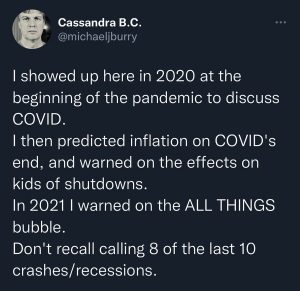 June 29,2022 Michael Burry tweet:

Yes, many corporations across different industries and sectors are laying off on average 10% to 20% of their work forces. These companies that are unprofitable are hit the worst as they must slow their cash burn rate in this high cost of debt environment. The more service based companies are focusing their layoffs with their home office workers and employees that work from home. The layoffs are occurring primarily with white collar workers that are not closely connected to a companies bottom line. Michael Burry also predicted this.
Telsa to layoff 10% of its salaried workforce (September, 2022)
Peloton layoffs: 12% of workforce laid off (October, 2022)
DocuSign layoffs: 9% of workforce laid off (September, 2022)
Taboola layoffs: 6% of workforce laid off (September, 2022)
Snapchat layoffs: 20% of workforce laid off (September, 2022)
Outbrain layoffs: 3% of workforce laid off (July, 2022)
Lyft layoffs: 2% of workforce laid off (July, 2022)
The Mom Project layoffs: 15% of workforce laid off (July, 2022)
Opensea layoffs: 20% of workforce laid off (July, 2022)
Substack layoffs: 14% of workforce laid off (June, 2022)
Ninantic layoffs: 8% of workforce laid off (June, 2022)
MasterClass layoffs: 20% of workforce laid off (June, 2022)
Bird layoffs: 23% of workforce laid off (June, 2022)
Superhuman layoffs: 22% of workforce laid off (June, 2022)
Cameo layoffs: 25% of workforce laid off (May, 2022)
Robinhood layoffs: 9% of workforce laid off (April, 2022)
Virgin Hyperloop layoffs: 50% of workforce laid off (February, 2022)
Peloton layoffs: 20% of workforce laid off (February, 2022)
Beachbody layoffs: 10% of workforce laid off (January, 2022) [1]
Many other companies have also announced hiring freezes and others have closed open job position postings. In 2022 companies are finding ways to use technology like apps and software to lower the amount of needed workers. This is smart business as the cost of labor has gone up dramatically in the past three years along with a shortage of workers in many industries.
Layoffs and increasing unemployment are one of the first signs of a recession and so far these numbers have not showed up in the jobs report.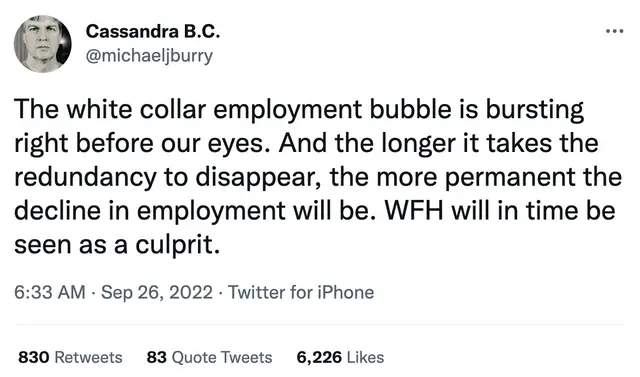 Does the stock market crash in a recession?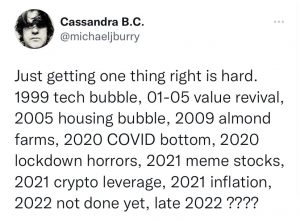 Michael Burry was warning about a recession in June 2022, he was correct so far. Stock markets tend to crash during recessions as consumer spending drops and economic growth ends and begins to shrink. Recessions are a part of the business cycle caused primarily by monetary policy having to raise rates to cool off an overheated economy where bubbles have formed and inflation has taken hold. Other times financial bubbles popping can cause the unwinding of assets like stocks or real estate and cause a flood of supply on the market bringing down prices.
While unemployment is one indicator used to quantify if a recession has started, employment tends to peak later after the economic decline has begun. Jobless claims and high unemployment tend to continue deep into an economic recovery as it is a lagging indicator. The end of the recession marks the bottom of the economic decline and the start of an economic rebound rather than a quick end, it takes time for growth to return after a recessionary cycle.
A recession is defined as a period of temporary economic decline when trade and industrial activity drop, generally identified by a fall in GDP for two successive quarters. The gross domestic product of a country doesn't have to go negative, just decline over the previous period.
Yes, the stock market indexes are currently in a bear market. It's normal for the stock market indexes to drop 20% during a recession and individual stocks to drop 50%. More speculative stocks can drop 80% of more as equities as an asset class go under distribution. Rising yields can make bonds and income producing assets more attractive than stocks in a recession. This causes a rotation from stocks into cash and other assets.
Where price is in relation to the 200-day moving average is also a good indicator of whether the stock market is in a bear market. Bear market cycles tend to happen under the 200-day moving average for major stock market indexes like the S&P 500 index and Dow Jones Industrial Average.
It's unlikely that the stock market will recover its losses in 2022 as nothing has changed yet in the Federal Reserve rising interest rate policy or in the fundamentals of global macroeconomics. Combined with ongoing issues inside the global supply chains, heavy government debt loads that most western countries are under it will not be a favorable economic environment for stocks for the foreseeable future. The weakness of the British Pound and Japanese Yen also add fiat currency risk to the complex matrix of counterparty risk.
Fundamentally, the stock market rises on increasing corporate earnings, a growing economy, low unemployment, low inflation, and stable currencies. Technically, the stock market is driven higher on hope, greed, and belief in the success of publicly traded companies. We currently are losing all these dynamics and bearishness has settled onto the stock market.
Historically, a downtrend in the stock market is volatile and while some of the biggest rallies can occur during these down moves, they tend to fail and the drop lower continues. The downtrend is in place as price continues to go lower under key descending moving averages like the 20-day, makes lower highs and lower lows, and continues making new 52-week lows.