In this post we are going to take a look at the Berkshire-Hathaway portfolio holdings by stock, sector, and industry managed by Warren Buffett that were reported in the 13F filing to the SEC for the 3rd quarter ending on September 30, 2022.
Warren Buffett continues to oversee and manage the Berkshire-Hathaway portfolio at age 92. This portfolio has approximately $296 billion in capital currently invested in stocks, below is how he has the  portfolio allocated.
Portfolio holding percentage by sector:[1]
Sector % analysis
Technology 43.77%
Financials 23.13%
Energy 12.05%
Consumer Staples 12.00%
Information Technology 3.14%
Services 2.44%
Health Care 1.40%
Consumer Discretionary 0.95%
Communication Services 0.59%
Materials 0.40%
Consumer Cyclical 0.11%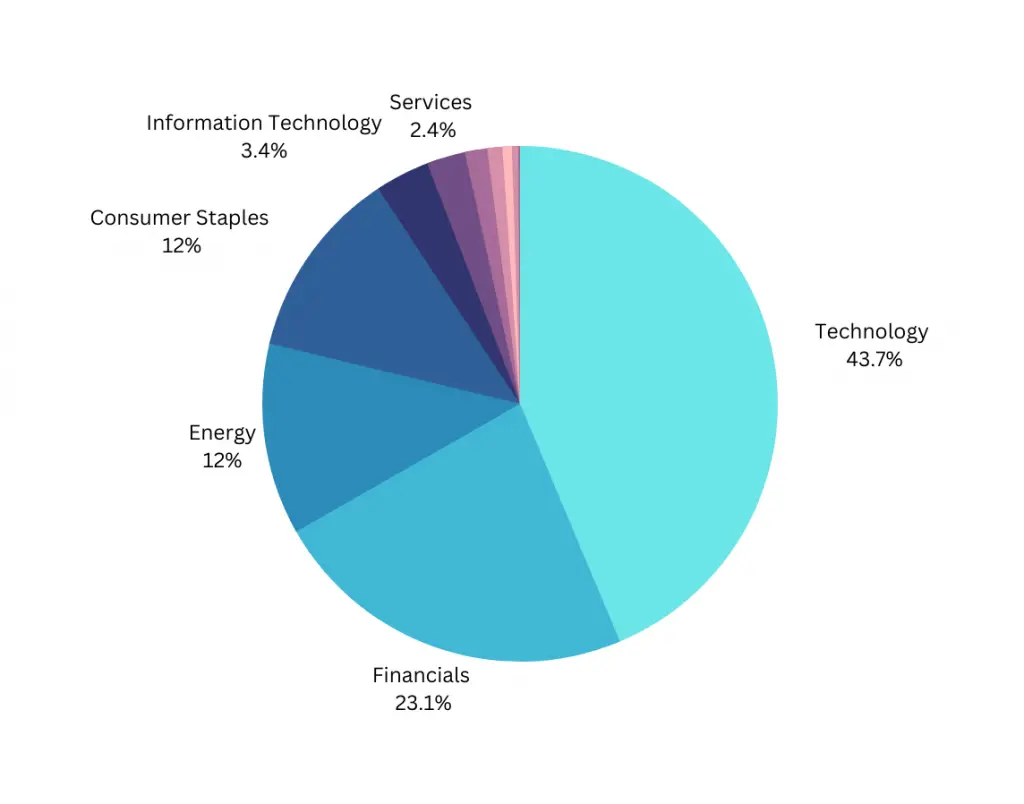 His portfolio allocation reflects a big bet on technology as so many companies now blur the line between sectors with their primary edge being in their tech and platform. Apple is his primary position as he saw the intrinsic value in the company based on both the cash they were carrying on the balance sheet and the reoccurring cash flow they received in their sales. This sector makes up almost a half of his portfolio.
His next biggest holding is in the financial sector as he sees value in banking as a business models He holds several major banks like Bank of America, Wells Fargo, U.S. Bancorp, Bank of New York Mellon Corp., and Citigroup. This sector makes up almost a quarter of his portfolio.
Buffett has recently been bullish on the oil industry and it's reflected in his 12% allocation to the energy sector. He has recently been accumulating and adding to his biggest energy position in Occidental Petroleum which alone has grown to over 4% of his portfolio. He is also holding Chevron which is an 8% position of his total capital. Energy is over one-tenth of his portfolio allocation.
His other major sector holdings is in one of his lifetime favorites, consumer staples. He loves consumer staple companies because most of their products are recurring purchases by customers as the products are consumed. Consumer staples are also mostly recession proof as they are always needed. He looks at them like cash flow machines with strong moats against competition with their brand loyalty from customers. Even though this sector typically has high labor costs and low margins these companies make money through volume and consistency in sales.
His consumer staple holdings include Coca Cola Company, Kraft Heinz Company, Kroger Company, Mondelez International, and Procter & Gamble. All of these companies should have safe earnings through recessions and economic downturns. Over one-tenth of Buffett's portfolio is in consumer staple stocks.
His allocation is a great example of a model portfolio that has the benefit of being overweight in the best stocks and also well diversified across sectors for safety.
Current Warren Buffett Portfolio 2022 (Q3 Update)
Currently holds 49 stocks in his Berkshire Hathaway portfolio, here is a breakdown of each stock position.
Warren Buffett Stocks 2022
Position Rank/Ticker/Company/Portfolio Allocation
AAPL – Apple Inc. 41.76%
BAC – Bank of America Corp. 10.30%
CVX – Chevron Corp. 8.02%
KO – Coca Cola Co. 7.57%
AXP – American Express 6.91%
OXY – Occidental Petroleum 4.03%
KHC – Kraft Heinz Co. 3.67%
MCO – Moody's Corp. 2.03%
ATVI – Activision Blizzard Inc. 1.51%
TSM – Taiwan Semiconductor S.A. 1.39%
USB – U.S. Bancorp 1.06%
DVA – DaVita HealthCare Partners 1.01%
HPQ – HP Inc. 0.88%
BK – Bank of New York Mellon Corp. 0.81%
C – Citigroup Inc. 0.78%
VRSN – Verisign Inc. 0.75%
KR – Kroger Co. 0.74%
PARA – Paramount Global CL B 0.59%
LSXMK – Liberty SiriusXM Series C 0.55%
GM – General Motors 0.54%
V – Visa Inc. 0.50%
AMZN – Amazon.com Inc. 0.41%
AON – Aon Plc 0.40%
CHTR – Charter Communications 0.39%
MA – Mastercard Inc. 0.38%
MCK – McKesson Corp. 0.37%
SNOW – Snowflake Inc. 0.35%
CE – Celanese Corp. 0.30%
ALLY – Ally Financial Inc. 0.28%
LSXMA – Liberty Sirius XM Series A 0.26%
TMUS – T-Mobile US Inc. 0.24%
GL – Globe Life Inc. 0.21%
RH – RH 0.20%
MKL – Markel Corp. 0.17%
NU – Nu Holdings Ltd 0.16%
FWONK – Liberty Media Corp Formula One Series C 0.15%
FND – Floor & Decor Holdings 0.11%
LPX – Louisiana-Pacific Corp. 0.10%
STNE – StoneCo Ltd. 0.03%
JNJ – Johnson & Johnson 0.02%
MMC – Marsh & McLennan 0.02%
LILA – Liberty LiLAC Group A 0.01%
MDLZ – Mondelez International 0.01%
PG – Procter & Gamble 0.01%
JEF – Jefferies Financial Group Inc. (Less than 0.01%)
LILAK – Liberty LiLAC Group C (Less than 0.01%)
SPY – SPDR S&P 500 ETF Trust (Less than 0.01%)
UPS – United Parcel Service (Less than 0.01%)
VOO – Vanguard S&P 500 ETF (Less than 0.01%)
Berkshire Hathaway had $32.626 billion in cash on hand at the end of the 3rd quarter reporting on September 30, 2022. This was a 53.38% decline from their cash position on a year-over-year basis. This shows that Buffett and his other portfolio managers saw value in the stock market and were putting capital to work in individual stocks.
Does Warren Buffett have a personal portfolio?
Buffett's personal portfolio has a 16% stake in Berkshire-Hathaway shares that are currently worth approximately $108 billion along with holdings in two banks: JP Morgan and Wells Fargo, the size of these two positions are unknown.[2]
What is Warren Buffett's 90/10 rule?
Warren Buffett's investing tip for retirees is a method that allocates 90% of investment capital into stock-based index funds while the remaining 10% of money is put into lower-risk investments. Buffett's favorite mutual funds are ones that track the S&P 500 for a low management cost. He has watched how the S&P 500 beats the majority of all mutual fund managers and that the index funds also save investors a lot of money with much lower management fees that add up over time.
In one of his letters to Berkshire Hathaway shareholders, Warren Buffett outlined his investing plan to use the 90/10 rule regarding his current wife's inheritance, which will be invested 90% in an S&P 500 index fund and 10% in government bonds to create a balanced portfolio of returns while allowing for living expenses. [3]
This keeps 90% of retirees capital growing by tracking the increase in stock prices of 500 of the best U.S. companies and also keeping 10% of capital safely in short term bonds for quick access to spending money for bills.
The S&P 500 index is a very diversified by sector for a smoother equity curve.
S&P 500 sector and industry weighting (%):
Basic Materials 2.27%
Consumer Cyclical 10.58%
Financial Services 13.65%
Real Estate 2.74%
Consumer Defensive 7.38%
Healthcare 15.40%
Utilities 2.45%
Communication Services 7.35%
Energy 5.36%
Industrials 8.68%
Technology 23.57%[4]
Current Warren Buffett Net Worth 2022
Warren Buffet's current net worth in 2022 is $107.8 billion in U.S. dollars making him currently the fifth richest person in the world at 92 years old.[1]