With most indexes breaking out to multi-year highs after the European debt crises appearing to  be kicked farther down the road for now we are setting up for a possible run up into new price territory in many leading names. I am holding three positions going into Monday morning. While anything can happen I like the strength in these three names and the odds of them all going higher in the weeks to come. My downside is limited with my planned stop losses and my upside will be allowed to run if the trend continues.
Here are my top three CAN SLIM momentum picks for next week.
Apple should have support at the 5 day ema from the professionals accumulating it. I will stop out if we close beneath it. The chart appears to show the potential to trend to $700 before it meets any resistance at this century price mark.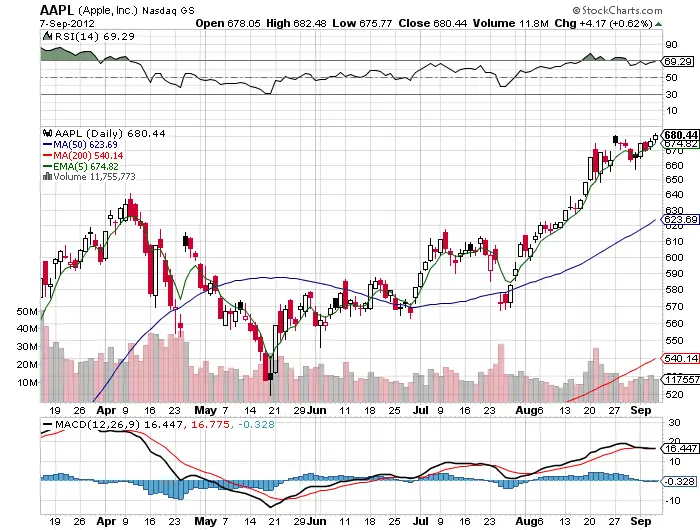 Price line has filled the gap that it suffered after earnings and is poised to try to overtake the 50 day. We may have resistance at the 50 day but if we can get above it the next strong resistance does not come until we get to the $700 mark. Look for the 200 day to provide support and a bounce if the trend does not continue and re trace, look at the 50 day to become the next support if we can break and close above it. It appears that we will make it to the 50 day before we meet resistance.
Google debuts at #47 on the IBD50 this week. It stays on my watch list at all times due to it being such an innovative company and at the top of the S& P 500 for earnings and sales growth. I also love the liquidity of its options. It may take a little while to get above the $712 mark after its recent run, $700 or slightly below will likely create a new support around that century price mark. We may trade in the $700/$712 price range until we can close above it. I look at all time highs of $747 being a possible target over the next several months  if the market conditions continue the up trend.