Many traders have not done their homework in understanding how the greatest stocks in history acted. How they created products that changed the world and both earnings expectations and real earnings drove these stocks up to dizzying levels. Traders that have not done the homework think these stocks are short plays and just can't go any higher. To believe that a true monster stock is a short play a trader has to disregard both the fundamentals and technical chart action of these stocks while they are running. It is more dangerous to be short a monster stock than long one. While monster stocks do have corrections back to the 21 and 50 day moving averages they can run quite a distance before returning to that spot. I have watched people doubt and question Apple's earnings power since the iPhone was released in the summer of 2007. I care nothing about opinions I simply trade the chart. Fighting this trend is like picking up pennies in front of a steam roller. Why not just ride the steam roller instead?
John Boik's book Monster Stocks is in the lineage of William O'Neil, Investors Business Daily, and the CAN SLIM investment style. This book is a short cut to learning to spot monster stocks. Not only has Mr. Boik written books about how legendary traders made millions in the stock market, but he has also written this book about the stocks that made many traders and investors a lot of money. If you are a growth investor or momentum trader you will enjoy this book and it is also a great book to educate new traders on how the hottest stocks truly move on charts from a historical perspective.
The author shows the readers examples of a monster stocks bar chart during the major part of its up-trending move explaining the price in relation to the 21, 50, and 200 day moving averages, along with the relative strength line and volume. You will see how to enter at price break outs to new highs and add on as it retreats in price to the 21 or 50 day moving average, depending on the particular stock and its support long term support levels. Most importantly the reader will learn when to sell at exhaustion gaps in price or when the stock's price falls through the 50 day moving average and fails to retake it. It is crucial to allow a winning stock to run  for maximum profit, but also important to sell and lock in profits before the run up ends, and the stock price falls back to earth.
I have personally made great profits trading several of the stocks in this book during the price run ups so I can say from personal experience the author is correct in his buy and sell recommendations and thorough analysis.
You will learn how to identify the stocks that have the best probability to double and triple in a matter of months. Some of these picks even went on to increase 1000% to 7000% from their original price in less than a year. Monster Stocks are examined from when they were in their prime like Google (GOOG), Apple (AAPL), Yahoo (YHOO), Taser (TASR), and many others. Stocks that change the way we live by creating new products that are very popular and lead to explosive earnings growth in the company and price increase in the stock that the majority of money managers want to be a part of.
Here is what a monster stock looks like: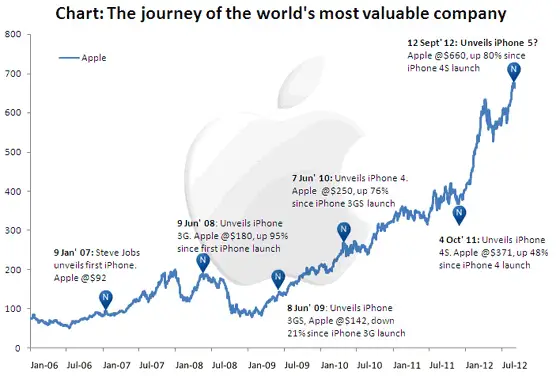 Here are the keys to finding and trading monster stocks found in this book:
Monster Stock fundamentals:
1. Outstanding sales or revenue growth.
2. Strong and accelerating earnings growth.
3. High rates of return on equity (ROE).
Rules:
1. Only buy in an overall up trending market.
2. Only buy stocks in sound price bases with strong fundamentals.
3. Buy stocks at their 52 week highs or better yet, all time highs at break outs in price.
4. Only stay in stocks that act right with rising prices on rising volume and pull backs on lighter volume.
5. Sell when it is time, do not stay in when the price falls through the 50 day moving average support line.
Monster Stocks is a great tool to have in your stock trading library to help you train your eye on what to look for in momentum trading. The appendix is full of charts and explanations on what drove the stock prices. This is a book that could turn a new trader into a rich trader. The bulk of my profits have been made by focusing on a few monster stocks and trading them during their up trends, this book shows readers how to also do this effectively.