Well it was a wild day today, shorts did very well, longs got clobbered, traders coming into today in cash were pleased with their position unless they went bottom fishing. It was a strange 24 hours with futures gyrating over night deep in the red then it recovered and we had green in the equity premarket  that was erased as the open drew near. The we had a crash then recovery, then flat line. it was a tough day for most. Here are my thoughts for what the charts are saying to me after todays action.
I am actually looking to go long Apple tomorrow, while my primary trading is trends this is way oversold and stretched far away from the 5 day ema. Looking at this chart below you will see that Apple tends to return to near its 5 day ema regardless of it being an uptrend or a downtrend. We are looking at a possible 18 point snap back Thursday or Friday. I would love the opportunity to buy a gap down tomorrow morning. the risk/reward on apple is now in the favor of bulls and shorts are in danger of a nasty snap back to the 5 day ema in the next 3 days at some point.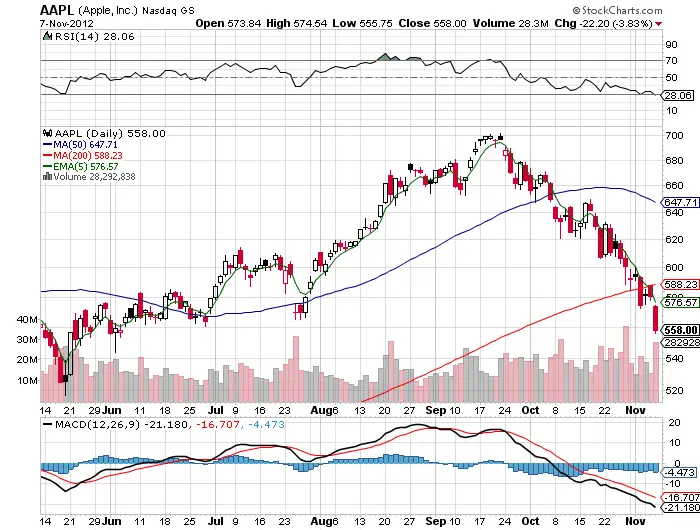 The Dow Jones Industrial Index put up a fight at the 13,000 point mark today but it was eventually lost. The Diamonds found support at the 200 day for a bounce. The Diamonds opened at the 5 day ema and it was all downhill from there.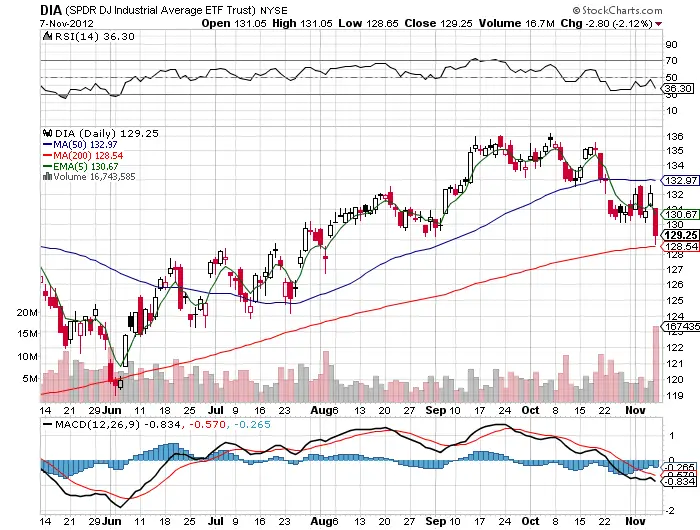 Spy opened at the 5 day ema and never looked back. It is a high probability it will test the 200 day like the other indexes have. I will look to possibly go short at the 5 day ema and long at the 200 day.

The QQQs cut through the 200 day with ease and found support around the round number $64. Look for possible rebounds back to the 200 day that is where I will look to go short.