All eyes will be on $159.71 SPY level this week. Does the market break through and enter a whole new trading range and new bull market era after the 2000, 2007, 2013 triple top? Does QE and central banks safe guards push us into another 1982-2000 type bull super cycle or do we hit that high and then plunge back to earth and the reality of a world awash in debt? Will the central banks endless competition to devalue their currencies and achieve competitive exports push equities into new ground just because the currencies are being debased that they are valued in? So many questions. Who will answer them all? PRICE ACTION, I will  TRADE PRICE. I will be long SPY with closes that continue above the 10 day line, I will look to short when the 50 day moving average is lost and not recovered by the close. I will open some option strangles if price action starts to become volatile. I currently have a six figure long position on SPY following the herd that believes that a new all time high is the most probable outcome. We recently failed the first attempt we will have to see what next week brings us and trade accordingly.


It makes me bearish that Google bounced at the 10 day instead of the 50 day Friday and then could not recover the 50 day. I will be looking to buy puts on Google Monday if it fails to hold up above the 50 day. Google's price action has been terrible since March. A lot of money could be made here short if it rolls over towards its price range before earnings.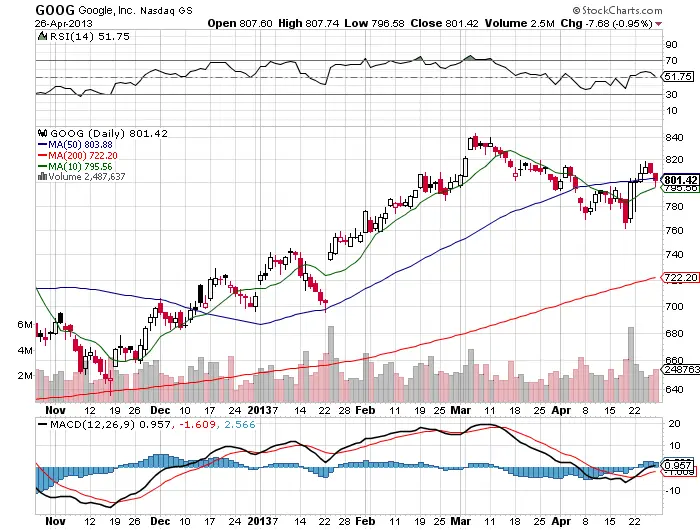 Apple broke out above the high of the day after earnings on Friday, by overcoming all the sellers to this level the odds are that it gets to the 50 day before it meets a large amount of resistance. I am long Apple with $425 strike weekly calls. The 10 day sma should hold up as support if this micro trend plays out. The next opportunity to short Apple for those looking for an opportunity will be with a rally back to and loss of the 50 day sma. Apple is still firmly in a down trend in the long term time frame.