We are at an interesting crossroads in the market. The long term up trend is still in place but we are over due for a pull back to either the 21 day or 50 day sma just to get some price consolidation from this extension so far above the 200 day sma. There is nothing to panic over just yet, just take the buy and sell signals of your system and follow your trading plan on an individual basis stock by stock.
This week should give us some clarification of whether we return to the all time highs are go into correction mode. I am currently 100% in cash as I wait to see what happens next.
SPY had one nasty reversal candlestick off the all time highs, after the reversal the 10 day sma became the new resistance and $164 became the new support level. Where the market goes from here will be determined by which level breaks out first. It will be harder for buyers to buy into a new run at all time highs but the buy the dip crowd would likely love to get in at the 50 day sma again. With the Nikkei down over -3% in trading on Monday it will likely make the American bulls much more cautious in buying Monday. The price action in the futures will give us a glimpse of how the indexes play catchup after being closed today.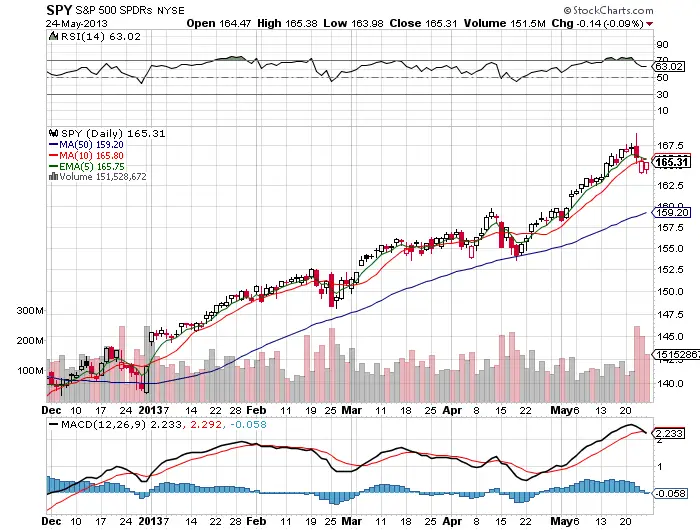 It looks like Google has begun to be distributed at these levels with the failure at the $920 price high and the loss of the 5 day ema and the 10 day sma. It happened very quickly, to get in you had to chase it. I would like to get short if it can climb back to the 5 day ema long enough to give me an entry. At the current pace of falling it could reach the 50 day where a logical bounce could happen. Look for the 5 day ema to be resistance going forward.
Apple is in a tight wedged price range with the $445 price level as resistance and the 50 day sma as support. Apple is still in a long term down trend after being rejected at the $460 level. With no new catalysts to inspire buying of the stock and due to its size it will likely have trouble getting traction upwards and working through all the over head resistance of buyers waiting to get out at even. I will pass on this one as it may have met the fate of other big cap tech stocks that will be range bound for awhile. Shorting if it falls below the 50 day line seems to be the next logical play, or going long above the $460 level if it gets there, that will be a big surprise.