The good news for bulls is that the world's most obvious 50 day bounce happened that triggered the re-entry of traders to the long side and the short covering from bears once their target was reached and reversed. The SPY also overcame the pesky 10 day sma that had acted as resistance for 9 out of the past ten days. The bullish bad news is that the SPY struggled for most the day Friday to overcome the 10 day sma and then was stopped in its tracks at the 20 day/$165 level which is the new short term resistance.
If the $SPY stays above the 10 day sma and breaks the 20 day Monday into the close it is all systems go for a possible return to all time highs, if we fail to stay over the 20 day then it may be the market settling into a range and consolidating this years gains in the short term, which is long over due. This will give the 200 day to catch up a bit with this over extended market. If the 10 day is lost be aware that we could revisit the 50 day next week.
My possible  trading plan triggers could be a short below the 10 day sma or a  long play above the 20 day, with a wait for end of day triggers in the last 30 minutes.
GOOG looks like a text book reversal candlestick from the 50 day and break above the 10 day with resistance at the 20 day. Getting long would be safer near the 10 day sma at $870 than trying to chase this one. great chance we return to the all time highs if we get over the 20 day. This is a great stock for money managers to just buy and let ride now that the 50 day correction has taken place.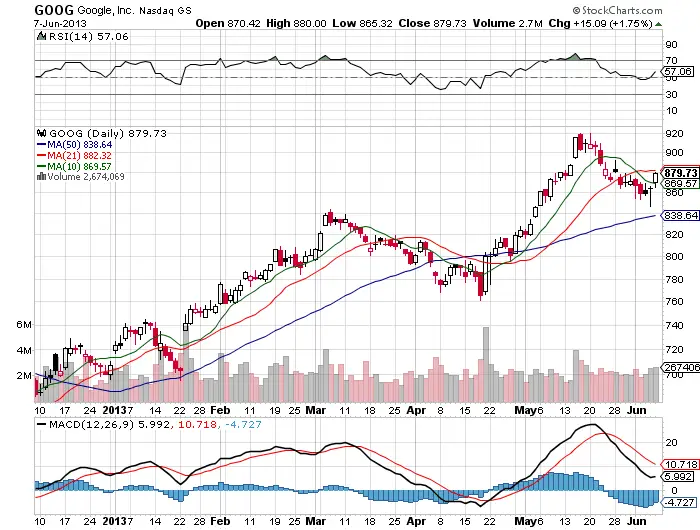 AAPL is still in a long term down trend that is slowly converting into a range bound chart with the 50 day as support and the 10 day sma as the first level of resistance then the $460 level as longer term resistance. This is sadly not a trend trading stock any longer it is for swing trading. I know it breaks my heart as well. The AAPL  chart appears to say it is now be a big cap tech, value stock, dividend payer to a momentum growth stock.