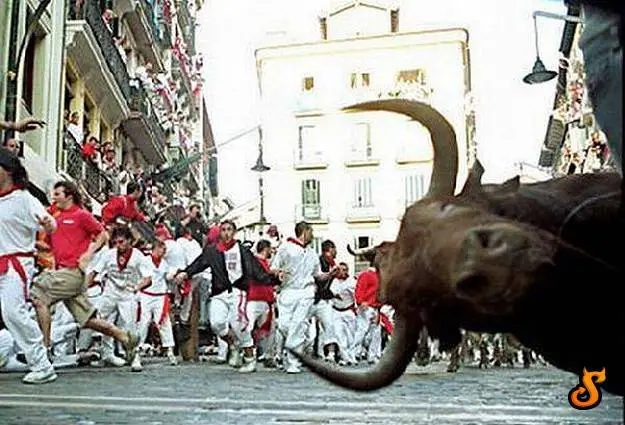 (Thanks to Scott Lee for the Bull Photo Bomb find)
Here we are breaking out on the $SPY chart to all time highs, this week we will be bombarded by opinions about at what level the top will be, that we are due for an eminent reversal, and even that the market is due to crash any second. While I have no crystal ball and can not predict what will happen I can have a plan on what to do as price unfolds and look for the clues about the trend. I have been building long positions for almost two weeks and I have been fully long for over a week. I will get back to the sidelines when  a real reversal happens not in anticipation of a reversal. The $SPY going into the close beneath the 5 day ema would be my first signal to look at going back into cash. Here are the 10 reasons I am still long at these levels.
Here are some facts to ponder:
Everyone who has every bought the $SPY is sitting on a profit right now. (Excluding the dime we lost Friday from all time highs). There is NO overhead resistance in this index. No old buyers waiting to get out. We are in price discovery mode, my favorite place to be.

Markets are not parabolic and toppy when there are still plenty of top callers and bubble calls the end is near when bears and shorts capitulate and you start hearing ridiculous price targets.

Bull markets have to climb a wall of worry, plenty of that here.

The market continues to go up regardless of earnings misses by big tech, an Egyptian civil war, payroll numbers that are driven by part time help, Detroit bankruptcies, Greece debt troubles, rising mortgage rates, and Bernanke taper talk and on, and on, we still go higher. Where do we go with some good news?

The $SPY has spent 11 days straight above the 5 day ema and is currently in a powerful up trend regardless of opinions.

Leading stocks are holding up very well in bases and setting up buy points.

The markets still have faith in Bernanke and Draghi to act as puts on the equity markets intervening as needed. 

The market is breaking out of a price range held from 2000-2013 this is bullish and it is possible that it could take us to whole new price levels much like the breaking of the DJIA 1000 was a whole new trading range the final time it was broken in 1982. It is possible that currency debasement, more national debt, and inflation could make this happen.

Markets can rise on lack of selling as much as with aggressive buyers, it is costing more for buyers to get sellers to give up their positions.

There is no pressure on the bulls with the VIX falling and profits in their accounts rising.