Well, 2013's most robust strategy has been simply to buy and hold an equity index. This whole year has been nothing but a big  massive break out of the 2000-2013 trading range and a very hated bull market all year. This whole year's equity market has simply been all about swing trading off bounces inside price dips and buying break outs of indexes, which I have been doing. Yes, it can go higher, it is important to focus on price action and avoid opinions of what should be happening. This is year has been about money flowing into equities as an asset class thanks to the FED keeping the punch bowl full. 2013 was a 13 year break out to new highs and it hasn't even looked back yet.
Here is the 10 year chart: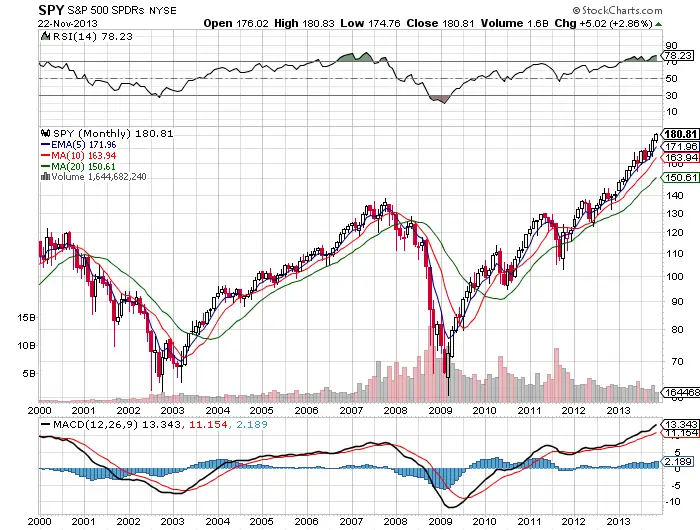 Here are ten facts about the daily chart at this point.
We broke out of a 6 day range to new all time highs again with no pullback to speak of, very committed holders at these levels.

The 10 day sma held as support last week and has not been breached for seven trading days. Very strong trend.

Bearish divergences did not seem to matter so far.

RSI close to 70 again so the odds are for a slow grind up, we could go parabolic but the odds favor a slow trend up.

The 5 day ema is primary support and the 10 day sma is secondary support.

I would not attempt any longer term shorts here in this strength the odds are against it, the 20 day is still very strong support and has held up since mid-October.

Next week should be low volume with most big players enjoying time with their families and the trend that is in place just continuing.

The up trend and momentum of this market should continue unless their is some catalyst to change that which is unlikely. It will be interesting how the market expresses the Iran negotiation news when the futures open tonight.

All indexes and sectors are back giving the green light for higher prices $IWM $QQQ $DJIA $XLF.

When all the current holders are happy and reluctant to sell that is when the BIG moves happen, bears need to be very cautious hear adding anymore fuel to this bearish fire. Only the most skilled traders can effectively scalp shorts and win against this type of  momentum.

There is a big difference between a bubble and a bull market. As a whole this market is far from a bubble.

The money all year has been on the bullish side buying the dips, the rips, the flips, and betting your chips on the bulls and there is no sign of that stopping anytime soon.