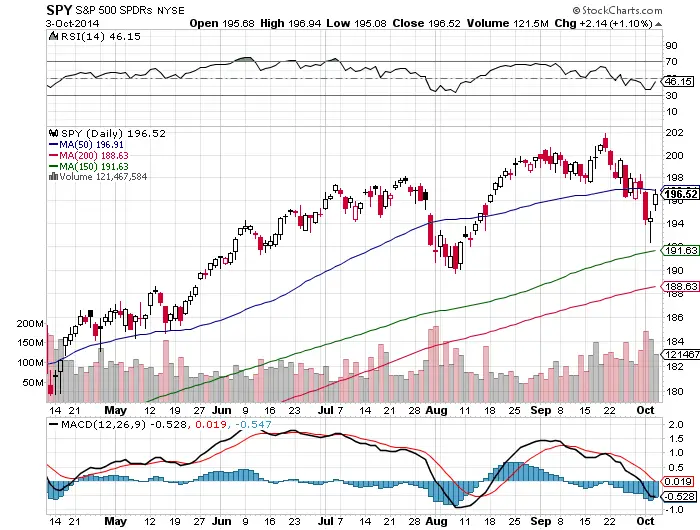 The market did finally bounce intra-day near the 30 RSI Thursday it was quick and violent and sent shorts covering. This indicated we were still in a long term up trend and buy the dip was still alive.

Thursday also provide a strong reversal candle showing selling was exhausted and buyers were back in charge.

Friday provided a bullish follow through day confirming the bounce.

Resistance held at the 50 day sma. A break and close above the 50 day will be an entry signal for me and an indicator that the up trend may continue back to all time highs.

I will also be watching the 50 RSI as another potential resistance level that price needs to get above to signal a new momentum signal up to new all time highs.

If we reverse at the 50 day on resistance  the 30 RSI and the 150 day sma are high probability support levels and possible buy points.

We are still only looking at two days up after a ten day red waterfall so caution is still warranted as we wait for momentum to come back.

MACD still has a huge bearish reading and that will take some time to repair and signal a bullish crossover.

The volume in $SPY was so similiar on the Tuesday and Wednesday down days versus the Thursday and Friday up days to really show why volume means little to nothing when trading $SPY.

What I am looking for: A momentum buy with a close above the 50 day/50 RSI or a buy the dip at the 30 RSI or 150 day sma.