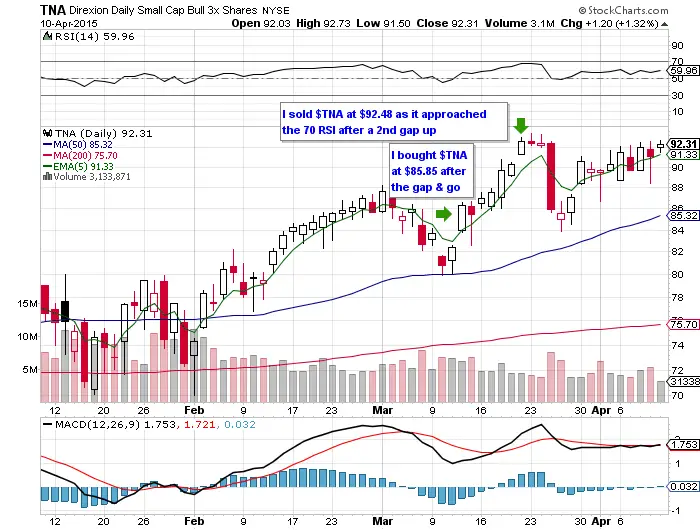 I entered $TNA on March 12th after a gap and go over the 5 day EMA, after a bounce off the 50 day, near the end of the day at $85.85

I set my end of day stop for a close under the 5 day EMA.

My position size limited my loss to less than 1% of my total trading capital, based on its current volatility.

I was not stopped out the next trading day because the 5 day EMA was retaken before the close.

After my entry, $TNA held the 5 day EMA for the next 6 trading days and rallied higher.

The gap up on March 20th brought the chart close to the 70 RSI, and I exited into the strength as the risk/reward no longer favored the risk. There was minimum upside left, as overbought territory was near.

A $6.63 gain in $TNA share price, and a 7.7% return on capital at risk.

I tweeted all this in real time on twitter @sjosephburns. 
I'm now long $TNA  at $85.85 my stop is a close below today's low. $IWM

— Steve Burns (@SJosephBurns) March 12, 2015
I just sold my $TNA for a nice $6.63 gain in share price and a 7.7% return on capital at risk. I sold due to it approaching the 68 RSI level — Steve Burns (@SJosephBurns) March 20, 2015