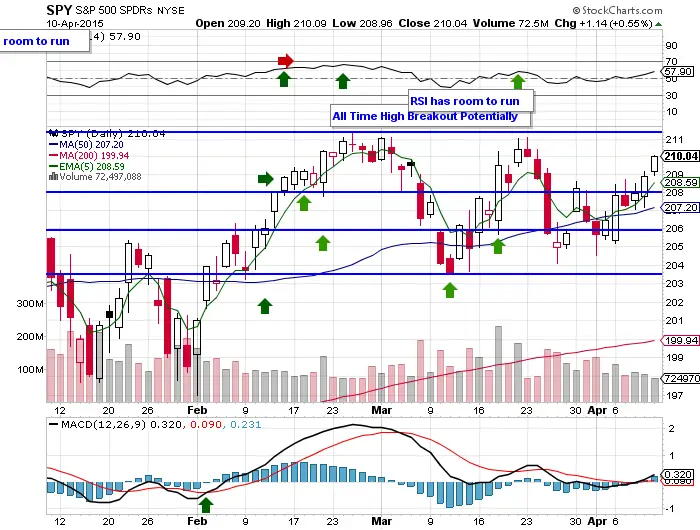 Last week the chop continued as all the bearish signals of another down leg had no follow through, and the market rallied slowly and steadily to trigger bullish signals.
On Monday $SPY broke out over the 50 day, 5 day EMA and short term resistance to signal a buy.
Intra-day noise last week was choppy and confusing for most traders. I took a long entry on $SPY $SPXL & $UDOW after the breakout over the 50 day. I used a close below the 50 day as my end of day stop to sidestep the intra-day noise. The right position size is a must with this strategy.
Tuesday and Wednesday were met with selling into strength, and the chart resistance level held.
Breaking over and closing above the 50 day SMA put us back on the bullish side of the chart.
The deeper dip that I was waiting for never came, and momentum signals to buy strength had to be followed to avoid missing this upward move.
Last week the MACD had a bullish crossover that held.
Last week the 50 RSI was broken for a bullish signal.
The last resistance level at $212.97 is within striking distance in the coming weeks.
A loss of the 5 day EMA and 50 day SMA will be a signal that the uptrend is back under pressure. Until then, bulls are back in control and my bets are on them.