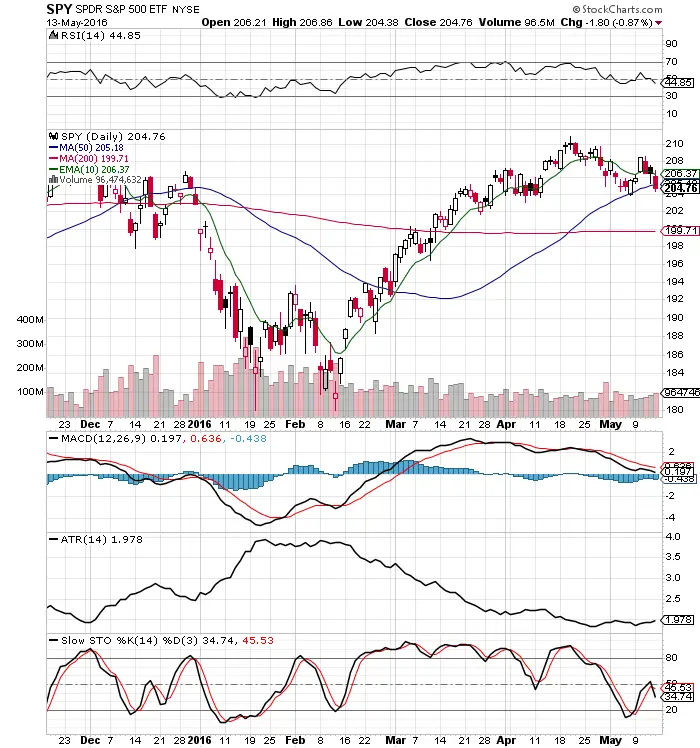 Quite a wild ride in 2016 with $SPY having one of the fastest drops ever at the beginning of a year, followed by one of the fastest rallies, now we are back in a trading range since the April break out to new highs failed.
This is not a buy momentum kind of market as rallies continue to stall under selling pressure.
$SPY price is under the 10 day EMA. Short term $SPY is in  downtrend.
MACD is still under a bearish cross.
Slow Stochastics is under a bearish cross as the bullish cross was quickly rejected last week.
The ATR has flat lined on the chart showing more potential for sideways price action.
The 44.85 RSI is the bear side of the chart with room to go lower.
$SPY has turned sideways and is in trading range long term here.
Recently the 50/200 day SMA death cross was near the recent market bottom and the 50/200 day golden cross was near the recent market top showing how range bound this market really is.
VIX has been range bound here with $SPY a break out and close over a 16 VIX could be a warning of further downside on $SPY.
I am flat here on $SPY looking to buy near the 30 RSI dip if we get there. This is still a buy the dip and sell the rip kind of market.