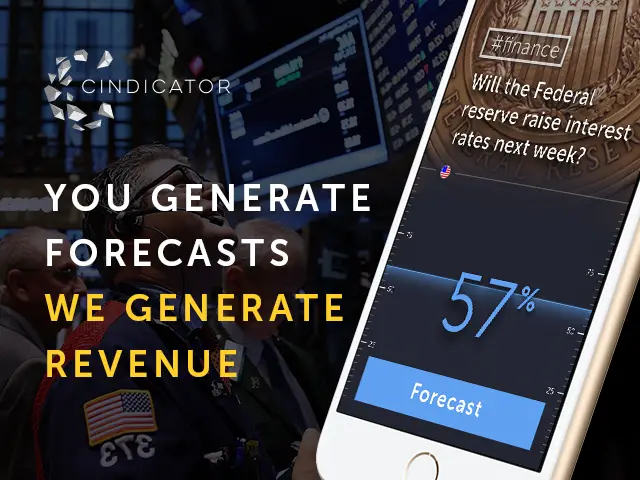 Cindicator is a new app which is quantifying the wisdom of its voters to forecast the probabilities of future price moves in stocks and markets after economic news like earnings and job reports. While financial analysts will many times align their price targets, forecasts, and opinions to their own bank employers interests Cindicator is a new platform that uses the wisdom of crowd sentiment to measure the probabilities of potential price moves.
The Cindicator app provides you with a daily list of economic news that is imminent to cast your vote on the probabilities of a specific price level in a specific timeframe. The challenge posed to the users of this app is to vote on what the perceived results of these events will be on the price action of chosen stocks and markets. The top 2% of the most accurate forecasters can even win a cash prize at the end of each month. Cindicator improves with the quantity and quality of users and is looking for investors and traders with different skill sets to grow their user base.
Founder Mike Brusov on the new platform: "So our forecasters don't risk their money. We motivate them with a chance to win a real cash prize at the end of each month. The prize money is around $2000 per month and we divide this prize among the first 2% of forecasters."
Not only is the app informative with news but the users of the app can earn money making the right forecasts on price levels in specific timeframes. Users can also test their trading skills and challenge their fellow traders and investors. Price forecasts can be based on either technical or fundamental criteria. Also with Cindicator the probabilities of a price can be set from 0% – 100%.
This app is a high quality and professionally created platform that is user friendly and fun to use. It is a great source for economic news and coming announcements. The aim of Cindicator is to aggregate the wisdom of crowds to take technical trading signals to higher levels.
You can download the Cindicator app here –> Get the free App.