This is a guest post from Peter Churchouse of Stansberry Churchouse Research, an independent investment research company based in Singapore and Hong Kong that delivers investment insight on Asia and around the world. This post originally posted at "What this indicator is saying about Chinese stocks now" and is republished here with permission.
In August of 2014, I was at the podium in the Wilshire Ebell Theatre in Los Angeles, California at an investment conference talking about Chinese stocks.
The title of that presentation was "Fear, Loathing… and Opportunity". I argued that the general market sentiment on Chinese stocks was overly bearish. Everywhere I looked in the financial media I'd see near-hysterical predictions of an impending financial and economic collapse of the Chinese economy. That month alone I'd read headlines like "China's $343 billion payment lurks in the shadows" and "Default storm seen as record private bonds mature". This narrative, particularly in the U.S. financial media, simply didn't square with what I saw on the ground in China.
The reality is that the vast majority of experts in the U.S. who write about China do so from behind their desks. They haven't spent decades doing business there, travelling there, or understanding the intricacies of how China works. I've lived just over the border in Hong Kong since 1980. I must have visited China over a hundred times, and nearly always on business. Even when I'm not in China there's not a day goes by where I don't get some small new insight on the country.
What was fascinating about that presentation in Los Angeles were the number of folks who came up to me afterwards with variations of "I didn't realize things were OK in China. I thought the country was heading for disaster".
But all of this confirmed my point exactly – people thought China was on the verge of a financial catastrophe. The conference attendees were intellectually curious, well-read and intelligent individuals. They were there to learn. They read a lot. But nearly everything they consumed on China was negative.
But here I was, having flown in from Hong Kong the day before telling them the opposite. I was saying things weren't that bad at all and in fact, China was a great opportunity.
Given the general sentiment of the folks in the audience, it's likely that most investors would have missed out on the 129 percent rally in Chinese stocks that ensued in the 10 months after I spoke.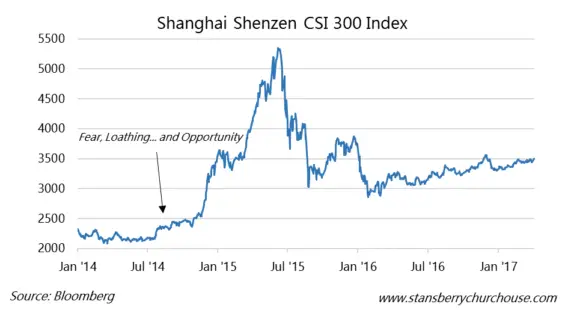 I bring this up because I saw a poll released earlier this week by the Pew Research Center which surveyed Americans' views on China. Results showed an increase in favorability from 37 percent last year to 44 percent now. At the same time, unfavorable views fell from 55 percent to 47 percent.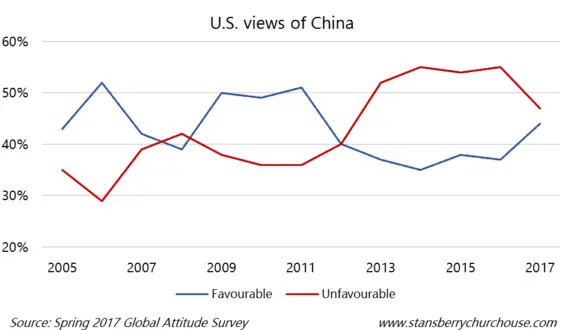 This caught me by surprise. We have a U.S. President who has spent the last year hammering China on a weekly basis on everything from trade to security to their currency. Yet China's favorability in the eyes of the U.S. public is at its highest in six years.
And this is despite the fact that Chinese President Xi Jinping's summit in Florida and we've had an escalation in aggressive rhetoric from the U.S. President on China in the lead up to Xi's visit.
Back in 2014, in the lead up to the ensuing rally in Chinese stocks, only 35 percent of Americans had a favorable view of China.
This increase in general favorability bodes well for Chinese stocks. If U.S. investors hold an increasingly positive view of China then it stands to reason their inclination to allocate some of their portfolio to Chinese stocks increases as well.
I'm no apologist for China. The country has plenty of problems to face as it transitions towards a more open and globally integrated economy on the world stage. I've said that time and again and the path ahead holds many twists and turns. As you can see in the chart above, Chinese stocks have had a volatile ride. [And just ten months after I spoke at that conference in Los Angeles, I told my readers in no uncertain terms that Chinese stock were in a bubble.]
But we remain bullish on Chinese stocks. Our flagship publication The Churchouse Letter focuses on Asian opportunities in general, and China in particular. Currently, we have eight open recommendations on Chinese stocks showing an average double-digit return for our subscribers.
Good investing,
Peter
This is a guest post from Peter Churchouse, publisher of Stansberry Churchouse Research, an independent investment research company based in Singapore and Hong Kong that delivers investment insight on Asia and around the world.