The Donchian channel is a technical indicator used by traders as a tool for trading price ranges. It was created by the father of trend following  Richard Donchian. A Donchian Channel on a chart is created by using the highest high and the lowest low of the last periods of the timeframe on the chart. The space between the high and the low visually creates the channel on the chart for the chosen time period.
It is available on most charting platforms. A line on the chart is marked for the high and low values visually showing the channel on the price action of the chosen market.
The Donchian Channel is a good technical indicator tool for measuring the volatility of price in a specific time period. If price is trading in a tight range the Donchian Channel will be contracted and narrow. If the price is highly volatile the Donchian Channel will be expanded and in a wide range. Its popular use is for providing trading signals for both long and short positions based on the relation of price to the range it is capturing.
The top line of the channel identifies the extremes of bullish buyers, showing the highest price of the up swing for the period through the buyer and seller battle. The middle line identifies the median value area or place for a high probability reversion to the mean for price for the period, this line quantifies the middle of the area for the period through the battle between buyers and sellers. The bottom line of the channel identifies the lowest area reached by the sellers before the buyers stepped in for the period.
This indicator signals potential bullish and bearish extremes in price action that creates high probability reversals from the bottom of the range and also potential high probability breakdowns from the top of the range. Also parabolic emerging trends can be identified when the range is broken for a length of time. 
Originally the period for establishing the indicator was based on daily charts and the end of day price, but the time period may be based on the timeframe that the trader is operating on.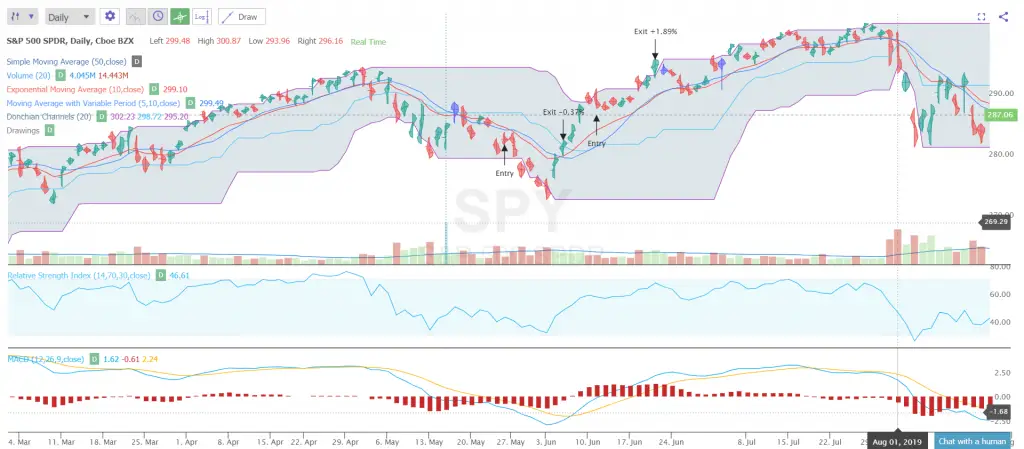 Raindrop Chart courtesy of TrendSpider.com