Apple is one of the top performing stocks of the past 27 years with a +11,393% return but what if I told you there was a trend trading signal that doubled those returns to +25,896%? Would you be interested? The power of moving average crossover signals is first in finding the right short and long moving averages that filter out enough volatility to not create too many false signals taking you in and out of trades too often creating multiple losses. The signal has to at the same time keep you in up trends for a long time and manage your exit to maximize profits. Your losses on false signals should also be minimized by getting you out early if the move reverses. 
The following data is an example of a back test on historical data on the Apple stock chart using the 10 day / 50 day exponential moving average crossover signal as an end of day trend trading signal on the daily chart using the Trend Spider Strategy Tester.
This trend trading strategy signals to go long when the 10 day EMA crosses and closes over the 50 day EMA and to go back to cash when the 10 day EMA crosses under and closes below the 50 day EMA. This is a simple way to introduce the principles of trend following in a systematic way to readers not familiar with the concept of trading price action. 
This signal is a good trading tool for those who want to catch the longer trends and swings on the Apple chart. This signal is not only a good back test on the Apple chart of the past but is a good filter for trading any stocks in the future as it will have you go to cash if the 10 day is under the 50 day EMA and avoid the stocks that begin down trends and stay in downtrends as no entry signal will be given. It is also a good filter to keep you in winning stocks during bull markets and out of individual stocks during bear markets as all stocks eventually go down in market sell offs. 
Here is a book I have written with more examples of moving average signals that beat by and hold-> Click here.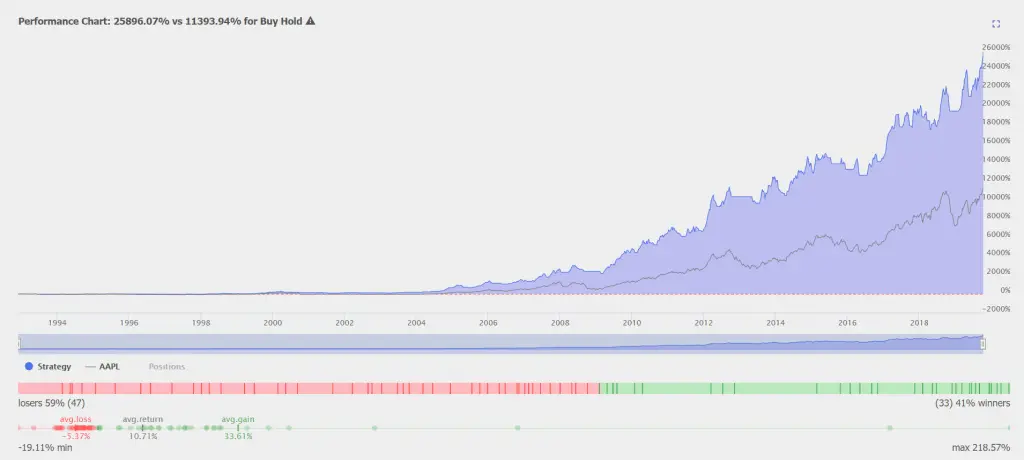 All backtest data is courtesy of TrendSpider.com