Jeff Bezos' current net worth is estimated to be approximately $112 billion as of November 2019 which makes him currently the richest person in the world. Due to his success as Amazon founder and CEO Jeff Bezos has been the second person in history to build a personal fortune of over $100 billion as an individual. Bill Gates did so briefly near the 1999 Dotcom market peak with his Microsoft holdings. 
Jeff Bezos did not build his wealth with a large salary, executive stock options, or bonuses, but due to the increase in the value of the stock price of Amazon which founded and still leads as CEO. He has been a major shareholder in Amazon since July 5, 1994, when it was started in his garage in Bellevue, Washington.
The majority of Jeff Bezos' wealth is due to the value of his Amazon stock holdings, the success of Amazon has been correlated with his personal fortune building. He still owns owns about 12% of the total outstanding shares in Amazon. 
Bezos founded his commercial space venture company Blue Origin in 2000. He has planned to sell about $1 billion of his personal Amazon stock holdings each year to fund Blue Origin.
Jeff Bezos bought The Washington Post Company for $250 million in cash in 2013 to become the sole owner. 
Bezos was one of the first shareholders in Google when it was still a private equity investment. He was an angel investor who put $250,000 into Google equity shares back in 1998. His $250,000 investment seed capital ended up becoming 3.3 million shares of Google stock when it went public. By 2017 his Google shares alone were worth approximately $3.1 billion. He would have been a billionaire even if this was the only thing he ever did.  
Here are other key selected investments that Jeff has made through his venture capital vehicle 'Bezos Expeditions':
 Uber

AirBnB

Twitter

Domo

Juno Therapeutics

Denali Therapeutics

Workday

General Fusion

General Assembly

Rethink Robotics

Business Insider

MakerBot

Stack Overflow

Unity Biotechnology

GRAIL

EverFi

BaseCamp

Convoy

Fundbox

Glassy Baby

Mark43

Nextdoor

Plenty

Pioneer Square Labs

Remitly

Rescale

Sonder

Vicarious 

ZocDoc
Jeff Bezos peak net worth topped out at around $151.4 billion in 2018 as Amazon stock reached a peak over $2,000 a share. He announced in January 2019 that he would be getting divorced. Bezos' net worth took a hit in July 2019 after his divorce was completed from his wife of  25 years MacKenzie Bezos. According to a MacKenzie Bezos statement, Jeff Bezos was able to keep 75% of the Amazon shares that they owned together during their marriage. Mr. Bezos also kept their joint holdings in the Washington Post and space exploration venture Blue Origin after the divorce. Jeff Bezos' net worth fell $36 billion after their divorce was finalized. As a single woman MacKenzie Bezos became one of the richest people in the world with an estimated net worth of $34.7 billion after receiving 19.7 million shares (or 4% of the company) of Amazon in her divorce settlement. 
The key lessons from the richest man in the world is that wealth is built through creating a valuable company and remaining a major shareholder during its growth. Also like so many of the richest people in modern times their wealth is created through publicly traded equities in the stock market. The good news is that anyone can become business partners with the wealthiest people in the world by buying shares in their companies. Also that divorces can be very expensive.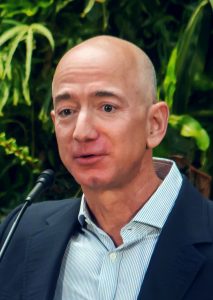 Seattle City Council from Seattle – https://www.flickr.com/photos/seattlecitycouncil/39074799225/