Donald Trump has said several times that his net worth is around $10 billion or more. The average of the top three estimates, put his net worth closer to $3.5 billion, other sources think it could be lower. 
As of 11/14/2019 Forbes estimated Trump's net worth at $3.1 billion (715th in the world, 275th in the U.S.) in its billionaires ranking.
President Donald Trump is the richest man to ever be elected president of the United States. His wealth was created in real estate, entertainment, and the value of his personal brand built on his name.
His wealth was created through his ownership in his businesses and the licensing of his brand name. 
Donald Trump got his start in real estate from his father. Fred Trump was a real estate developer of low-cost housing in the neighborhoods of Brooklyn and Queens in New York. 
Trump claimed: "My father gave me a very small loan in 1975, and I built it into a company that's worth many, many billions of dollars," As a candidate for president he claimed the "very small" loan was about $1 million. A recent report by The New York put the loan Trump's father gave him to be at least $60.7 million.
In May of 2016, Mr. Trump released his Personal Financial Disclosure (PFD) forms with the Federal Election Commission (FEC) that disclosed the following personal financial information:
He has $1.4 billion in assets: some of his top holdings are 40 Wall St, the Trump Tower, golf course resorts in Florida, NY, NJ and Scotland and his personal aircraft, a Boeing 757. It is part of "Trump Air", and held as an asset of The Trump Organization.

He also has $50 million in debt liabilities on the Trump Tower, 40 Wall Street, Trump National Doral, Trump International Hotel and the Trump Old Post Office.

He holds approximately $25 million in Blackrock's Obsidian fund.

His golf courses and resorts generate over $300 million in revenue.

The rental income and sales from his properties generate over $100 million in revenue.
Trump has been the author of several published books. His first book in 1987 was Trump: The Art of the Deal, that had enough sales to reach the top of the New York Times Best Seller list and remain there for 13 weeks. It was on the best seller list for a total of 48 weeks.
Trump was the executive producer and the host of his hit reality television show 'The Apprentice' with producer Mark Burnett that premiered in 2003. In the show contestants competed for a Trump Organization management job against each other. He used his catchphrase "You're fired." as contestants were sent home. Later the show converted to 'The Celebrity Apprentice' where celebrities competed for prize money that would be donated to their favorite charities.
Trump also did several acting jobs and made cameo appearances in twelve movies and fourteen television shows, his most famous appearance was in 'Home Alone'. Trump continues to receive a pension from his membership in the Screen Actors Guild. His personal financial disclosure forms show an annual pension of $110,000 in 2016 and $85,000 in 2017
Donald Trump never filed for a personal bankruptcy. However several of his hotels and casinos have declared Chapter 11 bankruptcy six times between the years of 1991 to 2009 but were allowed to continue operations. His businesses had to re-negotiate their debt with banks and  the owners of the stocks and bonds in their companies. In 2011 Trump told Newsweek  "I do play with the bankruptcy laws – they're very good for me" as a tool for trimming debt.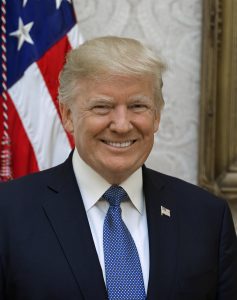 Official portrait of President Donald J. Trump, Friday, October 6, 2017. (Official White House photo by Shealah Craighead)