After two years at the number two spot the majority of the time, on Friday November 15, 2019, Bill Gates retook the top spot as the current richest man in the world from Jeff Bezos. 
The catalyst for this switching of the two top spots happened primarily due to Microsoft being awarded the Pentagon's $10 billion cloud-computing contract Oct. 25.
Since the announcement Microsoft stock has rallied to new all time highs and Amazon stock has continued its decline to its lowest price in 15 trading days.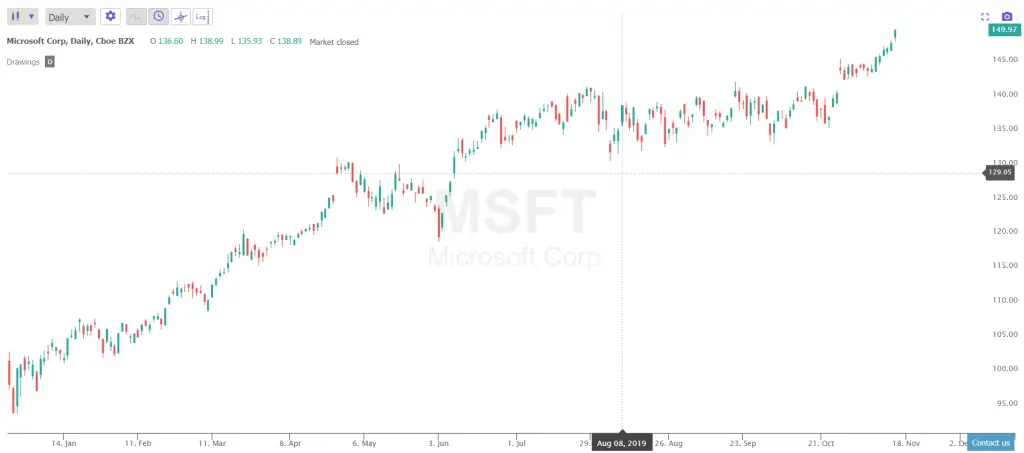 According to the Bloomberg Billionaires Index Bill Gates' net worth climbed to $110 billion while Jeff Bezos' declined to $108.7 billion due to the remaining shares of stock they both hold in the companies they founded. 
Gates did briefly surpass Bezos during the Amazon stock plunge that happened after earnings disappointed in after hours and then had a gap down at the open the next day on October 25th, 2019. Amazon stock did rally off the lows so Gates was only #1 in net worth during after hours trading and intra-day but Bezos retook the top spot by the market close after Amazon rallied all the way back to the previous days lows.
Bill Gates's still owns about 1% of all the shares in Microsoft while Jeff Bezos continues holding 12% of all Amazon outstanding stock shares even after his divorce from his wife. His ex-wife MacKenzie Bezos holds 3% of all shares in Amazon. 
Bill Gates retaking the #1 spot is incredible because this is even after he has donated over $35 billion to charity with the goal to relieve as much suffering in the world as possible through intelligent allocation of funds to get the maximum value and efficiency. He created the Bill & Melinda Gates Foundation in 1994 to achieve his humanitarian goals.