This is a guest post by Jake @TrendSpider.
In this blog post, make sure to check out the top 5 TrendSpider charts posted this week on social media as well as the weekend video going over the broad markets and case studies from last week! Happy Memorial Day!
Weekend Video & Case Studies Presented by Jake Wujastyk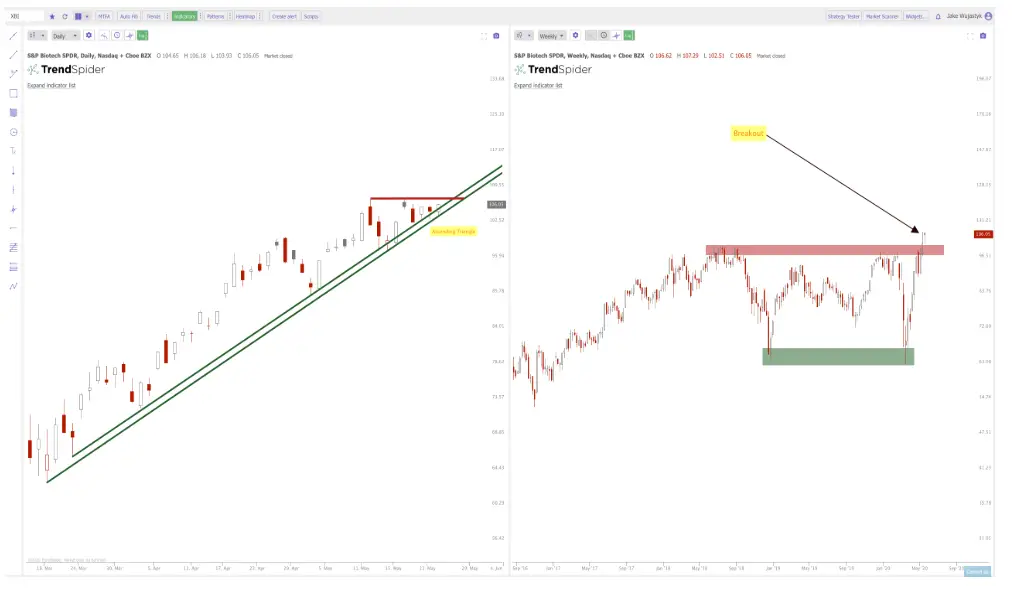 Subscribe to our YouTube Channel For Weekend Updates & Continuous Content
---
Memorial Day Sale
35% OFF ALL PLANS UNTIL MAY 30th!

---
Top 5 TrendSpider Posts This Week
Bitcoin $BTCUSD has found buyers at the VWAP from June high so far, if that fails the bigger level of interest is 7200-7000 which is where the VWAPs from 2020 high & low are located, a pullback to that level would also set up a potential inv H&S pattern https://t.co/hRLtUwy5ho

— Brian Shannon, CMT (@alphatrends) May 21, 2020
---
$ROKU daily. Area of interest. Holding so far. See how it closes. Anchored VWAP and daily chart courtesy of @TrendSpider pic.twitter.com/xbYDYSnDZ4

— Ben (@PatternProfits) May 22, 2020
---
$SPY $SPX Approaching big spot. Price has definitely respected this 40 week / 200 day MA in the past as shown. Also lines up w resistance from summer & early fall of 19. Soon we'll see if it matters. pic.twitter.com/WZV9Hcooqh

— Gregory Krupinski (@G_krupins) May 20, 2020
---
Another top watch rest of week will be this $KO breaking the down trend via Daily and Notable High Volume Close in the #RainDrop Candle. Also make note of the #VolumeAccumulation this week. pic.twitter.com/5pe8vFywke

— Stock_Hunter (@Stock_Hunter89) May 21, 2020
---
$PTON Shaping up nicely. Volume starting to pick up this morning. I have a position. pic.twitter.com/uXEW8l6yP0

— Scott Smith (@livetradepro) May 22, 2020
---
Broad Market Charts Using TrendSpider
SPY: Daily vs. Weekly Chart

QQQ: Daily vs. Weekly Chart

IWM: Daily vs. Weekly Chart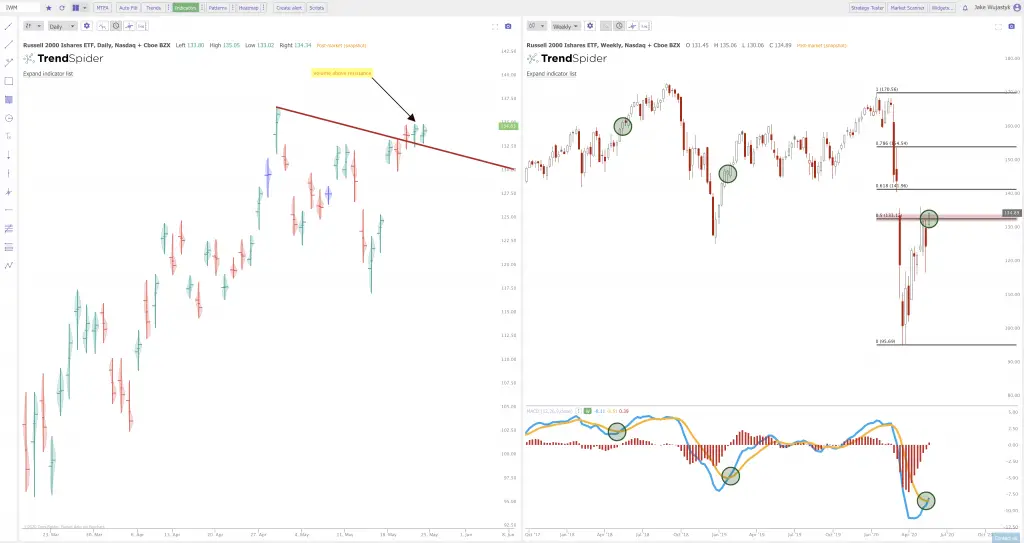 ---
Related Blog Posts
Check out our supplemental blog posts below:
---
Enjoyed this blog? Make sure to click on the links below to follow us on social media for intra-week chart updates:
StockTwits
Facebook
Twitter
LinkedIn
REMEMBER: These are charts that have interesting technical setups based on automated technical indicator analysis included. Charts and analysis provided for educational reasons only. TRENDSPIDER IS A CHART ANALYSIS PLATFORM. IT IS NOT INTENDED TO BE TRADING OR INVESTING ADVICE. ALWAYS DO YOUR OWN DUE DILIGENCE USING MULTIPLE SOURCES OF INFORMATION AND/OR SEEK THE ADVICE OF A LICENSED PROFESSIONAL BEFORE TRADING OR INVESTING. Please read our full risk disclaimer on our website by clicking here.