Mukesh Ambani is an Indian billionaire businessman. He is the largest shareholder of Reliance Industries Ltd. (RIL). Reliance is India's most valuable company by market cap valuation. Mr. Ambani is currently the richest man in India and Asia with a net worth of $77.3 billion if valued in U.S. dollars. 
Mukesh Ambani is the chairman and managing director of Reliance Industries $88 billion in annual revenue from oil and gas. Reliance was founded by his late father Dhirubhai Ambani. After his father's death in 2002,  Mukesh Ambani and his younger brother Anil inherited the family empire and divided it into Reliance Industries Ltd. and Reliance ADA Group. Anil Ambani is the chairman of the Reliance ADA Group.
Mukesh Ambani's Reliance Industries launched a 4G phone service Jio and started a price war in India's super competitive telecom market. Jio signed up over 340 million people for their service that provides free domestic voice calls, affordable mobile data services and smart cell phones that are almost free.
He also owns the Indian Premier League franchise Mumbai Indians through Reliance Industries and is also the founder of the Indian Super League. (A football/soccer league in India).
He is the only Indian businessman on the Forbes' list of the world's most powerful people. He is also the richest person on earth outside North America and Europe.
Ambani was ranked fifth among India's philanthropists through 2015 by China's Hurun Research Institute.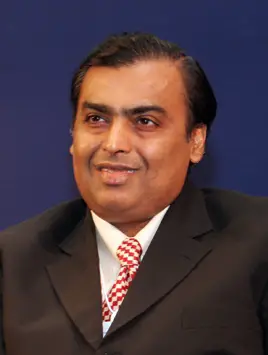 By World Economic Forum from Cologny, Switzerland – kumawat, CC BY-SA 2.0, https://commons.wikimedia.org/w/index.php?curid=5943881