Did Michael Burry sell all his stocks?
While Michael Burry tweeted out "Sell." on January 31, 2023, he had been busy hitting the buy button for his fund in the fourth quarter of 2022, according to his recent 13f filing.
Last quarter, Michael Burry built new stakes in Alibaba, JD.com, and MGM Resorts. It looks like he saw value in Chinese tech stocks after the recent sell-off on China worries and also began acquiring consumer discretionary stocks bringing his holdings in that sector up to 43.8%. It appears he was buying deep value plays at the end of last year, looking for a rebound in China and consumer spending in the U.S.
However, all we know from his public filing is that he was acquiring these positions and holding them into the new year, and not about any changes he may have made after January 1, 2023. He may have sold them all or added more, or this could still be his portfolio.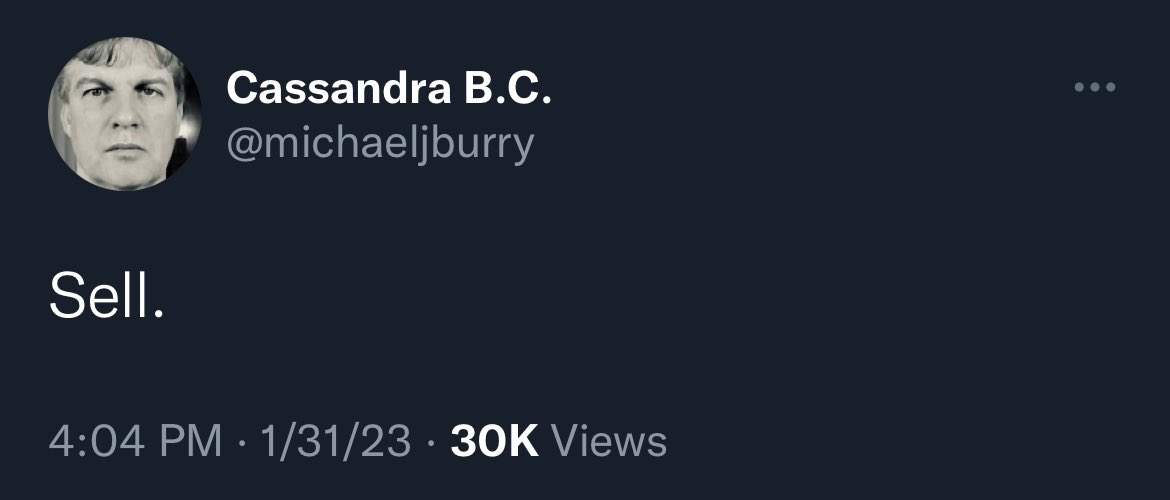 What Is Michael Burry Investing In?
Michael Burry's portfolio allocation in Q4 2022:
Consumer Discretionary 43.8%
Real Estate 25.0%
Technology 19.9%
Industrials 11.3%
What is Michael Burry holding?
Below is the Michael Burry portfolio he is holding at his hedge fund Scion Asset Management based on the 4th quarter 13f filing as of 12/31/22 with the SEC.
Company
Ticker
Market value as of December 31, 2022
Number of shares
GEO Group Inc.
GEO
$11,641,000
1,063,127
Black Knight Inc.
BKI
$9,263,000
150,000
Coherent Corp.
COHR
$5,265,000
150,000
Alibaba Group Holdings
BABA
$4,405,000
50,000
JD.com Inc.
JD
$4,210,000
75,000
Wolverine World Wide
WWW
$3,892,000
356,101
MGM Resorts International
MGM
$3,353,000
100,000
Qurate Retail Group Inc. CL A
QRTEA
$2,445,000
1,500,000
SkyWest Inc.
SKYW
$2,064,000
125,000
Total market value ($)
$46,538,000
Current Michael Burry Stock Picks 2023
GEO – GEO Group Inc: GEO's diversified services include enhanced in-custody rehabilitation and post-release support through the award-winning GEO Continuum of Care, secure transportation, electronic monitoring, community-based programs, correctional health, and mental health care. GEO's worldwide operations include the ownership and delivery of support services for 102 facilities totaling approximately 82,000 beds, including idle facilities and projects under development, with a workforce of up to approximately 18,000 employees.
BKI – Black Night provides integrated software, data, and analytics solutions in North America and Internationally. The Software Solutions segment offers software and hosting solutions comprising MSP, a software-as-a-service application platform for a mortgage, home equity loans, and lines of credit; Servicing Digital, a web, and mobile solution for consumers that provides easy access to customized, timely information about their mortgages; Loss Mitigation, an integrated solution that supports retention and liquidation workouts; and Empower, a loan origination system used by lenders to originate mortgages, home equity loans, and HELOCs.
COHR – Coherent Corporation develops, manufactures, and markets engineered materials, optoelectronic components, and devices worldwide. It operates in two segments, Compound Semiconductors, and Photonic Solutions.
BABA – Alibaba Group Holding Limited, through its subsidiaries, provides technology infrastructure and marketing reach to help merchants, brands, retailers, and other businesses to engage with their users and customers in the People's Republic of China and internationally. The company operates through seven segments: China Commerce, International Commerce, Local Consumer Services, Cainiao, Cloud, Digital Media and Entertainment, Innovation Initiatives, and Others.
JD – JD.com, Inc. provides supply chain-based technologies and services in the People's Republic of China. The company offers computers, communication, and consumer electronics products, as well as home appliances; and general merchandise products comprising food, beverage, and fresh produce; baby and maternity products; furniture and household goods; cosmetics and other personal care items; pharmaceutical and healthcare products, books, automobile accessories, apparel and footwear, bags, and jewelry. It also provides online marketplace services for third-party merchants; marketing services; omnichannel solutions to customers and offline retailers, and online healthcare services.
QRTEA – Qurate Retail Group Inc. CL A markets and sells various consumer products primarily through merchandise-focused televised shopping programs, Internet, and mobile applications. It also operates as an online retailer offering women's, children's, and men's apparel; and other products, such as home, accessories, and beauty products, through its app, mobile, and desktop applications. The company serves approximately 200 million homes worldwide.
WWW – Wolverine World Wide, Inc. designs, manufactures, sources, markets, licenses, and distributes footwear, apparel, and accessories in the United States, Europe, the Middle East, Africa, the Asia Pacific, Canada, and Latin America. The company operates through two segments, Wolverine Michigan Group and Wolverine Boston Group.
MGM – MGM Resorts International, through its subsidiaries, owns and operates casino, hotel, and entertainment resorts in the United States and Macau. The company operates through three segments: Las Vegas Strip Resorts, Regional Operations, and MGM China. Its casino resorts offer gaming, hotel, convention, dining, entertainment, retail, and other resort amenities. The company's casino operations include slots, table games, online sports betting, and iGaming through BetMGM. As of February 17, 2021, its portfolio comprised 29 hotel and destination gaming offerings.
SKYW – SkyWest, Inc., through its subsidiaries, operates a regional airline in the United States. The company operates through two segment, SkyWest Airlines and SkyWest Leasing. It also leases regional jet aircraft and spare engines to third parties. As of December 31, 2021, the company's fleet consisted of 629 aircraft; and provided scheduled passenger and air freight services with approximately 2,080 total daily departures to various destinations in the United States, Canada, Mexico, and the Caribbean.