Let's get some perspective here before we believe Apple is going out of business or that the stock is going to $300 or a 6 P/E ratio.
The indexes are holding up very well, the $QQQ is at the 200 day support, The $SPY is holding up at $140 like a champ, and the $DIA is supported at $130. We are in a base not a downtrend in the short term time frame. The market is not currently making lower lows.

The sentiment has become very bearish for Apple on social media this is one sign that most have sold out.

As with all its products since the iPod the doomsayers say that the iPad Mini is weak and just a knock off of the iPad and the iPhone 5 is not innovative enough, I hear the exact opposite from everyone who has purchased either of them, just like with all the other products.

While there is a lot of nervousness around the election and another 4 years for Obama that does not change Apples absurd earnings power and ridiculously low fundamental valuations.

If Apple was trading at a 100 or 50 P/E then I would be fearful of a plunge, but not at a 13 P/E with another block buster Christmas earnings ahead of it.

Apple is not just another tech stock it is a monster stock, the best buy points for monster stocks tend to be at a bounce off the 200 day or a break back above it.

Apple is absurdly oversold at this level by every indicator, the downside risk is minimal compared to the upside gain potential. The $560 price area is a key near term support level, $550 is a support level at the 50 week simple moving average that goes back to April of 2009.

It is very dangerous to short at these levels due to the possibility of snap back rallies at any time they can be quick and vicious as sellers stop selling for lower prices and buyers rush in and bid up the stock.

How many people wanted Apple at the 200 day so bad during the early year run but now when presented with the opportunity are scared irrationally of it being over as a valid growth stock. If this is not the end of the story for Apple then this is the buying opportunity everyone has been waiting for. The odds are that this is not the end, just a rest period before it returns to all time highs just for fundamental valuation reasons.

Of course trade this stock with a plan, have a high probability entry like the $550 or $560 areas after a bounce or a break back above the 200 day moving average.

I look for the 200 day sma to act as a first level of resistance and a place to take profits on a day trade or where this may be a short entry point for a day trade. The $600 price level will likely act as the second level of resistance, the century marks are places where traders like to take profits and put on new short plays.

Apple is THE best stock to play options on due to their liquidity, plentiful price strikes, and weekly options
I am not letting this opportunity pass me by, investors, option traders, growth stock investors, and day traders should all have this on their watch list and trade or invest with it based on their own methodology with out being blinded by FEAR.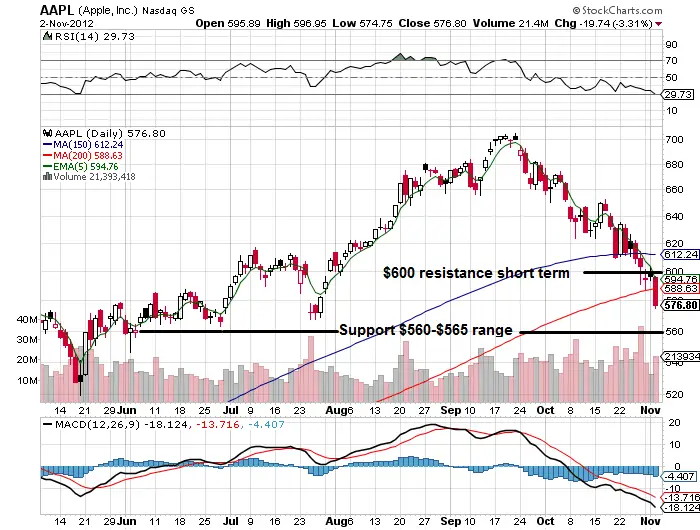 Another interesting possibility if the bears really roar is the very long term 50 week moving average in the $550 area on the weekly chart, this level has not been  breached since April 2009 around the bottom of that bear market.