With all the drama last week in the indexes and what seemed like wild action for traders watching live trades, it was nothing more than the market staying within a two week trading range in a range bound market. A $160.00 support/$165.50 resistance two week  trading range does not sound like a lot of volatility until you travel the full range top to bottom and bottom to top in two days.
The amazing part is all the conviction by traders to step in and sell into the 20 day sma and buy into the 50 day sma almost to the penny as these key moving averages acted as key resistance and support levels over the past three days almost flawlessly.
I really have no interest trying to guess and grab a daily move. I am interested in whether we break and close above the 20 day and return to all time highs or lose the 50 day and roll over and end up at the 100 day.
The long term trend is still up as the 50 day holds on, in the short term time frame we are simply range bound until these levels break out and a trend emerges.
It would be natural for a range bound market to develop after the nice trend we have had this year that took us to all time highs.
I will be searching for trends in individual names and trading small until this range resolves itself.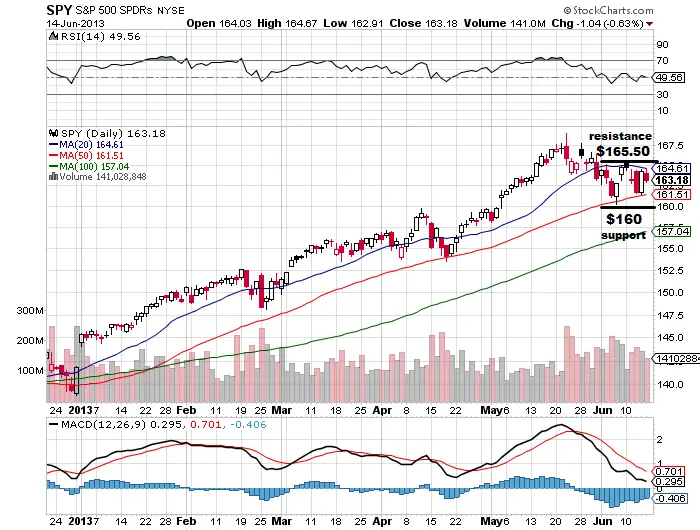 It is decision time for GOOG as it approaches the apex of a triangle pattern on the daily chart.
The 20 day resistance and lack of a sell off seems to point to a range bound GOOG for now until it closes above the 20 day with power or rolls under the 50 day this may be our churn area.
The last four days AAPL has had lower highs and lower lows.
AAPL has spent three days struggling against the 50 day and closed below it.
The next level of support is at $420 and we could easily see this next week.
The 50 day may act as the new resistance level as it was never regained Friday.
AAPL may actually now be a slow moving, dividend paying, big cap tech with declining growth that makes it a range bound behemoth going forward with its momentum days behind it.