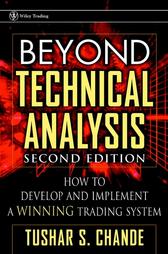 This is a great book on trading because it does not examine just one topic in trading it brings together all the areas of trading one must master in the markets and shows the reader how to turn it into a complete trading system.
This book points out that technical analysis by itself is not going to make you a successful trader unless it is incorporated into a system with a trading plan.
The author explains that while creating your trading system you must understand the following:
1). Capital conservation is as important to top traders as capital appreciation.
2). Top traders do not trade anything until after they back test the system for historical performance.
3). There is a big difference between discretionary and mechanical system traders.
4). A proven system will give you objectivity and consistency to trade your system not the news.
5). A good system will have you taking profits slowly but cutting losses quickly.
6). A long term system should eliminate much of the emotions out of any one trade, you are concerned about the long term performance of the next 100 trades not the current one.
7). You must create a system that matches your beliefs about the markets.
8). Your system must match your tolerance for equity draw downs and risk.
9). You should limit your system to 10 rules or less.
10). You must understand that your system will perform only when the market is conducive to that system.
Your system will consist of what markets to trade and indicators to use for your signals. You will have to determine position size based on volatility and risk of ruin. You need an entry signal to open the position. Also you will have to determine an exit signal whether it is a stop loss, a trailing stop, technical signal, or profit target. These are items that should be determined by personal preference and extensive back-testing to ensure you have a robust system.
The most important part of the system is the trader's ability to follow it. We must understand that all trading systems have draw downs. We will have those ten losses in a row eventually. We must ensure we have confidence to stick with our system once we have tested it to our satisfaction. We must always risk no more than 1%-2% of our total equity per trade so we avoid blowing up our accounts during times when the market acts adversely to our system.
I highly recommend this book: a new addition to my top ten most useful trading books. This book may be the missing piece for many traders trying to cross that bridge to success in the markets.
Beyond Technical Analysis: How to Develop and Implement a Winning Trading System: Book Link