The Psychology of Trading: Tools and Techniques for Minding the Markets
Author Brett Steenbarger has done a great job with this book. He covers what I personally believe is the most important element in trading: psychology.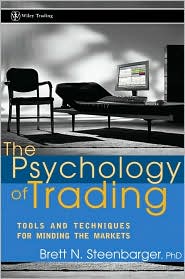 New traders will probably not last through their first year in the markets without blowing up their accounts by taking losses too personally. Many times draw downs cause traders to start gambling when they become desperate to recover their losses. Many times increasing position size when they should be decreasing it is an ego-driven desperation to get back their losses. Other similar bad mental behaviors creep into our trading careers as dysfunctions in our personal lives cloud our minds from being able to make the right decisions in following our systems and established trading principles.
What this book shows is how to take the proper perspective and observe our greed and fear, enabling us to see them for what they are instead of getting caught up in these powerful emotions that lead to terrible consequences in our accounts and lives.
This book is a very good book on both psychology and trading. It is packed with lessons from the authors patients and his own experiences. What the book shows is that we are the most important element in our trading. We must have the right mind set in trading, and while developing as a trader we need to keep a log of the emotions we feel on our losses and wins to better understand ourselves and why we make emotional charged decisions that we shouldn't while trading.
We must continually ask ourselves:
Why did I make that bad trade?
What exactly was I telling myself when I entered it?
This book is about being mindful of our thoughts and emotions while trading. About not being lead blindly by them away from our predetermined trading rules and plans.
Is our low self esteem getting in the way of our trading or is our ego causing us stress and losses? Out of the many trading books I have read I would put this in the top ten with no hesitation. The psychology of the trader is the most important element of trading and often the most neglected in other books. Without the right mind set you can not trade the markets successfully for any length of time. The pressures, stresses, and emotional highs and lows are to much for most traders to handle over the long term. This book is a must read if you are serious about being a profitable trader over the long term.