This is a guest from Jeff who is on twitter at @TSXtrad3r. This post originally appeared as the post: Poker vs Day Trading Stocks on www.livestreamtrading.com and is posted here with permission.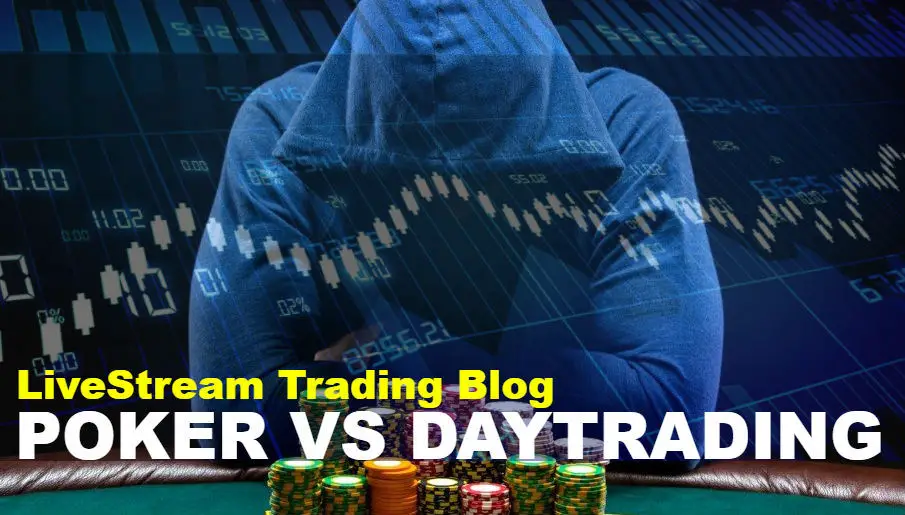 Critical decision making under pressure. Problem solving. Risk vs reward. Discipline. Bankroll management. Strategy. These are all things that relate to poker and day trading, two of my favorite strategic activities in the world.
Many of you know me as the head trader of LiveStream Trading, or through our online video lessons and webinars covering various day trading topics and strategies, but what many people don't know about me is my background in poker, and how I leveraged my poker skills into a career in day trading stocks.
In my early 20's I used to play live poker cash games for hours per day, working constantly to sharpen my skills, aggregate data, and develop a profitable poker system. I found a true passion in the game, the skill, and the excitement in pushing chips over the line and putting a player at a decision for all of their chips.
I was an amateur poker player from 2004-2006 grinding out a small living at the cash tables with a small bankroll, but I came to a crossroads in my poker aspirations when I was offered a job at a proprietary trading firm as a student day trader.
Back then I wasn't sure why they were interested in hiring me, as a 21 year old (11 years ago in 2006) with no background in finance or trading the stock market. Looking back now, I'm positive the reason they wanted to take me on as a student trader was because of my background in poker, and how those skills can translate into a profitable day trader.
Here are the similarities I've learned over the years:
1. Critical Decision Making Under Pressure:
Often in poker, as in day trading, you have to make fast decisions under pressure with a lot at stake. Having the ability to keep a cool head under pressure and think objectively and logically go a long way in both day trading and poker.
Check out our blog post on Mindfulness in Day Trading; that can also translate well into your poker game. There is no question that my poker playing had translated well into my early day trading career.
2. Discipline:
Professional poker players, much like professional day traders, don't play every hand that is dealt to them. Being selective in which hands or trade setups that you play are essential to success in both of these fields.
As a veteran day trader, its essential to my success to only play trade setups that match my criteria and system, and offer a big reward vs the risk in the given situation.
3. Bankroll Management:
In poker and day trading it is essential to properly manage your bankroll. The cardinal rule I used to use in poker was to never risk more than 5% of your entire bank roll in one day. If you are "running bad" in a day of poker or day trading, it is essential to protect your precious capital and have a capped limit for what you are willing to risk per day.
For more on this, please check out our video lesson on Bankroll Management.
4. Strategy:
In poker and in day trading, you can't just "wing it". Seriously, I tried this for the first few years of my trading career and I really struggled to find consistent success. Developing a strategy is key, whether its only playing certain hands in poker, or only playing certain chart setups in stocks.
One thing that I love about day trading vs poker is that I've developed a back-tested system to make it so much more "black and white" than in poker, its become very second nature for me to know exactly when to pull the trigger in a stock trade, and be confident in the risk vs reward, and the expected result.
Check out our Live Trading Videos that will walk you through some trades that I've taken over our Live Trading Stream for our students, where they watch me plan the trade, execute the plan, and manage the risk from start to finish.
Why did I choose Day Trading over Poker?
At first I tried to do both. I used to hustle pretty hard day trading stocks during the first 2 hours of the morning where the stocks were most volatile for my old momentum scalping strategy in the prop firm, and then I would switch over to the poker tables at lunch for the rest of the day to grind out my living playing cards.
The reason I did this is because when I first started trading my data showed that I was most profitable in the first 2-3 hours of the day, and if I continued to trade over lunch I would often end up giving back morning profits during the lunch lull, or grinding out more broker fees which ultimately was reducing my bottom line.
Also, as you can imagine, my first 2 years of trading was very up and down, I was a total amateur working on trial and error, and I needed my poker income to support my trading venture in the early stages. There was no "LiveStream Trading" back then or any resource I knew that could accelerate my knowledge and career, I learned trading the hard (and expensive) way.
By switching to the poker tables at lunch, I was able to lock in my profits from day trading the morning momentum, and continue to grind out some rent money at the poker tables.
Ultimately, over the course of a few years, it was clear to me that by focusing all of my efforts into day trading it would be more lucrative than poker.
In my honest opinion, with a proper day trading and risk management system, the results are a lot more consistent and much larger rewards than poker with much less stress. I found personally, in poker, to be too many unknown variables to have as consistent results, for example "luck", and so naturally, I transitioned into full time day trading.
I also really like how I don't have to go into a casino and find a cash game to trade stocks. I can do it casually on my own time wherever I am in the world with an internet connection and a laptop (I never did well with online poker, a big part of my game was the in-person element of live cash games).
I rarely play poker at all anymore, but I still love the game. I watch the WSOP (World Series of Poker) every year and still follow the top players.
I play some low stake, no limit $2/$5 cash games at our local casino a few times per year for fun, but other than that, I feel totally fulfilled and content with my decision to pursue day trading as a better long term option for sustained income. At the end of the day, maybe I'm just more wired for trading than poker.
Why don't more people try day trading?
Truth be told, I think most people don't know where to begin with day trading. How do they open an account? Where do they learn to trade effectively? How do they know when to pull the trigger on a trade, or when to exit a trade?
Some people have never even heard of it, and others don't know that its possible to start trading with as little as a couple thousand dollars.
It can seem overwhelming at first, but the ultimate goal of LiveStream Trading is to effectively get people into the markets and get them up to speed with current strategies and techniques as quickly as possible.. and we do this VERY well.. In fact, I've been told by countless students who have been through the ringer of day trading communities that we do it better than anyone else.
You can open a day trading account with a broker like Trade Zero and have a funded account ready to trade in just a few days.
As far as training goes, as a member of our live trading group, you can follow my live trades from start to finish each and every day, and get a full comprehensive trading education with daily live webinars and education and our video lesson library which is packed full of trade recaps, video lessons, and webinars totaling over 65 hours of content.. our training, education, courses and lessons are FREE as a member of our trading group.
If you have been curious about day trading as an alternative to poker, you may already possess some of the key skills required to be successful in this business. But don't go at it alone, day trading, much like poker, is a difficult game to master and you can get there MUCH faster with a mentor and team working with you to learn the business properly, so do not spend the early years of your day trading career making avoidable amateur mistakes like I did.
I hope you guys enjoyed this post. Whether you game is poker, day trading, or both, keep playing the odds and we will see you on the LiveStream!
You can follow Jeff on twitter at @TSXtrad3r. and you can visit his website at  www.livestreamtrading.com.