Michael Bloomberg's net worth is currently $52.4 billion as of November 2019. He is currently the 17th richest person in the world and the 11th richest person in the USA.
How did he create his personal wealth?
Bloomberg started his financial career at Salomon Brothers, before founding his own company in 1981 that bears his name in and then worked as its chairman and CEO to build it over its first twenty years. Bloomberg L.P., grew into an international financial services, software and media company. Michael Bloomberg founded his company with three business partners and a 30% ownership investment by Merrill Lynch.
The company's most popular creation is its Bloomberg Terminal, an advanced computer system that streams some of the fastest and most in depth financial data available for the global financial markets. This is a very high priced set up for professional investors and traders.
Bloomberg L.P. also provides a Bloomberg News wire service, the Bloomberg Television network, its websites, Bloomberg Radio station, subscription-only newsletters, along with its two magazine publications: Bloomberg Businessweek and Bloomberg Markets.
Bloomberg L.P. currently has 167 locations and nearly 20,000 employees.
Michael Bloomberg was able to buy back one-third of Merrill Lynch's 30% stake in the company for $200 million in 1996, this set the market value of Bloomberg L.P. to $9 billion at the time. During the financial crisis in 2008, Merrill Lynch had to sell the rest of its 20% stake to Bloomberg Inc. for $4.43 billion, this transaction set the new value of Bloomberg L.P. at around $22.5 billion.
Bloomberg served as the Mayor of New York City, and was elected to the office for three consecutive terms, beginning in 2001 and ending on December 31, 2013.
Bloomberg returned to the position of CEO at Bloomberg L.P. near the end of 2014.
Michael Bloomberg still currently owns 88% of Bloomberg L.P., which has annual revenues estimated of $10 billion and a value of over $54 billion.
Bloomberg considered a possible run as a candidate for the U.S. President in 2008, and 2012. There was also talk of him running for for Governor of New York in 2010. In March of 2019 he said he would not be running in the 2020 presidential election. He announced on November 8th 2019 a possible run for president in 2020 as the democratic party candidate.
He joined 'The Giving Pledge' with other top billionaires and promised to give away a minimum of half of his net wealth in his lifetime.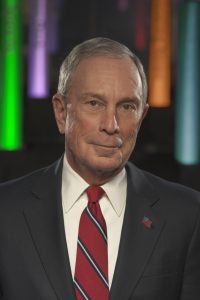 Bloomberg Philanthropies – https://www.flickr.com/photos/bloombergphilanthropies/29828795984/