The Nicolas Darvas box theory is a trend trading method where a breakout of price is bought and held as ranges build on top of each other. Nicolas Darvas used this process in the 1950's to make over $2.25 million in a strong bull market. He was a top touring ballroom dancer by profession and developed his mechanical trading strategy to use buy stops and trailing stops to buy the leading growth stocks that were rising on growing volume. 
Darvas would track stocks making new all time highs on increasing volume in the Barron's news publication. He would quantify trading ranges of price support and resistance highs to draw a box around. A break above the highs would signal a new buy entry point and a break below the low in Darvas box price would trigger a stop loss and exit. A Darvas Box is considered in place as long as it doesn't fall back and stay in the previous box. A break out signals a new possible support level for the next box in the stair step. 
Darvas traded his box theory through telegrams with his full service brokerage firm who was located in the United States as he travelled the world dancing. He had to pay very high commision costs to trade back then which lead to more stable price action due to transaction costs. Today's zero commissions seem to have led to more volatility and it is much more difficult for stocks to hold their Darvas Boxes as prices can move to extremes above and below the box before breaking out even in a trend. Using end of day signals can help to filter much of the intraday volatility that move prices above and below the boxes and just focus on the closing price.
Nicolas Darvas was one of the first trend followers in history to focus on price action versus fundamentals, predictions, or opinions. He also was one of the very first mechanical system traders that used buy stops and trailing stops to make his decisions for him as he slept through most of the trading days and didn't look at the market intraday only at the end of the day.
His full story can be found in the book "How I made $2,000,000 in the Stock Market."
Below is an example of using the Darvas Box Theory to trade the $QQQ ETF as it made trading ranges then broke out or broke down after each box.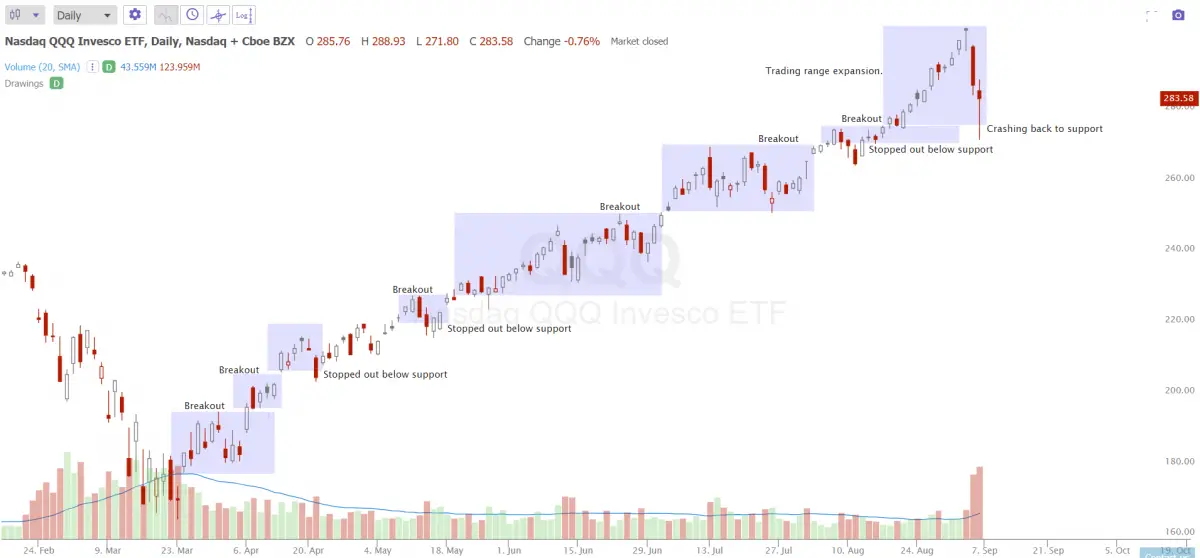 Chart courtesy of TrendSpider.com