You have probably heard of the bullish 50/200 day moving average crossover golden cross or the the bearish 50/200 day moving average cross under death cross which is a long term trend signal on charts, especially for the major stock indexes. These signals are even mentioned on financial news networks when they occur in real time. 
I would like to introduce you to my favorite moving average crossover, the 5 day exponential / 20 day exponential crossover on the daily chart. I call this bullish crossover the flying eagle cross. I call the 5 day / 20 day ema cross under the wounded duck cross. The 5/20 day ema crossover signal is a short term signal for entering and capturing quick swings in price action then exiting when the 5/20 day ema crosses back under. It is a fast signal for getting in and getting out of a trade. It is best used with stocks that have momentum.
This is a short term swing trading signal that captures both swings to the upside and short term trends that have momentum. This signal backtests well on many of the best performing stock charts, metals, and Bitcoin. It is a long only signal and goes to cash when there is a bearish cross under. This signal works by simply creating big wins and small losses it does not rely on a high winning percentage to be profitably. 
The below example shows the backtest on the $FAS ETF 3X leverage financials backtest buying when the 5-day ema crosses and closes above the 20-day ema then selling when the 5-day ema crosses and closes back under the 20-day ema.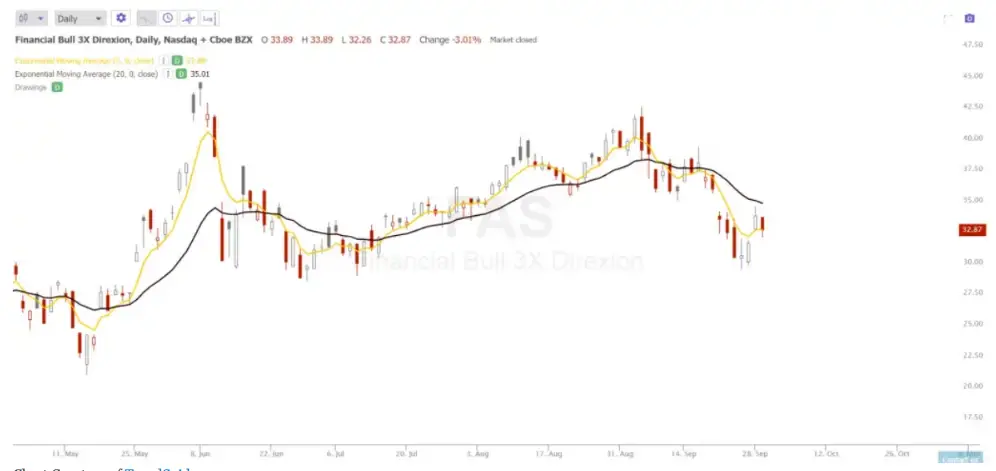 This signal can create a positive expectancy model on trading a chart even if it doesn't beat buy and hold. It can also create better risk adjusted returns by taking a trader to cash when an investor would take a big loss during a pullback, correction, crash, or bear market. The exit can also be adjusted to selling when the chart has an overbought reading like the 70 RSI or on the first big bearish candle reversal. Adjusting the exit will affect the size of the wins and losses versus the backtest. 
Chart Courtesy of TrendSpider.com