The SPY trading range is currently at $163.50 resistance with very strong support at $162.50. We have two key support levels below us at the 10 day sma and 50 day sma. We are in an up trending equity market with cheap money flowing in day after day to be put to work. I have been fully long in my longer term trend trading account since $157.50 with the break above the 10 day sma. While so many others have been trying to call the top I have been riding the wave up letting the price keep me in. I could not have predicted this move but I can follow it.  My professional trend following friends are all long, the professional swing traders I follow all say we are over extended here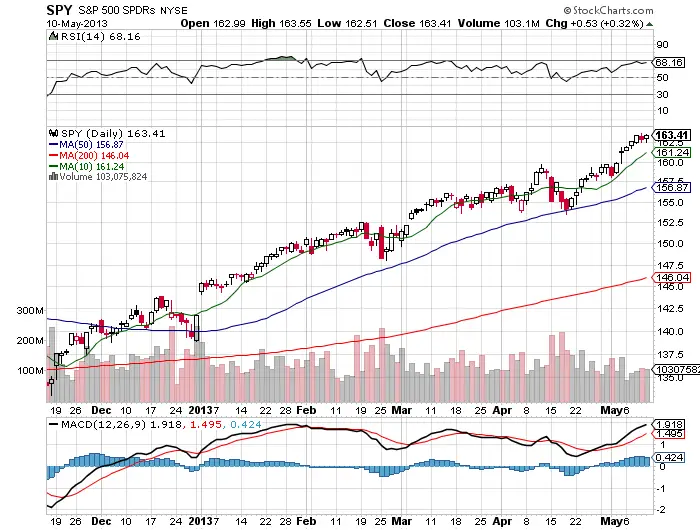 Apple has had a lot of trouble getting over the $460 mark, Friday it lost the low of the previous day to find its way back close to the 10 day sma. Apple is in a short term up trend inside a huge down trend. I will look to be long again with a close above $460 or short with a close below the 10 day sma. There just is not a huge edge in trend at this point, it could get back to the 200 day with continued accumulation or return to the resent lows if distribution continues. Trading price at this juncture is the most prudent and leave the opinions at the door. This was a great winner for me over the past month.
Parabolic. Google has proven to be a safe haven for money managers, it is an innovative growth company with a great story, Google glass, Google fiber, You Tube, etc. and is big enough for money managers to get positions in. It is very extended from its 10 day sma and with in striking distance of $880. It is good to go to $900 in the next few weeks, the only warning sign that it may not make it will be if it under cuts a previous days low. This is what a momentum break out to all time highs with no resistance in a bull market looks like.

I did very well with this one over the past few weeks.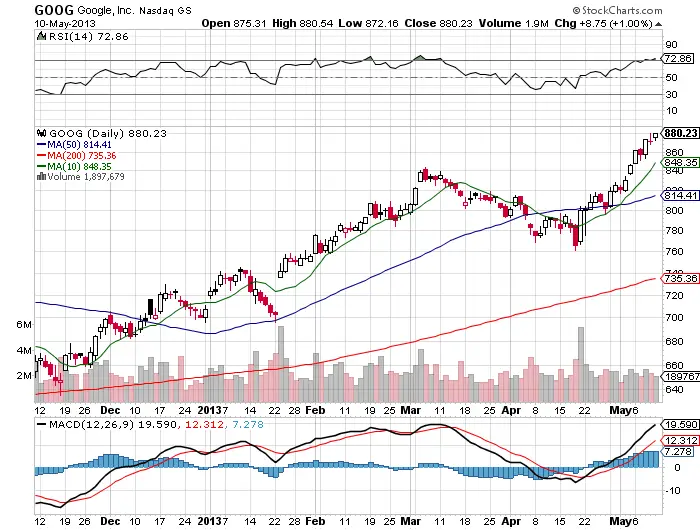 Price is my dictator I am only its servant. The trend is my boss and I am its follower.