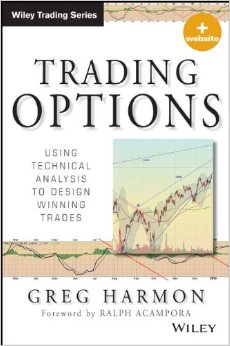 Greg Harmon has written an informative book for those who are committed to learning the basics of the mechanics of trading.
I liked his routine of weekend chart studies, and developing a trading plan based on price action, not his opinions or predictions. He shows readers what he looks for when identifying trends and chart patterns. I also appreciate that he uses the RSI and MACD indicators to identify extensions and trends, much the same way that I do.  He gives his readers an overview of technical analysis, candlesticks and chart patterns, and covers the basic elements of option contracts, and ways combine options to express different types of trades. Greg also gives some real trade examples, with details about how he managed them.
I liked this book and picked up some things I will be adding to my weekly trading  routine. It is a great place for new traders to start on their trading journey. It is a valuable resource while learning to profit from reading price action.