The UVXY is a volatility tracking exchange traded fund. This ETF started trading in October of 2011 and it tracks 1.5 times the performance of the S&P 500 VIX short-term futures index for a single day. Due to the compounding effect of daily returns, the UVXY's performance over the long-term will be very different than just holding the VIX due to the effect of negative compounding causing deteriorating capital. Each time UVXY goes down -20% in a day it must go back up +25% just to get back to even and this has a negative effect on long term performance for a fast moving ETF. 
Due to the nature of the S&P 500 moving from high volatility to low volatility in cycles combined with leverage this ETF has just been crushed lower in price over its history. This is a pure trading vehicle as any longer term holds destroys capital. As an example, UVXY is already down -73.2% in 2021 so far.
The best use of UVXY is for shorting it when it is overbought with a tight stop loss for the rare occasions it does go on big move higher during extremely volatile market meltdowns. It can be a great trading vehicle to incorporate into a short side biased trend trading or swing trading system to catch large moves when they do occur. The UVXY generally tops near the bottoms in stock indexes along with bottoming near the top in the S&P 500 index and moves primarily inverse to the stock market. 
UVXY does rally when volatility expands and can go up fast in a very highly volatile markets like 2008 and March of 2020 but eventually it does self destruct falling lower very fast as the stock market rallies off lows. Looking at the past trading range of UVXY and its historical charts can be very eye opening. It is possible to trend trade and swing trade volatility itself and also benefit from the destruction of capital in a leveraged ETF like UVXY with the right process of cutting losses short and letting winners run. 
Another volatility ETF is the inverse SVXY which goes up +0.50% as the S&P 500 VIX short-term futures index goes down -1%. SVXY rises as volatility goes down so SVXY tends to trend higher over time. 
Rob F. Smith nicknamed $UVXY $UGLY an $SVXY $SEXY due to their historically performance.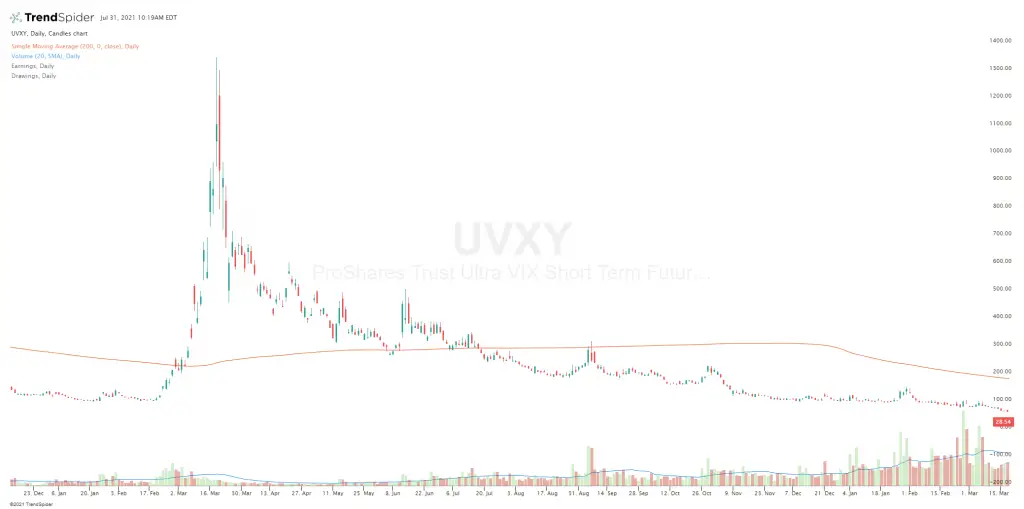 UVXY performance statistics:
(Five and ten year prices are reverse split adjusted).