The current Warren Buffett portfolio for 2021 has been updated with his 9/30/21 Q2 filing. 
Here are the Berkshire-Hathaway portfolio holdings managed by Warren Buffett that were reported in the 13F filing to the SEC for the 3rd quarter of 2021 at the end of September this year. 
Warren Buffett continues to oversee and manage the Berkshire Hathaway Holdings portfolio of 41 stocks with $293,447,417,000 in capital. 
Here is a snapshot of how the Warren Buffett portfolio was positioned at the end of  the 3rd quarter of 2021:
Percentage of portfolio holdings by sector:
Consumer defensive 12.12%

Real estate 0.27%

Technology 44.44%

Health care 2.72%

Financial services 32.11%

Communication services 5.24%

Consumer cyclical 2.12%

Energy 0.99%
Rank/Company/ Ticker/ % of portfolio
APPLE INC AAPL 40.07%

BANK AMER CORP BAC 14.45%

AMERICAN EXPRESS CO AXP 7.92%

COCA COLA CO KO 7.79%

KRAFT HEINZ CO KHC 4.81%

VERIZON COMMUNICATIONS INC VZ 3.41%

MOODYS CORP MCO 2.72%

US BANCORP DEL USB 2.65%

DAVITA INC DVA 1.43%

GENERAL MTRS CO GM 1.42%

BANK OF NEW YORK MELLON CORP BK 1.26%

CHARTER COMMUNICATIONS INC N CHTR 1.18%

VERISIGN INC VRSN 0.94%

CHEVRON CORP NEW CVX 0.91%

ABBVIE INC ABBV 0.91%

VISA INC V 0.78%

BRISTOL-MYERS SQUIBB CO BMY 0.72%

LIBERTY MEDIA CORP DELAWARE LSXMK 0.70%

KROGER CO KR 0.67%

AMAZON COM INC AMZN 0.61%

MASTERCARD INC MA 0.60%

SNOWFLAKE INC SNOW 0.51%

MERCK & CO. INC MRK 0.50%

RH RH 0.38%

AON PLC 0.34%

STORE CAP CORP STOR 0.30%

T-MOBILE US INC TMUS 0.24%

LIBERTY MEDIA CORP DELAWARE LSXMA 0.24%

STONECO LTD STNE 0.24%

MARSH & MCLENNAN COS INC MMC 0.23%

GLOBE LIFE INC 0.22%

TEVA PHARMACEUTICAL INDS LTD TEVA 0.18%

AXALTA COATING SYS LTD AXTA 0.15%

SIRIUS XM HLDGS INC SIRI 0.09%

LIBERTY GLOBAL PLC LBTYK 0.06%

BIOGEN INC BIIB 0.06%

LIBERTY GLOBAL PLC LBTYA 0.03%

JOHNSON & JOHNSON JNJ 0.01%

PROCTER & GAMBLE CO PG 0.01%

MONDELEZ INTL INC MDLZ 0.01%

LIBERTY LATIN AMERICA LTD 0.01%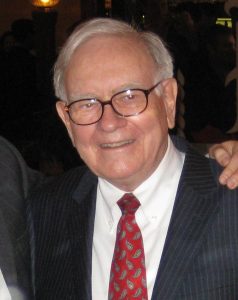 Aaron Friedman, CC BY 2.0 <https://creativecommons.org/licenses/by/2.0>, via Wikimedia Commons