Michael Burry has been bearish on the stock market and the economy for over 18 months now. He made some big bearish bets on both Tesla and Cathie Wood's Arkk ETF using long put options but was too early in both positions and had to exit them with losses. He has grown incredibly bearish with his most recent tweets and has been warning about hyper-inflation, an economic depression, and a huge market crash now for almost two years.
He still held stock positions and tried shorting up until the second quarter of 2022. From April to June he exited all of his positions and went to cash except for one stock position.
Burry was not deterred from his bearish outlook through the recent stock market rally where indexes returned to the 200-day moving averages and were up over 16% from their lows. He noted the similarities between the 2022 chart pattern and 2001 as the dotcom bubble popped back on July 22, 2022.
He sees inflation continuing due to terribly loose monetary policy.
Michael Burry called the recent runup in the market as nothing more than a bear market rally in real time before the new plunge lower.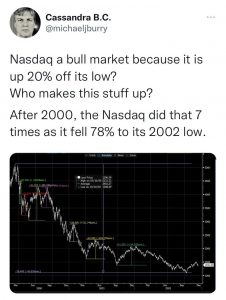 Michael Burry was explaining how many bear market rallies can rally over 20% before they crash back into a downtrend while others were claiming this never happened historically.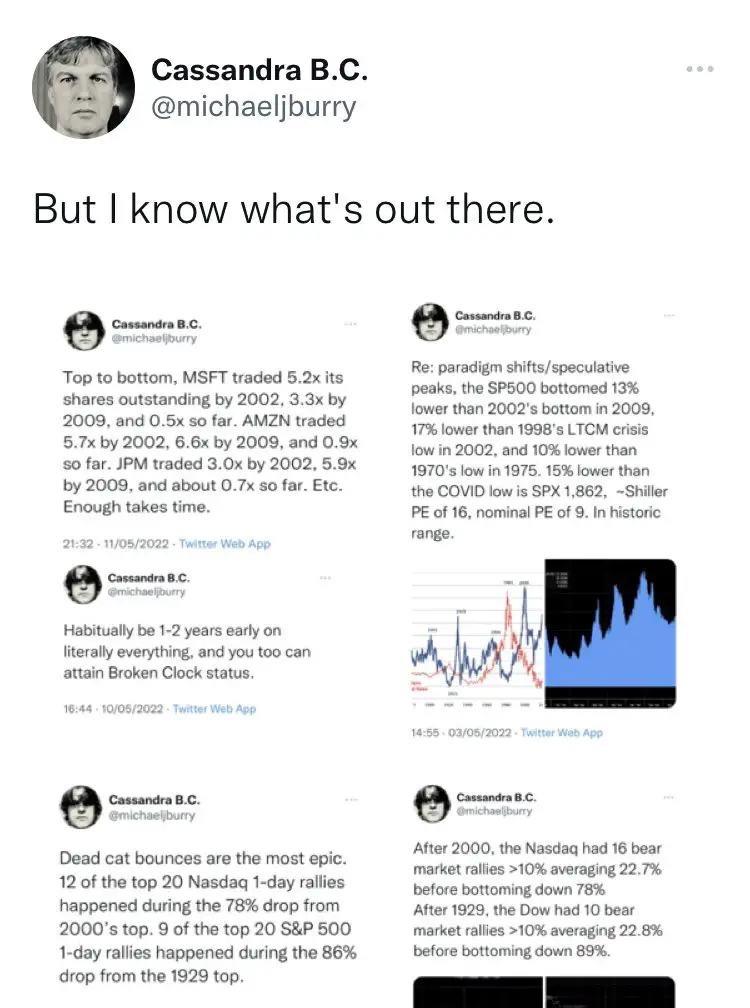 His portfolio matches what he has been saying by going all to cash. With his lack of buying put options and no reported short selling yet it appears he's concerned with more extreme volatility and looking for a better spot to make his entries. Burry has also been a deep value investor early in his career so he may be looking to buy a deep dip after a crash once companies are a value to buy based on intrinsic value or future discounted cash flow streams.
Burry exited his Apple puts that were worth approximately $36 million in Q2 of 2022 and doesn't have any other short positions currently. 
If Burry opens any new short positions in Q3 we will find out when he tweets about them or after his next 13f filing in October. He has 45 days after the end of the 3rd quarter to report his new positions publicly.
As far as we know right now, Burry is all cash except for GEO and looking for his next big short.
If you're interested in learning from my 30 years of experience and becoming a profitable trader you can check out my best selling trading books on Amazon here.

I have also created trading eCourses on my NewTraderUniversity.com website here. My educational resources can save you both time and money in your trading journey.