A list of the current highest short interest stocks can be a great place to look for potential deep dip value buys. The most shorted stocks on major U.S. stock exchanges is also a good list to watch and stay updated on for potential short squeeze opportunities. The higher the short interest percentage rises in ranking on the list the greater the probability of a short squeeze higher on any positive news. Only the stocks with the real potential of near term bankruptcy have the risk of really going to zero. Most others will have at least one short covering rally eventually even if it is only temporary.
Highest Short Interest Stocks 2022
The below company stocks have the highest percentage of their share float borrowed to sell short. These short interest levels show built in future buying pressure as the shares short must eventually be bought back to cover.
Short Squeeze Stocks
The below list of stocks are the ones with the highest probability of short squeezes this month after the bears have overstayed their welcome. Short sellers that failed to lock in their profit late in a high short interest stock can get a big upside surprise with any bullish news event that brings hope back for the stock to go higher.
Selling short goes against the long term trend in the stock market and stocks getting on the list of most shorted stocks can be bullish for a stock signaling it's about to rally higher. Stocks that get to the top of this list show too many people are betting on zero.
This list has also had all the major "meme" stocks on it over the past few years. Gamestop and Bed Bath & Beyond were on this list before they started their epic parabolic run ups. BBBY was my featured stock in my August article of most shorted stock. 
Most Shorted Stock Now
Currently the most shorted stock right now is Intercept Pharmaceuticals with the ticker symbol ICPT traded on the NASDAQ exchange with a 48.79% short interest. IPCT has fallen from a recent high of $21.25 on August 19th, 2022 to a low of $10.81 on June 16, 2022. This company has had many bouts of short covering rallies and the 5-day / 20-day EMA crossover has been a good signal for swings and trends to the upside.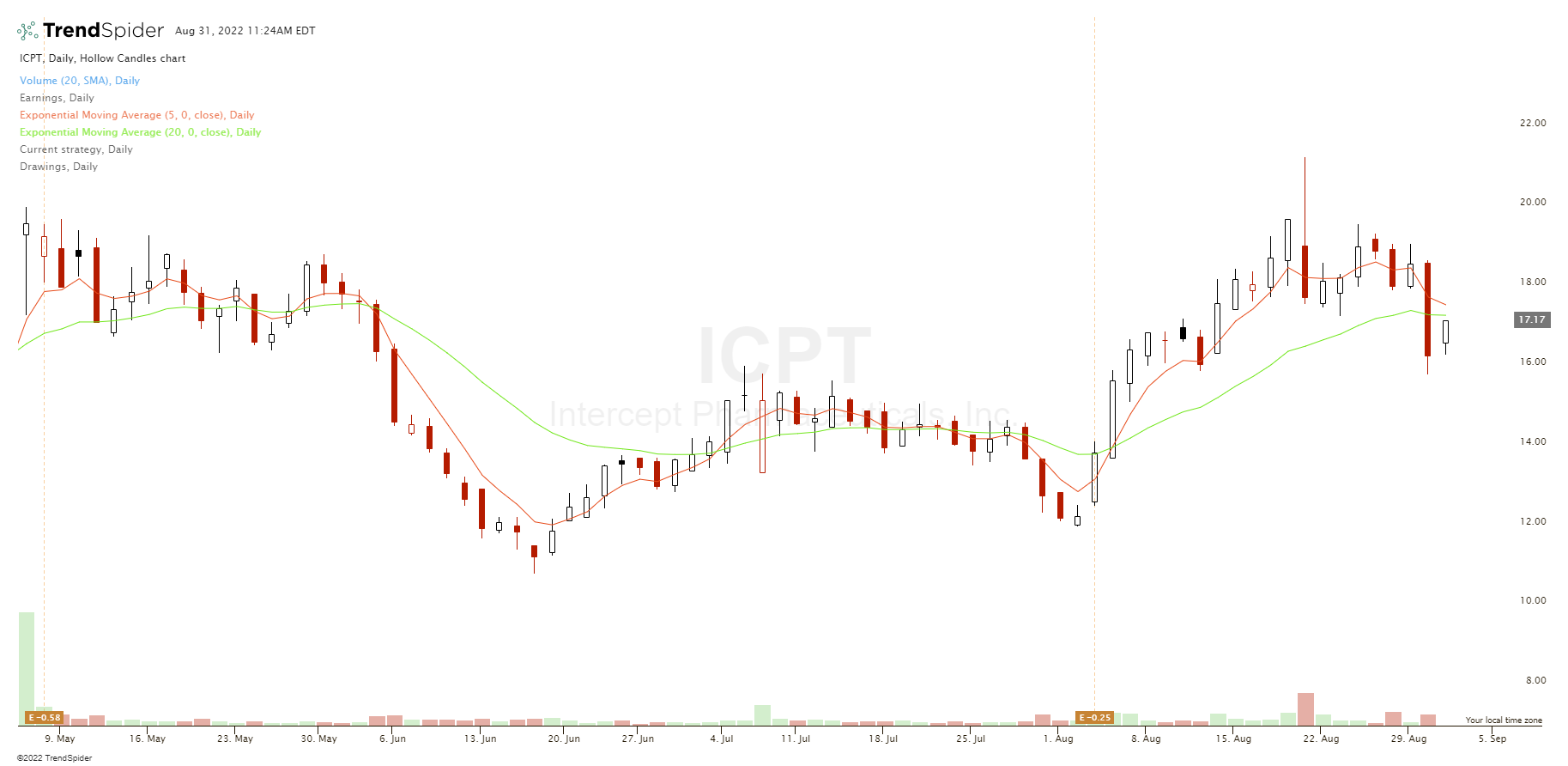 Most Shorted Stocks Right Now (September 2022)
Rank/Ticker/Company/Exchange/Short Interest/Sector[1]
ICPT Intercept Pharmaceuticals Inc Nasdaq 48.79% Biotechnology & Medical Research
BBBY Bed Bath & Beyond Inc. Nasdaq 40.44% Retail (Specialty Non-Apparel)
UPST Upstart Holdings Inc Nasdaq 37.46% Consumer Lending
BIG Big Lots, Inc. NYSE 37.09% Retailers – Discount Stores
BYND Beyond Meat Inc Nasdaq 34.35% Food Processing
EVGO Evgo Inc Nasdaq 33.99% Utilities – Electric
HRTX Heron Therapeutics Inc Nasdaq 33.21% Biotechnology & Medical Research
MSTR MicroStrategy Inc Nasdaq 32.82% Software & Programming
BGFV Big 5 Sporting Goods Corp Nasdaq 32.11% Retailers – Miscellaneous Specialty
W Wayfair Inc NYSE 29.16% Retailers – Department Stores
SWTX SpringWorks Therapeutics Inc Nasdaq 28.84% Biotechnology & Medical Research
NKLA Nikola Corporation Nasdaq 28.12% Auto & Truck Manufacturers
FUBO Fubotv Inc NYSE 27.63% Online Services
PETS Petmed Express Inc Nasdaq 27.58% Retail (Drugs)
CVNA Carvana Co NYSE 27.40% Retail (Specialty Non-Apparel)
VUZI Vuzix Corp Nasdaq 27.04% Electronic Equipment & Parts
BLNK Blink Charging Co Nasdaq 26.74% Utilities – Electric
MVIS Microvision, Inc. Nasdaq 26.58% Electronic Equipment & Parts
KPTI Karyopharm Therapeutics Inc Nasdaq 23.76% Biotechnology & Medical Research
WKHS Workhorse Group Inc Nasdaq 23.72% Auto & Truck Manufacturers
IBRX Immunitybio Inc Nasdaq 23.39% Biotechnology & Medical Research
RIDE Lordstown Motors Corp Nasdaq 23.34% Auto & Truck Manufacturers
OCGN Ocugen Inc Nasdaq 23.16% Biotechnology & Medical Research
SRG Seritage Growth Properties NYSE 23.15% Real Estate Operations
FUV Arcimoto Inc Nasdaq 23.11% Auto & Truck Manufacturers
If you are ready to improve your trading game you can get a more in depth understanding of how to use technical analysis for profitable trading with my best selling trading books on Amazon here. 
I have also created trading eCourses on my NewTraderUniversity.com website here. My educational resources can save you time in your trading journey. Learn from my 30 years of experience in the markets.