Cathie Wood has generated some of the biggest returns in the stock market in recent years and also some of the steepest drawdowns in portfolio performance.
Even with the portfolio losses for her investors in recent years, Cathie Wood's personal net worth in 2023 is still estimated by Forbes to be approximately $140 million down from her peak net worth of around $400 million in 2021. 
The art of investing requires a nuanced approach, one that demands a sophisticated understanding of the intricacies involved in the process of growing one's wealth. It's not just about putting money in, but rather a calculated and well-informed decision-making process where investors know when to lock in gains and take their profits off the table while they are still there.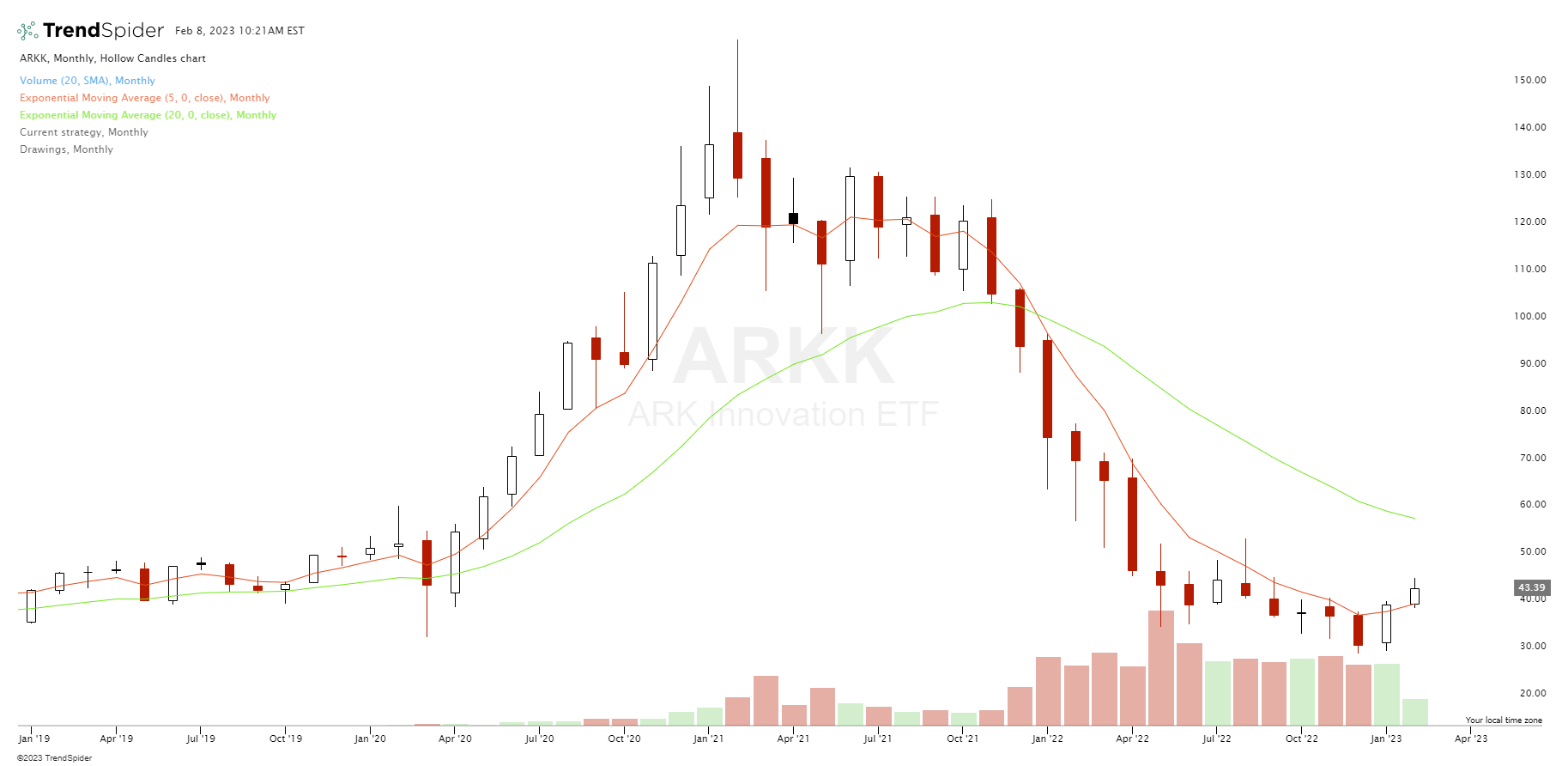 The Cathie Wood Strategy
Cathie Wood is a visionary in the world of finance and the CEO of ARK Investment Management which focuses on disruptive innovation and offers investment solutions to investors seeking long-term growth in publicly traded markets. Wood created ARK in 2014 with the idea to package active stock portfolios in an ETF format.
Who is Cathie Wood?
An expert in both finance and technology, Wood possesses a unique lens through which she views the stock market, a perspective that has garnered her widespread recognition and accolades. By carefully selecting investments in cutting-edge industries such as biotechnology, electric vehicles, and space travel, she has made a name for herself in recent years as a leader in the realm of disruptive innovation during the huge tech bull market from 2017 to 2022.
Early Years
Cathie Wood's journey to becoming a finance industry leader began in her early years. Born and raised in Los Angeles, she showed a keen interest in technology and finance from a young age. She earned a Bachelor's degree in Economics and Finance from the University of Southern California where she met her mentor, Arthur Laffer, a prestigious economist of the time who was an advisor during Ronald Reagan's administration. These early academic pursuits laid the foundation for Wood's future success, as she honed her skills and knowledge in technology and finance, positioning herself for a successful career in the fast-paced world of finance and investments.
Career and Achievements
Cathie Wood has worked at several financial firms throughout her career, including AllianceBernstein, where she served as the Chief Investment Officer for Global Thematic Strategies, and Jennison Associates, where she served as chief economist, analyst, portfolio manager, and managing director.
Cathie Wood's career has been marked by a series of impressive accomplishments and a tireless commitment to innovation and growth. After starting her career at several prominent financial firms, she founded ARK Investment Management, which has since become one of the fastest-growing asset management firms in the world. Under her leadership, ARK has made a name for itself by investing in disruptive and cutting-edge technologies, and Wood has been widely recognized for her bold investment strategies and both accurate and inaccurate market predictions. Throughout her career, she has demonstrated a deep understanding of the financial market and a talent for identifying opportunities for growth, making her a sought-after expert and a respected leader in the industry. She has lost much of her popularity after the recent tech stock and cryptocurrency crash in 2022.
Her Investments
With a keen eye for identifying the most disruptive and innovative companies, Cathie Wood has established a reputation for astute investments that are shaping the future. From the trailblazing electric vehicle maker Tesla to the financial services giant Square and the entertainment powerhouse Roku, Wood and her team have made strategic investments in companies that are leading the charge and delivering remarkable returns. For a time her returns were some of the best of any managed fund or ETF.
Wood's investment philosophy, which prioritizes long-term growth and a focus on transformative technologies, is evident in her top picks. These companies, which are changing the world and demonstrating substantial growth potential, offer a glimpse into the future and reveal the opportunities available to those who embrace innovation and invest in growth.
How to Emulate Cathie Wood's Investment Strategy
Cathie Wood is known for her innovative investment strategies and her focus on identifying high-impact innovations. She has made a name for herself as a stock picker and leader in the investment world.
One of her key strategies is to make big investments in individual stocks. While no stock in the Ark Innovation ETF makes up more than 10% of the portfolio, Wood is heavily concentrated in a handful of names.
Her investment approach focuses on identifying high-impact innovations, with a focus on areas such as artificial intelligence, DNA sequencing, and more. This focus on disruptive and cutting-edge technologies has helped her achieve success as the CEO of ARK Investment Management, one of the fastest-growing asset management firms in the world.
If you aspire to follow in the footsteps of Cathie Wood and invest in innovative and disruptive companies, here are some tips to guide you on your journey:
Do Your Homework: Conducting thorough research and due diligence on the industry and the company's financials is a crucial step in making informed investment decisions. This includes analyzing the company's financial statements, studying the industry trends, and understanding the company's competitive landscape.
Long-Term Thinking: Wood's investment philosophy prioritizes long-term growth, which means that she focuses on investing in companies that have the potential to grow and succeed over an extended period. When making investment decisions, it's important to keep this perspective in mind and prioritize investments that have the potential to generate returns over the long term.
ETFs: Exchange-traded funds (ETFs) provide a great opportunity to invest in a diversified portfolio of companies. By investing in ETFs, you can get exposure to a variety of industries and companies, including those that are of interest to Wood, without having to make individual stock selections. This can help reduce risk and provide a more balanced investment portfolio.
Conclusion
Investing can be a risky venture, Cathie Wood focuses on the most innovative companies for her fund and thinks of long-term growth. Her full-fledged approach is staying informed and using process-driven strategies, creating entry paths into disruptive companies with high potential for growth. Cathie has become one of the driving forces in investing in future technologies due to her success in this arena.
Cathie Wood is an example of the power of aggressive bullish strategies in the most speculative stocks during powerful uptrends to create outsized gains. She is also a cautionary tale of the importance of having exit strategies to lock in those gains during speculative bubbles to avoid giving back all those gains.