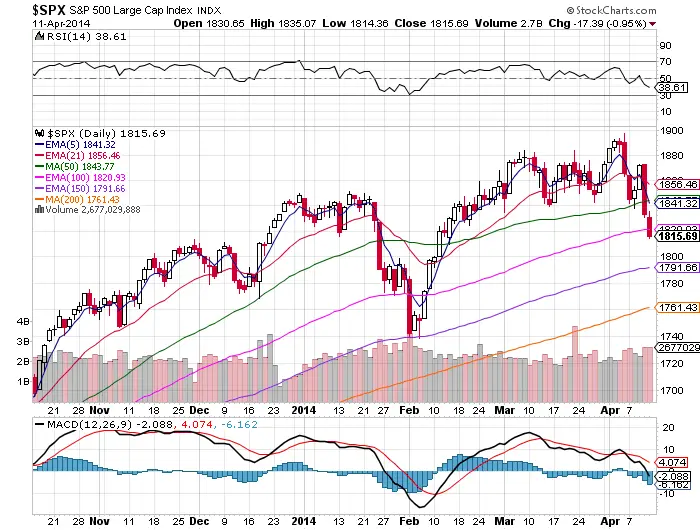 While the long term up trend is still in place we are entering into a small normal correction here so far.

With the 100 day ema being lost the next long term support level is the 150 day ema from the last bounce.

The best oscillator I have seen to watch for index swing trades on daily time frames is the 14 period RSI. Over the past four years after a cross below the 30 RSI of the $SPX on the daily chart has been a winning trade on the bull side with a long bias in short term time frames. This is a key area for shorts to cover, swing traders to go long, and dip buyers to buy.

Next week the probabilities are that at some point the $SPX touches the 5 day ema as it is currently very overextended and the 'rubberband' of price only stretches so far  on equity indexes.

Down trends in equity indexes are not as smooth as they are in individual equities or commodities because as a whole down moves in equities as an asset class is fighting against the historical consistent uptrend. Down trends and even bear markets are interrupted a lot by rallies back to key resistance levels and reversions to the near term means like key short term moving averages.

Short covering  is a big driver of rallies after a sell off so momentum back up and gap ups at the open can trigger shorts buying back and covering. Short covering rallies generally have a lot of surprising momentum.

Seasonally April is a strong month for stocks before the old "Sell in May and go away" begins.

If the 150 day ema is breached and we have an outlying plunge outside of the norm then 1780 and 1740 have pockets of support.

I am looking to trade much smaller here than usual with the increase in volatility and the changing nature of this market.

I am looking to tighten my time frames to lock in nice profits that are given on the short or long side.

The 5 day ema and the 50 day sma are areas to watch for to see if they are now resistance levels if we are in a down trend these levels will likely be sold into.

Momentum stocks are out of favor and $XLP and $XLU are new hiding place for money managers that are holding equities.