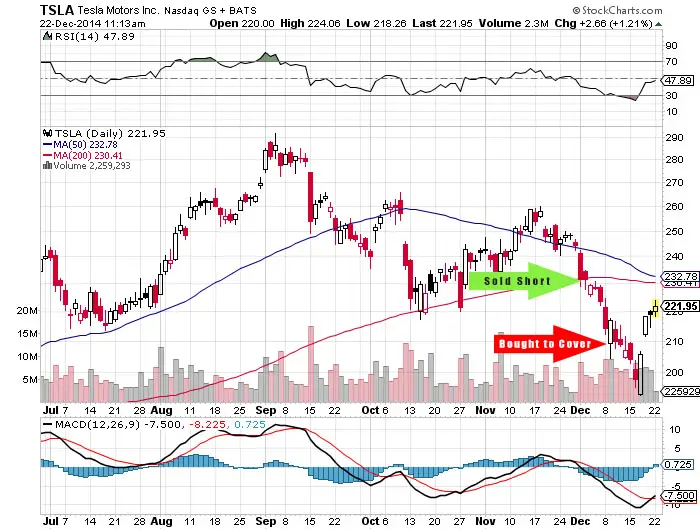 Electric car companies are all the rage when oil is expensive, but what happens when the oil market takes a dive? Follow along, step-by-step, with my Tesla trade made the week of 12/2/2014.
As oil fell day after day, electric car company Tesla showed weakness in price, resulting in several down days in a row. With gasoline becoming cheap quickly, money managers were distributing their Tesla shares into rallies, with each opportunity with the green energy sector losing favor quickly. Each rally was a lower low.

Tesla lost momentum and eventually fell to the 200 day moving average after many failed attempts to retake all time highs.

I sold Tesla short on December 2nd for $231.84 as it closed below the 200 day. The 200 day moving average is the line in the sand between an uptrend and a downtrend. With two days of no bounce and barely retaking the line, this was my signal to take a short trade.

I immediately saw a profit and let my winner run. A close above the 200 day would have stopped me out for a loss. That result would have been a small loss, and a signal that the trade was wrong.

After another rejection at the 200 day, Tesla began to make lower highs and lower lows, day after day. The loss of momentum kept me long and in the down trend.

My trailing stop signal was if Tesla closed higher than the previous day's close. My take profit signal was on a gap down.

I bought to cover my Tesla short at $206.15 on December 9th as it gapped down and rallied straight up. The easy money had been made and the volatility was about to start.

I was able to capture the 11% down trend by trading the break of the 200 day with a trailing stop.
Despite Tesla being a monster stock darling previously, it is crucial to trade the actual price signal, and not the story.
This was all tweeted live on twitter.