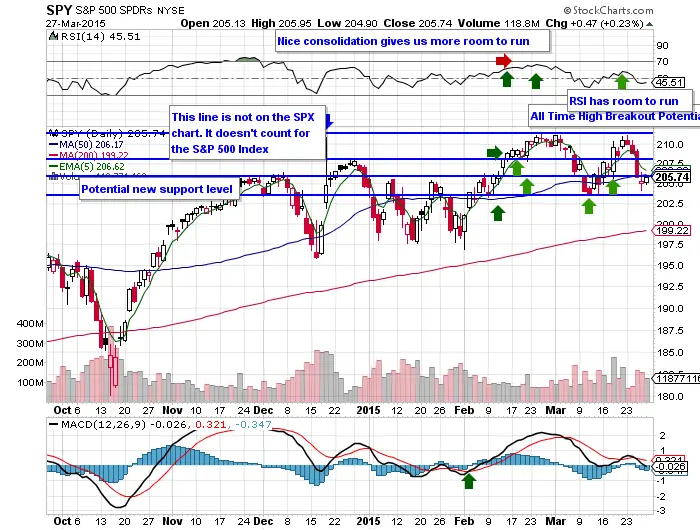 I am flat coming into today. No positions.

— Steve Burns (@SJosephBurns) March 25, 2015
Monday and Tuesday warned me to exit my long positions with a failure to make higher highs and then Tuesday with a close below the previous days low of day. I went to cash on Tuesday.

The bears put the brakes on the bulls Wednesday and the bulls failed to ever recover.

The violent whipsaw on Wednesday invalidated all the bullish signals and took the RSI, MACD and intermediate moving averages to a short term down trend.

The $206 breakout from late 2014 has now become resistance here.

The 5 day ema /10 day sma crossover indicated a short term downtrend.

$SPY is under all key short term moving averages 5 day ema, 10 day sma, 21 day ema, and the 50 day sma. These will have to be recovered to indicate a short term up trend is holding.

$SPY failed to ever get back into the Wednesday trading range this is a sign we could see more downside.

$SPY is now trading under the 50 day and the wrong side of the intermediate moving average for up trends.

My momentum entry signal is a possible break above the 50 sma if other indicators line up.

My buy the dip signal would be in the $SPY 30-35 RSI range on the daily chart if we get there.