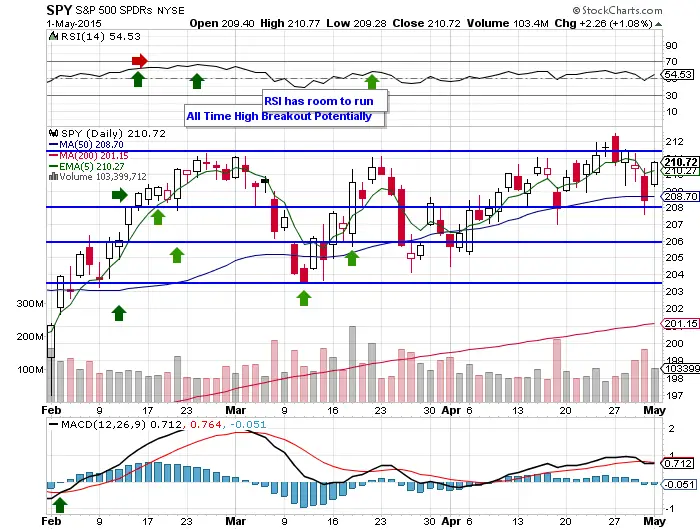 Over the past four months, $SPY has primarily been in a $203.50 support and $212.00 resistance price range.
$SPY is only up 2.52% year-to-date, which creates little room for trend trading or swing trading.
This year's gains in $SPY have come from buying the deep dips and selling into strength.
Selling stock index ETFs short as they approached the 70 RSI has worked on $IWM and $QQQ, but $SPY has not run far into overbought levels this year. The range compression makes it difficult to trade directionally over multiple days.
$SPY had a bearish MACD crossover on Thursday.
$SPY broke back over Thursday's highs on Friday, but $QQQ, $IWM, and $DIA didn't show weakness in the stock market.
$SPY broke over the 50 day, but it's now very close to long term resistance near $212.
The pullbacks in leading stocks like $LNKD $FB $TWTR $GOOGL and $AAPL are examples of failures in momentum to establish trends.
This is a market environment that currently  favors shorting strength and overbought conditions, and selling covered calls.
I will be looking to start executing short trades again as part of my trading method for the remainder of 2015 due to the ever-changing market environment.