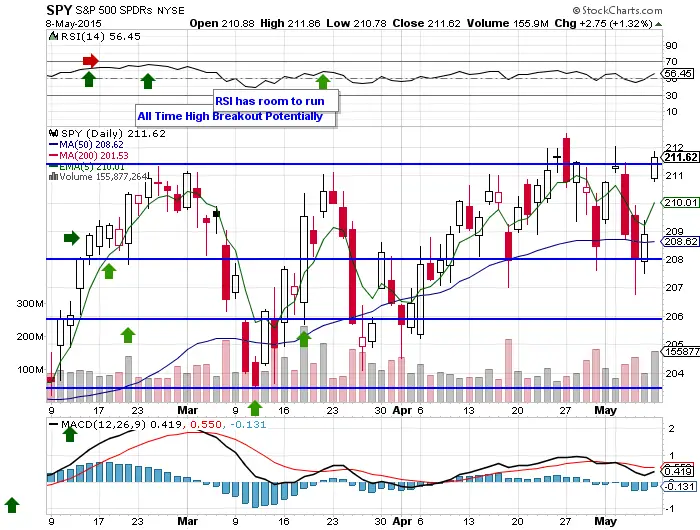 The $SPY return for 2015 year-to-date is 2.96%; this is a range bound market.
For the past four months, $SPY support has been $203.50 with $212.50 as resistance.
$SPY closed above long term resistance on Friday for the first time. However, momentum breakout signals have low success rates in range bound markets.
The MACD still has a bearish reading.
RSI is at 56.45 which is near where $SPY has been rejected all year; the 55-60 range by end of day.
$SPY is now extended from the 5 day EMA, where it has been retracing this year.
$SPY moved from near-term support to near-term resistance on Friday on non-farm, payrolls results. The time to be in was before this move, as chasing has not worked this year. Better probabilities of success are found in buying deep dips for a better risk/reward ratio.
Leading stocks have settled into ranges: $AAPL, $FB, and $GOOGL. $LNKD, $TWTR, and $CMG have fallen dramatically in recent weeks. The majority of stocks are being traded inside price ranges, not accumulated at higher prices.
Overall this year, we go down on higher volume, and up on lower volume.
This market tends to return quickly to near term support levels each week, providing dip buying opportunities for the patient, but losses for those that chase momentum.