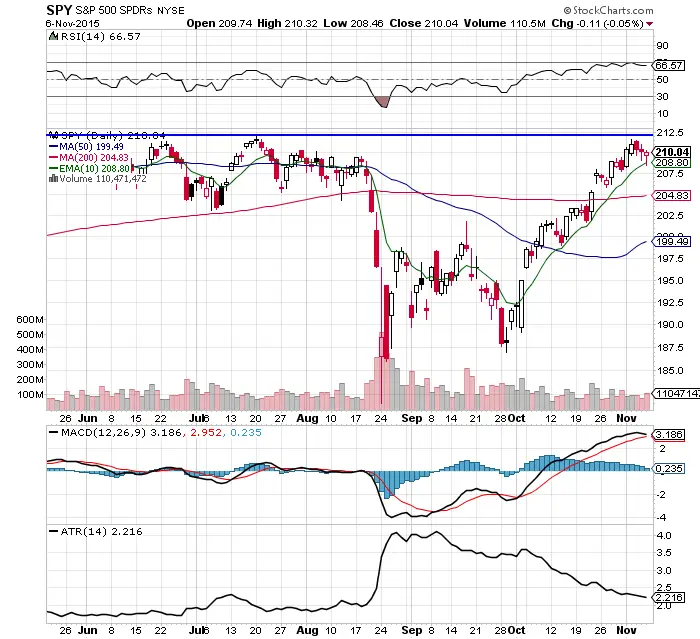 2015 index ETF returns are at $SPY +2.19% $DIA +0.71% $IWM -0.33% and $QQQ gained +11.18% thanks primarily to $FB $AMZN $AAPL $NFLX and $GOOGL year to date. This market has been absent a long term trend in 2015 and until late August it did not even swing widely in price.
The stock market is still not under accumulation as $SPY is back where it was in July and unable to break above the July 20th high price.
The recovery back to where we started before the 10% correction was simply getting back to even for buy and hold investors and trend followers. I do not understand the overwhelming bullishness here after a year of flat returns and volatile price action.  The danger lies to the downside still.
The MACD is close to a bearish crossover here giving a short signal for a good risk/reward ratio short side trade.
The $SPY 70 RSI held as an end of day resistance on the chart as price tried to grind higher and failed.
$SPY had two days of lower highs and lower lows after the bearish candle Wednesday.
$SPY has spent fours days in a trading range.
The 10 day EMA has been $SPY end of day support for the past 25 trading days. It was breached intra-day on Friday.
The 50 day SMA is still under the 200 day SMA which is bearish and shows the change in the long term trend from up to down.
I will be taking the bearish MACD crossover as a short signal if it happens next week. The risk/reward here favors the downside.