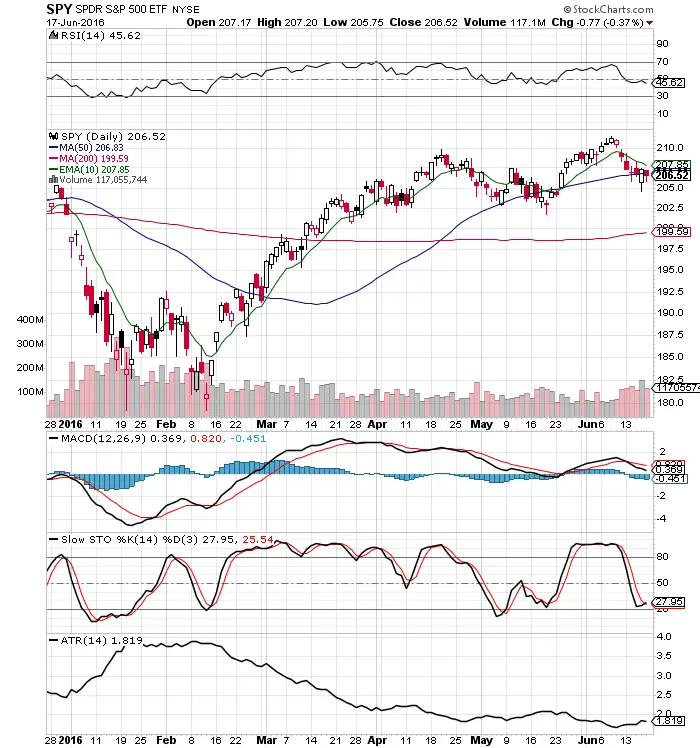 $SPY seems to have made a short term pullback inside market that has been going sideways since December of 2014. Buying the deep dips continues to work as $SPY continues to return to all time highs and fail to break out over and over.
$SPY has spent the past 4 trading days in a trading range of $208.28 resistance and a $204.53 support.
$SPY is under the 10 day ema and 50 day SMA but still over the 200 day. .
MACD is still under a bearish crossover.
The small Friday drop was on lower volume than the big Thursday reversal. This is a good sign for longs.
Friday did not make new lows versus Thursday's low of day.
RSI is at 45.62 showing a lack of price momentum.
Slow Stochastic had a bullish crossover reversal on Friday.
Brexit fears have given bulls an excuse to lock in profits. We could see the market reverse as Brexit fears subside based on poll results or we get past the vote regardless of the outcome.
If $SPY can close back over the 50 day SMA and 10 day EMA that will be a momentum long signal and set up the potential to new all time highs. Time will tell.
I am currently long $SPY from the Thursday close with a stop loss on a close below Thursday's low of day and short $TLT from Thursday's close with a stop loss with a close back over the 70 RSI.